WOODLAWN — The decades-long vacant Washington Park National Bank building may soon find a new developer and perhaps a new life.
The 94-year-old building was formerly owned by the Metropolitan Apostolic Community Church and the Woodlawn Community Development Corporation.
The Cook County Land Bank Authority acquired it in December. It's been vacant for more than 25 years, largely because at the time of the land bank's purchase, the building had accumulated about $3.7 million dollars in unpaid taxes, land bank executive director Rob Rose said.

"Without intervention, the fate of the building eventually would have been demolition. That was beyond the city's resources to do and so what would have happened — and what has been happening — is that it just sat," he said. 

Now, a "request for proposals" on the building at 6300 S. Cottage Grove Ave. is being prepped and an early version will be released Monday on the Cook County Land Bank Authority website for public comment, Rose announced at Thursday's 1Woodlawn community meeting.

Since acquiring the building, the land bank has led a community-directed redevelopment process for the project, hosting three meetings open to Woodlawn residents in January and February.
Community members will now be able to provide feedback on the request for proposal draft starting Monday. Rose said the land bank will take that into account before issuing the formal request for proposals on Sept. 4 and reviewing potential developers' submissions.
Bids are set to be due to the land bank by Oct. 31 in what Rose called an "aggressive timeline" so by Dec. 13 a developer can be selected and approved.

When the land bank began its ventures expanding beyond single family homes and into commercial spaces, Rose said the Washington Park National Bank building was "at the top of the list" for projects. Now, the land bank will soon begin looking for a developer with ideas for a mixed-use community space, offering amenities residents will benefit from.  

As including Woodlawn from start to finish was something that "resonated throughout" meetings, the land bank has prioritized the neighborhood in drafting the request for proposals, Rose said.

"One of the main tenets of the RFP — it's going to be page 20 when you get a chance to read it — is that we are including a provision that local Woodlawn residents must be included in your mix of suppliers, contractors, professional services to be used for this bank building construction," he announced to applause from audience.

Multiple attendees also emphasized the importance for any potential developer to hire black and minority residents in Woodlawn during construction and rehabilitation.

Rose said that's already been the subject of conversations and LaVerne Hall, president and founder of CANDO Corporation, has led efforts to create a database of certified women-owned and minority-owned businesses in Woodlawn that the future developer can hire.

"For us, we do not and will not have a project at 63rd and Cottage that doesn't have black faces working at that site. That's not going to happen," Rose said.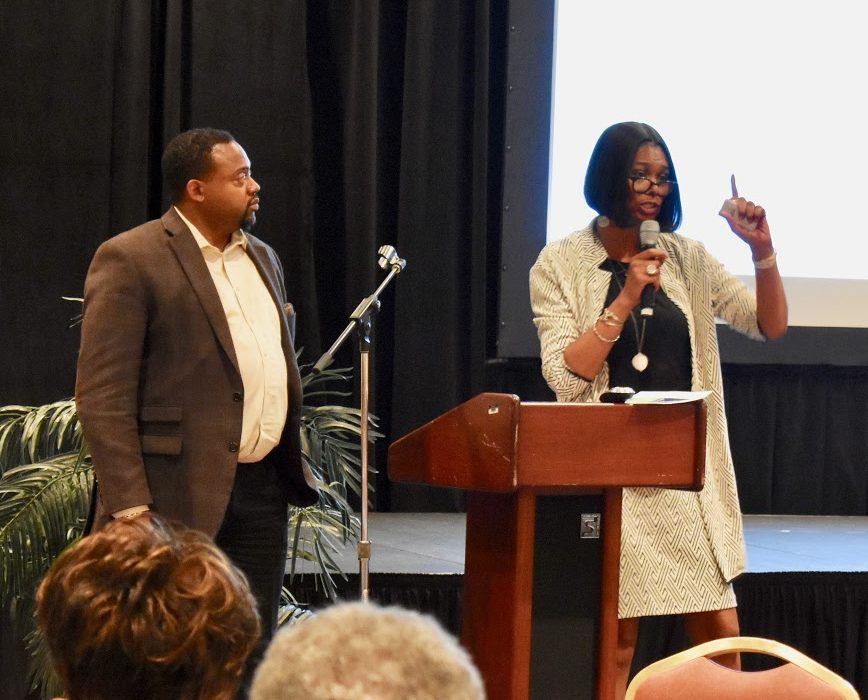 Non-certified companies, Hall added, can be incorporated on the list by registering online.    

Many community members expressed excitement at the speed of the land bank's timeline to move through the proposals and find a developer.  

Resident Tamara Hauley said she trusted the organization to choose a developer that would transform the building into a "positive force" for the neighborhood. While she personally wants to see a small business incubator in the building, she added she's excited to hear about the other ideas the land bank receives.

"I'm hopeful about how [the building] can impact the community, and especially, be something my kids and the next generation can use years from now," she said.