WICKER PARK — Happy Friday!
Here are a few ideas for things to do in Bucktown, Wicker Park and Ukrainian Village this weekend.
$1 Beer and Anniversary BBQ. To celebrate its first year, Royal Grocer & Co. in Bucktown will host a complimentary patio BBQ and offer draft beers, shots and select glasses of wine for $1, according to its Facebook page. From 5 – 11 p.m. Friday, 2118 N. Damen Ave.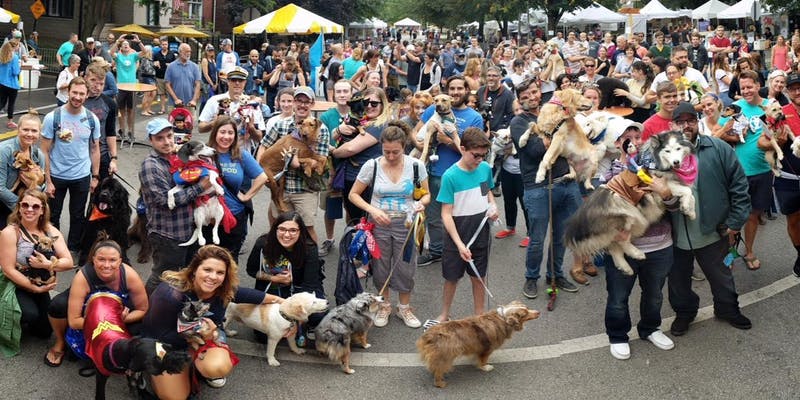 Arts Fest And Dog Parade. The long-running Bucktown Arts Fest brings 190 artists to Senior Citizens Park, plus live music, food, beer and a "Barkdown Dog Parade." Admission to the fest is free, though the dog parade, from 11:30 a.m.-12:30 p.m. Sunday, charges $10 per dog. Fest hours are 11 a.m-7 p.m. Saturday and Sunday, 2300 N. Oakley Ave.
Ukrainian Days. The 35th annual festival celebrating all things Ukrainian, from music to food and performances, will take over two blocks of Chicago Avenue. According to the Ukrainian Days' Facebook page, admission is a $5 donation, from noon – 10 p.m. Saturday and Sunday, 2200-2300 West Chicago Avenue.
Party At Eskell. The relocated Eskell boutique will host a party both days of the Bucktown Arts Fest, encouraging fest-goers to pop by before or after to score discounts on furniture, jewelry and apparel while enjoying music, boozy popsicles, ping pong and more revelry. Free, but RSVP required to info@eskell.com. From noon-7 p.m. Saturday, noon- 5 p.m. Sunday, 2029 N. Western Ave.
Celebrate National Dog Day. Many bars will be hosting dog-friendly events on Sunday, including Smoke Daddy's "Beers, Ears & Cheers" to benefit PAWS Chicago. One dollar from each Pig Ear doggie treat and Lagunitas beer purchase will go directly to the nonprofit's senior dog adoption program. From noon-6 p.m., 1804 W. Division St.
Play Pool at Little Olive. The former Crocodile has been reborn as Little Olive Lounge, which will celebrate its grand opening this weekend with local DJs, cocktails and a new food and drink menu. A game room in the back of the bar offers pool and foosball tables and there are lots of flat-screen televisions to watch sports games. Hours are 11 a.m. — 2 a.m. daily, 1540 N. Milwaukee Ave.
Remedy's Terrible Twos. To celebrate its second anniversary, Bucktown bar Remedy will host a "Terrible Two's" party with $2 draft beers all night, a Riot Fest 3-day pass giveaway, and a toast at 2 a.m. Additional festivities will include toddler games for adults like bozo buckets and pin the tail on the donkey. It all starts at 4 p.m. Sunday, 1910 N. Milwaukee Ave.
Score Deals From Dozens of Shops. Stores throughout the neighborhood (on North, Milwaukee, Division and Damen) will be participating in a sidewalk sale organized by the Wicker Park Bucktown Chamber of Commerce. The sale runs from 11 a.m. – 6 p.m. Saturday and Sunday, various locations.