WASHINGTON PARK — The 29th annual African Festival of the Arts promises to bring some African energy to Chicago once again.

The four-day festival, one of the longest and largest of its kind in the Midwest, kicks off  at 1 p.m. Friday, Aug. 31 in Washington Park, 5100 S. Cottage Grove Ave. The fest runs from 10 a.m.-10 p.m. Saturday-Monday. 

Grammy-nominated Chicago rapper Twista and Grammy-nominated singer Keyshia Cole are headlining on Saturday, Sept. 1; Seun Kuti is headlining on Sunday, Sept. 2; and Grammy-Award-winning singer Shaggy is headlining on Monday, Sept. 3.
Pre-sale adult tickets are for sale online for $15 per day and will be $20 per day at the gate. Senior tickets are $10 per day and tickets for children are $5 (children under 5 are free).
A weekend pass for all four days is available for $40 and family passes are also for sale. 
The African Festival of the Arts is the flagship event of the African International House, an organization that strives to educate all people on individual and collective contributions from people hailing from the continent of Africa.

Sheila Okonji-Ashinze, an Africa International House board member and on-air radio personality of Power 92's Afro Zone, said the festival will be four days of fun, embracing culture and music for all.

"Bringing the culture just teaches people there are many ways we can love each other and also it makes them proud of who they are," Okonji-Ashinze said. "Knowledge is power. Knowing who you are helps you become a better you." 

One of the headliners, Seun Kuti, has been sought after for years.

"This year we have Seun Kuti, son of activist Fela Kuti, they will present Africa, they will present Afrobeat, and it's like having the Marley family," Okonji-Ashinze said. "We're very excited about that, it took 29 years to get them but they're here."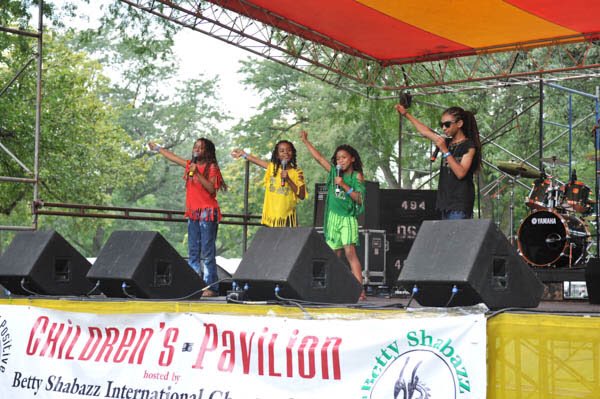 Okonji-Ashinze said local artists will also take the stage over the weekend.

The Festival will have an international marketplace and food options with vendors from Chicago, Mali, New York, Spain, and more, Okonji-Ashinze said.

"We are so proud of our food court because we have over 40 plus food vendors from all parts of the world showcasing their different foods," she said.