WEST TOWN — A 33,000-square-foot indoor park with trampolines, a climbing wall and other high-energy challenges is headed to West Town this fall. 
The Texas-based Altitude Trampoline Park's third Illinois outpost and first Chicago location at 404 N. Armour St. will be owned by franchisee Kevin Kolb, a Bucktown resident.
"It's an old beautiful bow truss manufacturing building," Kolb told Block Club on Wednesday. 
Kolb and his two business partners have six kids combined,  ranging in age from 6-months-old to teens.
"Having young kids, and going to these birthday parties in the suburbs, we saw the need for a trampoline park in the city for all the families who've chosen to stay in the city," Kolb said. 
Earlier this week, artist Jake Merten was working on a large mural featuring children in various stages of jumping on the brick wall along the side of the Altitude Trampoline Park building, which faces the passing Metra train tracks.
If everything goes as planned, the park will open in late fall, Kolb said. It will not look like exactly like other Altitude parks. "The space is unique and urban. It was important to us to create a park that feels organic to the neighborhood," Kolb said.
Altitude Trampoline Park's co-founder Jeff Rutten said the Chicago park is "a nice size park" and one of the larger ones. "We just opened one up in Skokie. We are excited to be this close to the city. It will be unique since most parks are in the suburbs," Rutten said.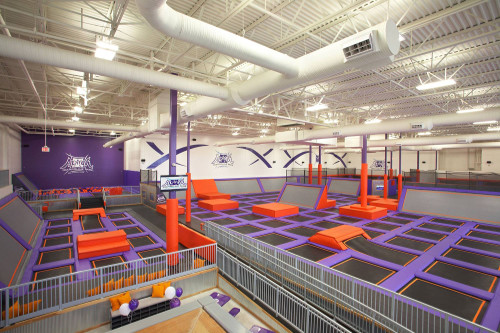 Since its founding in 2012, the franchise has expanded to 74 locations around the world, with 24 parks under construction and a goal to reach 100 parks by the end of the year, Rutten said. 
Altitude Chicago will be "the premier facility of the Altitude brands with very exciting events and attractions," according to a news release. It will feature wall-to-wall trampolines, trampoline-based dodgeball, basketball (easier to dunk when one can more easily jump), a log roll, monkey bars, trapeze and foam pit.
The Chicago website is not live yet, but a landing page offers a chance for prospective park users to sign up for an email newsletter to stay updated.