WICKER PARK — Developers shrunk a proposed apartment tower planned for a vacant lot near Ashland and Division from 16 to 13 stories, but a neighborhood group slammed it as the "worst case of unvarnished greed" it's seen.
The change in RDM Companies' controversial 121-unit tower was shown to a small group of people invited to a private meeting at First Ward Ald. Joe Moreno's office Tuesday night.
Block Club was turned away from the meeting, along with representatives from Vermilion Development, which is currently building 43 condominiums and 12 townhomes next to to the proposed tower site.
At the door before the meeting started, Raymond Valadez, Moreno's chief of staff, told those not invited in that the gathering is "a private meeting between neighbors, the community group and the developer."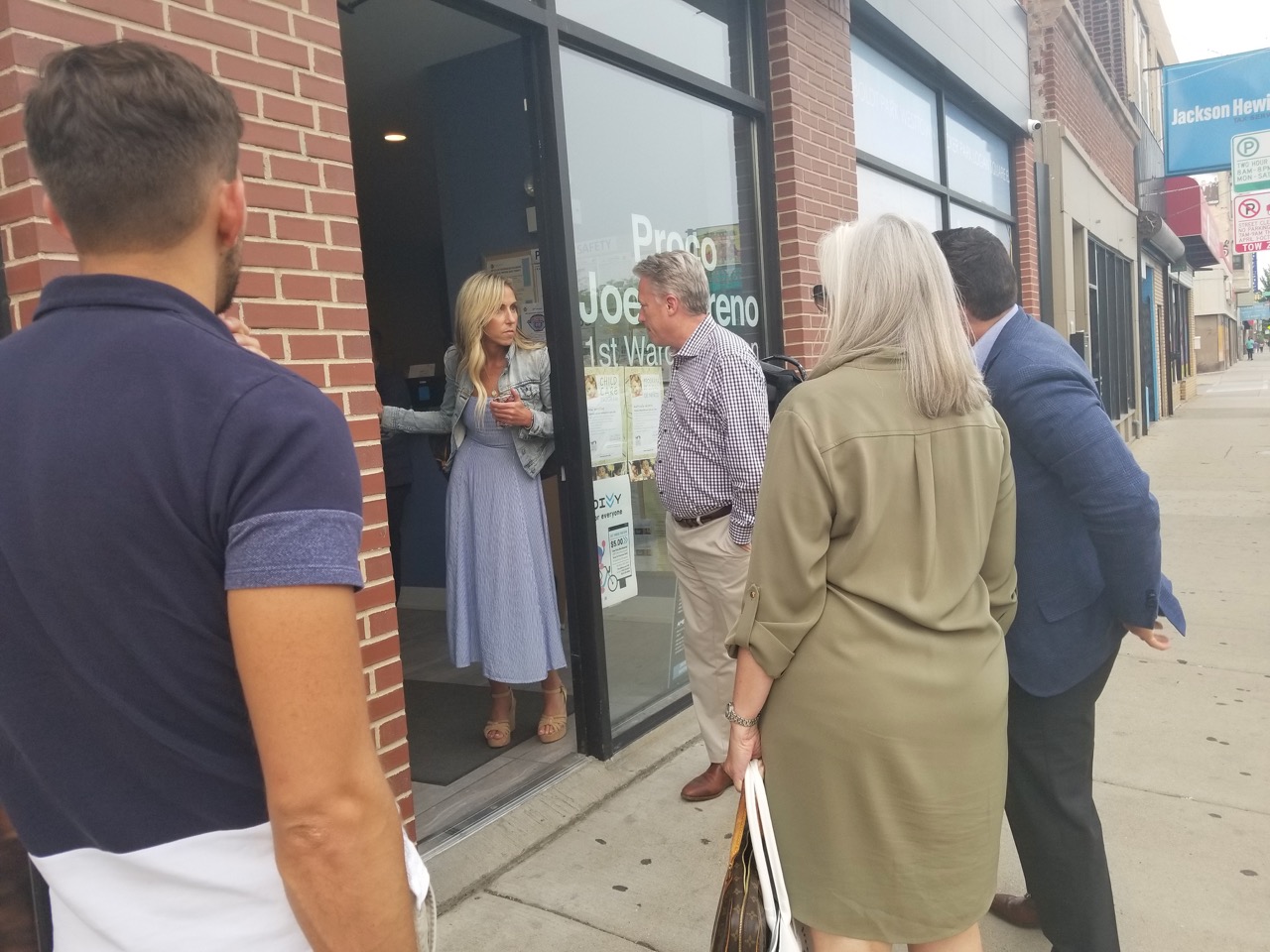 Jim Panella, vice president of RDM companies, which owns the lot at 1628 W. Division St. where the tower would be built, shared a rendering of the revised proposed tower after the meeting and provided the unit breakdown.
The number of apartments, 121, and parking spaces, 36, is the same as the third iteration of the plan pitched back in March at a public meeting, but there are more studios and 1-bedroom apartments in the new plan.
View the complete revised plan for 1628 W. Division St. here. 
Proposed: 13-Story w 121 dwelling units
29 - Studios (approximately 500 square feet)
55 - One-Bedroom (approximately 750 square feet)
27 - Two-Bedroom (approximately 900 square feet)
10 - Three-Bedroom (approximately 1,200 square feet)
The basement and first floor would offer indoor parking spaces. The apartments would be on the 2nd through 13th floors, according to the site plan by Wallin Gomez Architects. The 14th level would be home to a rooftop deck and pool.
About 18 of the tower's 121 apartments, or about 15 percent of the building's units, would be affordable housing units, in accordance with both the city's affordable housing ordinance and a Milwaukee Corridor pilot program to increase density near public transit.
Panella said after the meeting that the affordable units would be a mix of studios and one-, two- and three-bedroom apartments.
Paul Dickman, chairman of the Wicker Park Committee's preservation and development subcommittee, said the group does not support the revised plan because they would rather see a smaller or "mid-rise" mixed-use building as high as 7 or 8 stories. The current zoning allows for a building as high as 4 stories.
"These latest changes don't alter the Wicker Park Committee's stance on this project," the Wicker Park Committee said in a statement after the meeting. "WPC was always ready to support a solid mid-rise in that location, but that was never enough for Bob Mosky. Even in it latest form, it's still about seven million dollars worth of free zoning and the worst case of unvarnished greed I've ever seen."
Bob Mosky is the owner of RDM Companies, which also owns the historic bank-turned-CVS building at 1200 N. Ashland Ave. Panella said Mosky was not at the meeting. RDM Companies need a zoning change to allow for the size of the proposed building.
The tower, dubbed Vision II apartments, would replace a parking lot next to Vision I, a 33-unit mixed-use retail and apartment building at 1624 W. Division St. that RDM Development completed in 2010. 

The project at 16 stories was approved in March by members of the city's Plan Commission but it never got considered by the full City Council because Moreno deferred it.
On Wednesday, Moreno said he deferred the tower plan because of concerns from the Wicker Park Committee and neighbors along Paulina Street who'd be living near the proposed tower. At a Wicker Park Bucktown Chamber of Commerce meeting in May, Moreno said the impact of new apartments on the already congested Blue Line CTA trains needs to be analyzed through a year-long study before any new projects get started.
"I deferred the one on Division [Street] and told the developer he needs to go back and look at reductions," Moreno said in May. 
Three neighbors from the 1200 block of North Paulina Street attended the meeting. Their homes would be just west of the planned tower.
After the meeting, neighbors Donna Kahn and Ken Nordine said they were both undecided on whether to support the plan. Kahn said she has "concerns about congestion, construction, the amount of people taking the Blue Line and logistics on how they are going to build the building on the site," which she said seems like a small lot for such a big building.
Kyle Sneed, who also lives on Paulina Street, questioned the need for another tall building.
"I don't see why they need to upzone this. I don't see what's wrong with building a 4- or 5-story building that they can do without upzoning it. I feel like we've kind of reached a point of saturation with all the TODs [transit-oriented developments], especially buildings that are 12, 14, 15 stories," Sneed said.
The proposed new apartments would be next to another tower, a 15-story, 140-unit apartment tower currently under construction at 1640 W. Division St. that's part of a development called the Wicker Park Connection from Centrum Partners.
View what the tower looked like at 16 stories here: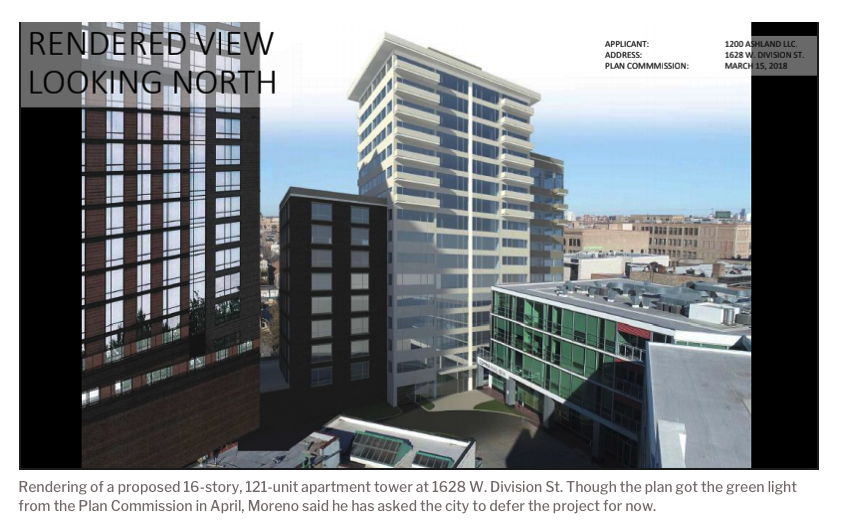 First presented in 2015 as a 12-story tower, the project has been revised many times. In September 2016, the plan was presented as a 16-story, 135-unit building. Members of the Wicker Park Committee's preservation and development subcommittee have objected to all previous plans because of traffic and density concerns.