LOGAN SQUARE — The days of traveling to Wicker Park for Taco Bell's boozy slushies are over.
Logan Square's very own boozy Taco Bell at 2432 N. Milwaukee Ave. quietly opened last week, according to employees.
It's nearly identical in concept to the Wicker Park outpost, which was the first Taco Bell to serve alcohol in the country when it opened in 2015.
In addition to a full food menu, the sit-down spot offers boozy slushies, beer and sangria — all in a trendier environment than your typical drive-through Taco Bell.
Expect beer and wine, "Twisted Freezes" mixed with rum, tequila or vodka and some special "sharable" menu items.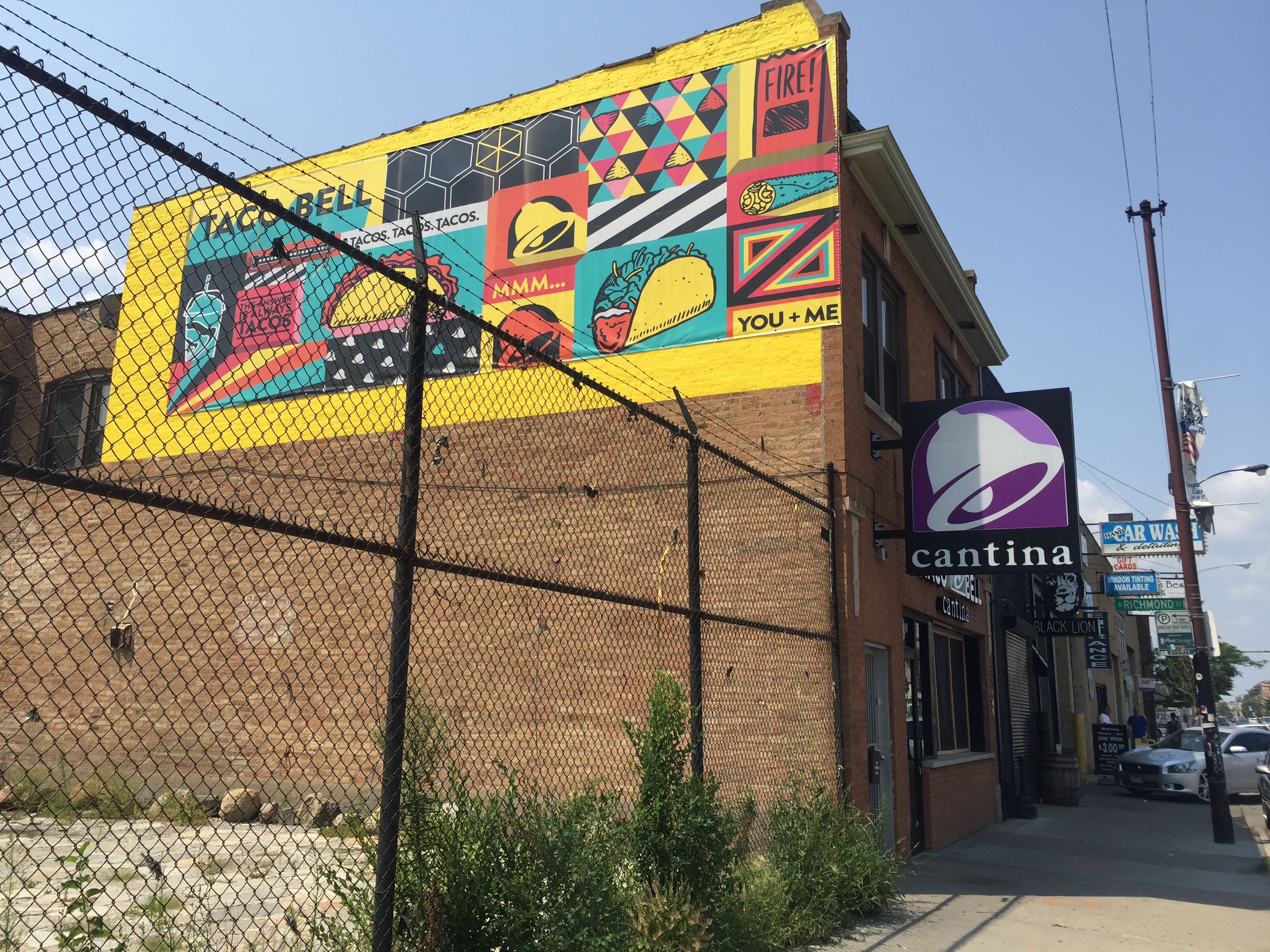 The only element that's unique to the Logan Square outpost is it has garage doors facing Milwaukee Avenue. The doors were covered up with screens Monday afternoon, however.
Plans to open a boozy Taco Bell, called a Taco Bell Cantina, in Logan Square first surfaced about a year ago.
At the time, some residents welcomed the affordable grub, while others expressed concerns over the chain's proposal, saying the alcohol-fueled fast food spot could bring even more late-night debauchery to the block. 
Logan Square's Taco Bell Cantina is situated on a rapidly changing stretch of Milwaukee Avenue that includes a host of new and soon-to-open trendy eateries and bars including Deadbolt, Furious Spoon and Pink Squirrel.
"This block used to be home to a locally-owned taqueria, a jewelry store and other businesses," Andrew Schneider, president of neighborhood group Logan Square Preservation, previously said of the 2400 block of North Milwaukee Avenue.
"Today it looks and feels like a Wicker Park alderman is trying to turn Logan Square into Wicker Park North," Schneider said at the time.
Like the Wicker Park outpost, the Logan Square location stops serving booze relatively early: until 10 p.m. Monday – Thursday and until midnight Fridays and Saturdays.
Last summer, a company spokeswoman said Taco Bell was planning to open four new cantinas in Chicago by early 2018. It's unclear if more or less cantinas are in the works, as Taco Bell didn't immediately respond to a request for comment Monday afternoon.
After opening the first cantina in Wicker Park, the national chain has since expanded the concept to other major cities like San Francisco and Las Vegas.
The Logan Square Taco Bell is open 7 a.m.-2 a.m. Monday-Thursday, 7 a.m.-2  a.m. Fridays and Saturdays and 7 a.m.-2 a.m. Sundays.