HUMBOLDT PARK — A "co-living" apartment project where residents would get paired up with roommates and share amenities is proposed for the long-vacant lot at California Avenue and Division Street in Humboldt Park.
Chicago-based developer City Pads and "co-living" startup Common are behind the proposal at 1201 N. California Ave., which calls for 32 units spread across six floors, and 32 parking spaces.
"Co-living" apartments are typically targeted at millennials. What makes them different from regular apartments is they're move-in ready; all renters need to bring with them are a toothbrush and clothes.
All furnishings (beds, couches, etc.) are included in the rent, as well as utilities and unique amenities like an on-site group leader who organizes events like potluck dinners, yoga and book clubs.

Exactly what kind of amenities would be offered in the Humboldt Park building is unclear. A spokeswoman for City Pads was reached, but declined to comment. Common didn't return messages left Thursday evening.
If approved, the project would be Common's fourth in Chicago. The New York City chain's first entry into the city was a three-unit apartment building dubbed "Common Damen" in Ukrainian Village. It has since expanded to Pilsen and Lakeview.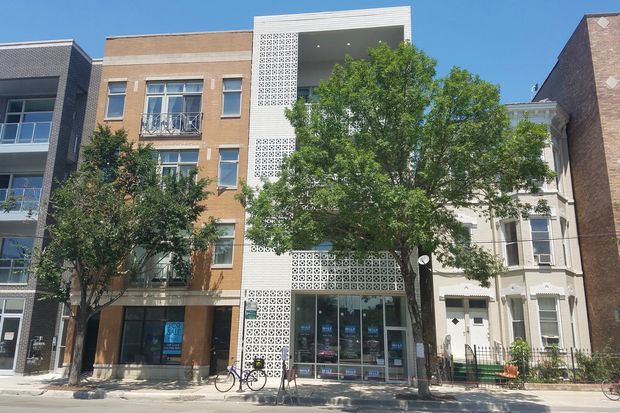 Ald. Roberto Maldonado's 26th Ward office didn't respond to multiple requests for comment on the proposal.
The developers are seeking a zoning change to build the project. Logan Square Neighborhood Association and Grassroots Illinois Action are hosting a community meeting Aug. 21, where neighbors are encouraged to weigh in on the proposal as part of the community-driven zoning process.
The meeting will be held at the Humboldt Park field house at 1400 N. Sacramento Ave., according to Brian Perea with Logan Square Neighborhood Association. More details, including the time, will be released in the coming days.
The property owner, Scott Redman, said the proposal is unlikely to advance. He said City Pads was under contract to buy the building, but that agreement was recently terminated.
"While City Pads and its partners are continuing to discuss their ideas with the community, the property owner is in final stages of contract negotiations with another party for a different project," Redman said in an email. 
City Pads made headlines when workers painted over a beloved mural that adorned the former Casa Aztlan building it owns. The developer also caught heat from the city leading up to its renovation of the Wilson Men's Hotel in Uptown.
In addition to Chicago and New York City, where Common offers several co-living spots, the startup is in San Francisco, Washington D.C. and Seattle.
"The biggest misunderstanding of co-living is people think it's this totally new crazy and radical thing. It's not. People have been living with roommates for a really long time. That's how so many people in cities live," Common founder Brad Hargreaves said in an interview with the Guardian. "Really what we are doing is just taking this way of living and making it better, designing an experience for what people are already doing."
Do Humboldt Park stories matter to you? Subscribe to Block Club Chicago. Every dime we make funds reporting from Chicago's neighborhoods.