LOGAN SQUARE — Don't expect to get scoops of ice cream at Pretty Cool Ice Cream when it opens Friday morning.
To start, the colorful ice cream shop, opening in the former U.S. Post Office annex at 2353 N. California Ave., will be all about the ice cream bar, owner Dana Salls Cree said.
"No scoops — we make frozen novelties, the kinds of things you'd find on an ice cream truck," Salls Cree said.
On the menu is an array of ice cream bars, fruit buttermilk bars, plant milk-based bars and popsicles. The bars range in flavor from interesting versions of classics, like peanut butter ice cream dipped in chocolate topped with crushed-up potato chips, to bold and unique like the "party pop," a cream cheese ice cream bar dipped in fruit-flavored Magic Shell topped with sprinkles, Salls Cree told the Tribune.
Salls Cree said she's especially fond of the black raspberry buttermilk bar and the chocolate "plant pop," which is made with plant milk. The latter is "basically like a big chocolate truffle on a stick," Salls Cree said.
Inside, the shop is playful, but not overtly so, with bright pops of color against white and orange walls and black floors. Stadium-style seating is meant to encourage patrons to interact.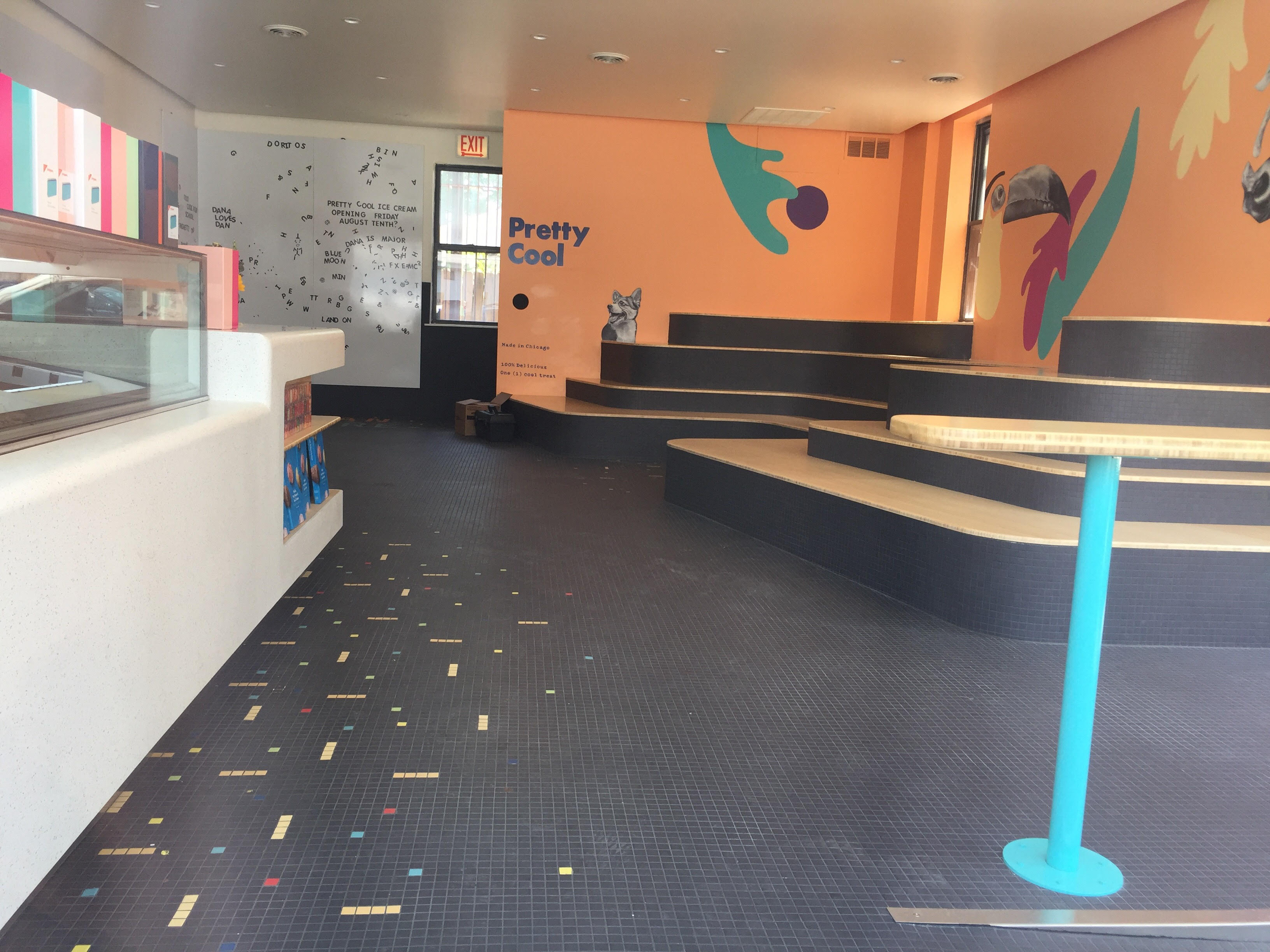 "For ice cream you never know if it's going to be a parent and three kids, a couple on a date, a family coming in after dinner. I wanted a way for everyone to be able to sit together and engage  with each other," Salls Cree said.
Salls Cree left her job as the pastry chef at The Publican to open Pretty Cool Ice Cream. The shop is a partnership between her and Bang Bang Pie & Biscuit owner Michael Ciapciak.
The shop opens to the public 11 a.m. Friday.
"I'm excited. I'm also nervous," Salls Cree said of the opening. "I'm running around checking cooler temperatures all day."
Do Logan Square stories matter to you? Subscribe to Block Club Chicago. Every dime we make funds reporting from Chicago's neighborhoods.