NORTH CENTER — A senior at Lane Tech High School who went to Lollapalooza was later hit by a train Sunday and died, Metra officials said Monday.
Sincere Ash, 17, was last seen with friends at about 4:15 p.m. Sunday at Lollapalooza in Grant Park and was later reported missing.
The tragedy was revealed later. Ash died when he was hit by a train near the Clybourn Metra Station in the 2000 block of North Ashland Avenue at about 6:15 p.m. Sunday, said Metra spokesperson Meg Reile.
"The circumstances are still under investigation," Reile said.
Ash lived in the 3500 block of North Neenah Avenue, according to the Cook County Medical Examiner's office.
Calling him a "unique and beautiful friend," Ash's friends launched a GoFundMe campaign to help pay for a memorial and funeral Tuesday afternoon. As of 5 p.m. Tuesday, the campaign had raised $8,200 toward its $15,000 goal.
"There will never be an appropriate way to full celebrate him, but with the help of loved ones, community members and people lucky enough to have known Sincere, we hope to cover the costs of his funeral expenses and establish a memorial in his name," the fundraiser's description reads.
On Tuesday afternoon Edwina Thompson, Lane Tech's assistant principal, sent an email notifying the school's community of Ash's death.
"Our thoughts are with his family at this difficult time. This loss is sure to raise many emotions for our entire school, especially our students," she said.
Her email also let parents know a CPS Crisis Team, specially trained psychologists and social workers who help schools get through tragedies, will be on campus Wednesday and Thursday this week as well as during the first week of school.
"Our own counselor and social worker will work closely with this team and continue to be available to students who need ongoing services," she said. "We are saddened by this loss and will do everything we can to help you and your student."
Around 10:30 p.m. Monday, reports of Ash's death started being shared on Facebook by parents at the school.
"He was an amazing kid and we loved him. We are heartbroken," a Lane Tech parent told Block Club Chicago. 
A missing person flyer for Ash was being shared online by friends and concerned parents from the school since at least Monday afternoon. According to people who knew him, he worked as a camp counselor and did not show up for work on Monday.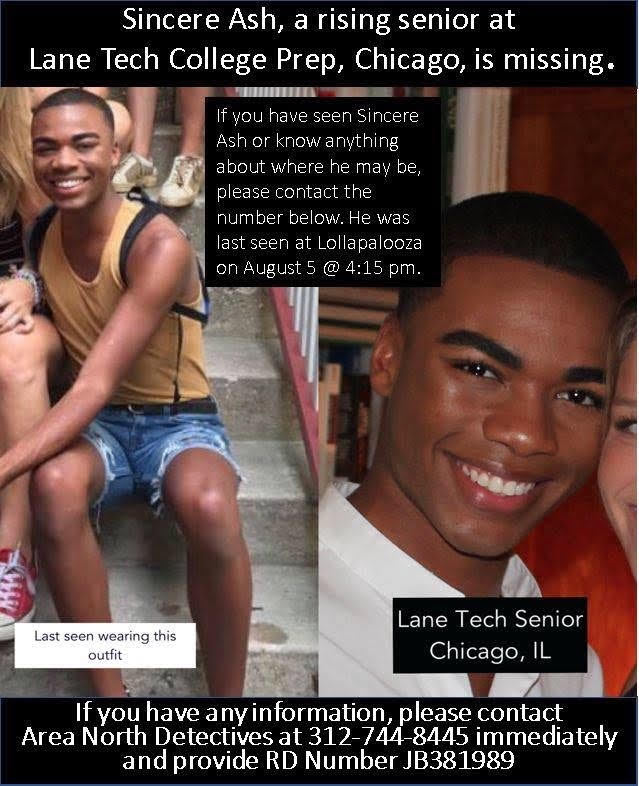 This is a developing story that will be updated with more details as they become available.