PILSEN —  Less than two years after opening, founder of the AMFM gallery and incubator space in Pilsen announced the studio would close its doors.
In a Facebook post, founder Ciera Mckissick announced the studio would close its doors at the end of the month.
"It's been an emotional time. I cannot begin to find the words," Mckissick wrote.
"Thank you all for your endless support and love. This is not over, by any means. AMFM is my baby, and things change to make room for growth. Trying to see the light at the end of the tunnel in this and be strong."
The founder of the arts and music magazine opened the gallery in 2017. The studio space at 2151 W. 21st St. was focused on helping launch careers of emerging artists in Chicago.
According to AMFM's Facebook page, the studio is closing its doors in "September due to circumstances outside of our control."
"While our physical space is closing, our brand will continue to live on through our web content & pop up events, connecting artists to opportunities and behind the scenes action."
Comedian and podcast host Tribble, who was a resident artist during the gallery's first year, said the gallery and the mentoring she received from Mckissick were vital in her growth as an artist that "transformed" her career.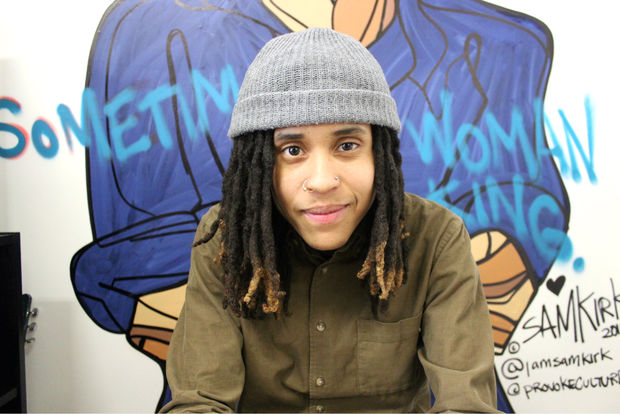 "I worked very closely with Ciera, and helped her with events that she curated [at the AMFM gallery], while also curating my own events, working with [a limited] budget and still being able  to put on a good show," Tribble said.
Calling Mckissick the hardest working person she knows, Tribble said the AMFM owner fought to get artists paid and gave them a platform to elevate their work and creativity.
"Having a physical space is very valuable to the community," she said especially for emerging artists who are learning to put on shows.
"It's sad to see it closing," Tribble said. "I think she'll be able to open another space, if she has the time…and that's what her focus is."

In the Facebook post, AMFM said the gallery has provided a studio space for 10 resident artists and has hosted over 200 events featuring local and national artists, collectives, and organizations.
"Together, we've cultivated a thriving community that supports artists, people of color, access, inclusion, and bringing people together through arts and culture," the post continued.
"This is and always will be at the core of all we continue to do. A physical space cannot change that."
AMFM has launched a GoFundMe page to raise $4,000 toward a new gallery and incubator space. AMFM will also host a closing party on August 31 with all proceeds helping to support the "financial burden" of the studio's closure.
Ahead of the studios grand opening in 2017, Mckissick emphasized the importance of the need for space to cultivate emerging artists and creatives.
 "The biggest thing I have found, being a young and emerging creative in Chicago, is the need for space," Mckissick told DNAinfo. "Space to work, to exhibit, to grow, and to believe, and I owe a large part of this grand opening to those spaces and people who allowed me to do just that throughout Chicago."
The gallery has served as a headquarters for the AMFM brand, and also served as a community space offering co-working, artist residencies and drop-in creative classes where people can learn how to DJ, screen print and other skills from working artists.
In 2009, Mckissick launched AMFM as an online magazine, highlighting emerging artists and hosts pop-up events across the city. Aimed at spreading positivity and community engagement, the brand is known for its large conceptual art shows including Indigo Nation at the Chicago Art Department and its monthly showcase The Jazz Series, which features bands and musicians playing alongside a solo exhibition from a visual artist.
AMFM was named Best New Gallery by the Reader when it opened in 2017.
Mckissick could not be immediately reached for comment.