ALBANY PARK — Neighbors have stepped up to help a family grieving the shooting death of their son last week, killed in a possible case of mistaken identity while walking with friends.

"It's really been very heartwarming, to say the least, how this community has supported my family," Maria Algarin said.
Her 19-year-old nephew Carlos Pagan was fatally shot last week while walking with friends, a murder police say could be a case of mistaken identity.
Algarin created a GoFundMe page last Friday to share with her family in order to help her sister pay for funeral costs. 

"It was one of my cousins that said 'Hey, why don't we use Go Fund Me? We can share it and all the family members can see it and if we miss anyone they can just keep sharing it,'" Algarin said.
But soon it wasn't just family that was sharing, commenting or contributing to the fundraising page.
The page has raised $8,468 of its $20,000 goal as of early Tuesday.
"Somehow the Albany Park community saw the page and someone took it into their hands and, out of the generosity in their heart, made a poster out of it," Algarin said. "And that whole community just, not just donating money, but they reached out to us in messages. I shared them with my sister, Carlos's mom, and we couldn't help but cry."

The poster for the GoFundMe page was placed near the park near where Pagan was shot and soon after the fundraising page was being shared online by community members.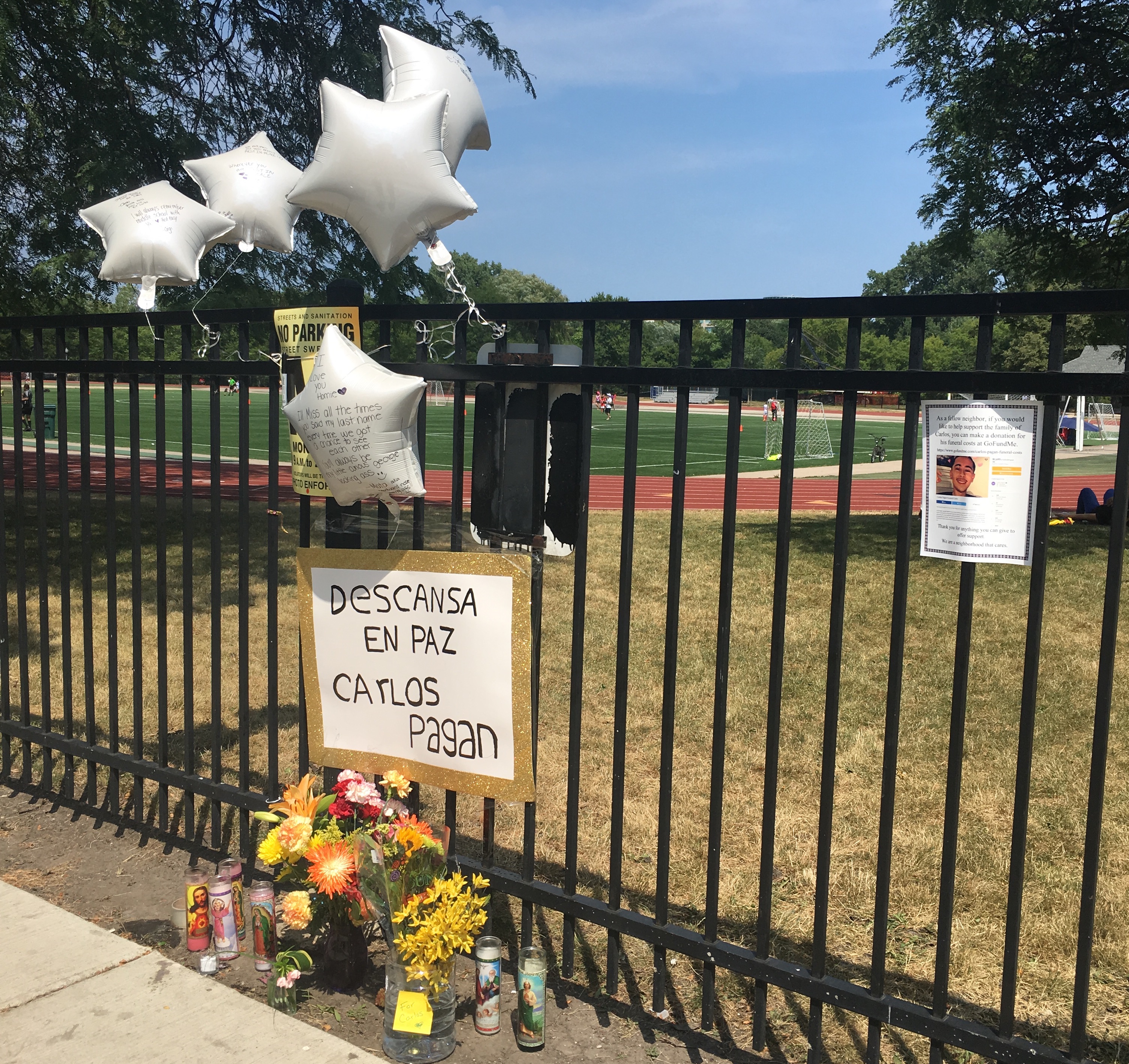 "For us, my family, we're angry because of what happened. But on the flip side is the way this community has reached out to my family, like I said, not just with donations but with words," Algarin said.

RELATED: Albany Park Shooting Victim To Be Taken Off Life Support, Police Say

Pagan graduated from Theodore Roosevelt High School, 3436 W. Wilson Ave., last year. He had been working as a welder with his stepfather and planned to enroll at Wilbur Wright College in the fall.

"My nephew was very family oriented, he was silly, he loved to laugh, he enjoyed life," Algarin said. "He loved playing PlayStation with his cousins. He enjoyed spending time with his mom. Going out in the parks, riding bikes Downtown."

Pagan was the middle child of three brothers. On the weekends he would often go kayaking, either with his whole family or just with his mom and his stepdad. Algarin said there was nothing more Pagan loved than spending time with his mom.

"His younger brother, they're a year apart, so his younger brother graduated from Roosevelt this year. They were both going to start college at Wright together," Algarin said. "Now his brothers are, I don't even know. His older brother hasn't slept in three days. His younger brother is angry. And his mom, she's trying to keep everyone together."

Pagan was walking with friends in the 5000 block of North Albany Avenue around 11:15 p.m. last Thursday when a gunman got out of a dark colored SUV and began firing at him, police said.

"You know, they were walking about, minding their own business when they heard the screeching of tires when the car reversed. One person got out the car and started shooting," Algarin said. "It's just the wrong place at the wrong time."

[googlemaps https://www.google.com/maps/d/embed?mid=1bDyEfar3-3dgiRXOb8x2yDdY2yoRr-n0&w=640&h=480]

First responders took Pagan to Illinois Masonic Hospital with a gunshot wound to his head and he was put on life support. 

"It was a horrible vision to go see him when they called us," Algarin said. "He was brain dead immediately when he was shot. They kept him on life support, but he never reacted."

On Friday Pagan died from his injuries after he was taken off life support. The following day the Cook County Medical Examiner's office ruled her nephew's death a homicide.

"Mistaken identity is the lead possible motive at this point, but we don't have enough information to say that definitively at this time," police spokesperson Christine Calace said last week. Since last Thursday Area North detectives have been investigating the fatal shooting.

Where Pagan was shot is just a few blocks away from the North Park University campus, the Edison Regional Gifted Center, 4929 N. Sawyer Ave., and Hibbard Elementary School, 3244 W. Ainslie St.

"Where can you take a stroll? If you can't even take a stroll in a nearby park that's well lit. That's clean. That's in a good neighborhood," Algarin said. "If you can't walk around, walk your dog around there, then where can you walk?"

Early Tuesday morning police spokesperson Ronald Westbrooks said Pagan's homicide was an ongoing investigation. 
RELATED: Shootout Reported Near Two West Ridge Schools During Rush Hour Wednesday

The day before Pagan was shot a gunfight between a man in a dark colored vehicle and a man in a silver truck broke out during the evening rush hour about a mile north of Thursday's fatal shooting.
No one was injured in the Wednesday shootout, but a 79-year-old man's home was damaged by gunfire. Police were also investigating that shooting but could not confirm if it was related to Pagan's homicide.
"I don't know if it'll make a difference for anyone, but I'm sure we're not the only ones that have gone through this or will go through this, sadly," Algarin said. "But maybe our story will help someone."
Anyone with additional information regarding these shootings can reach Area North detectives at 312-744-8261.