SOUTH LOOP — Putting on a first year convention is, typically, a risky undertaking. Most genre cons fail to make it past the concept stage; overambitious dreams get swallowed by overblown budgets and unforeseen costs.
Such was the case this year, with the meteoric rise and precipitous fall of Universal FanCon, a highly touted event that failed to deliver on its promise to provide people of color a safe space in which to geek out.
Enthusiastic fans — some from around the globe — shelled out thousands of dollars for three days of star-studded panels and movie screenings, only to be informed of its cancellation a mere seven days before the event. (Some would-be attendees are still waiting for their refunds.)
While Wakandacon, which just wrapped up a weekend in the South Loop, had been in the works months before Universal FanCon's implosion, news about the Chicago-based gathering was met with a considerable amount of skepticism.
"Right after Universal FanCon happened, we had people in our mentions on Twitter demanding to see our bank statements to know if we had the money to put it on," said Wakandacon Co-founder Ali Barthwell as she took a brief break in a small conference room at the Hilton Chicago Friday evening.
"This is all self-funded. David [Barthwell, another co-founder] has been running his own business since he was 16, so he's worked really hard to make this possible, and we've worked hard to get sponsors and volunteers. We weren't going to release our bank statements, though."
A lot of the pushback was due in part to the group's obscurity, said Barthwell. "We weren't big names. They didn't know who we were, so they wanted to see our faces and know that we were real, that we were black. So transparency was a big deal."
"I have a lot of friends in nerdy spaces and their first reaction was, 'you won't be able to do it,'" added Barthwell. "A lot of white people were coming to us, a lot of people who organize smaller events, a lot of people who'd offer a lot of advice and end with 'you won't be able to do it.' But this was an underserved population that doesn't get to see themselves in nerd spaces, and we wanted to do right by them. Failure wasn't an option."
Barthwell said that the vastness of their undertaking didn't hit her until she walked through the vendor hall earlier that day. "We've been working at this for four months with our day jobs, families, and other responsibilities. Seeing everything come together has been surreal."
And come together it did. Attendees of Wakandacon's inaugural weekend were summarily impressed with the experience, from the effusive warmth of the con staff to the subtle nods of acknowledgment from spirited cosplayers.
"There isn't the usual gawking you'd get at other cons," said JP Fairfield, an IT specialist from Chatham. "You don't feel like an outsider here."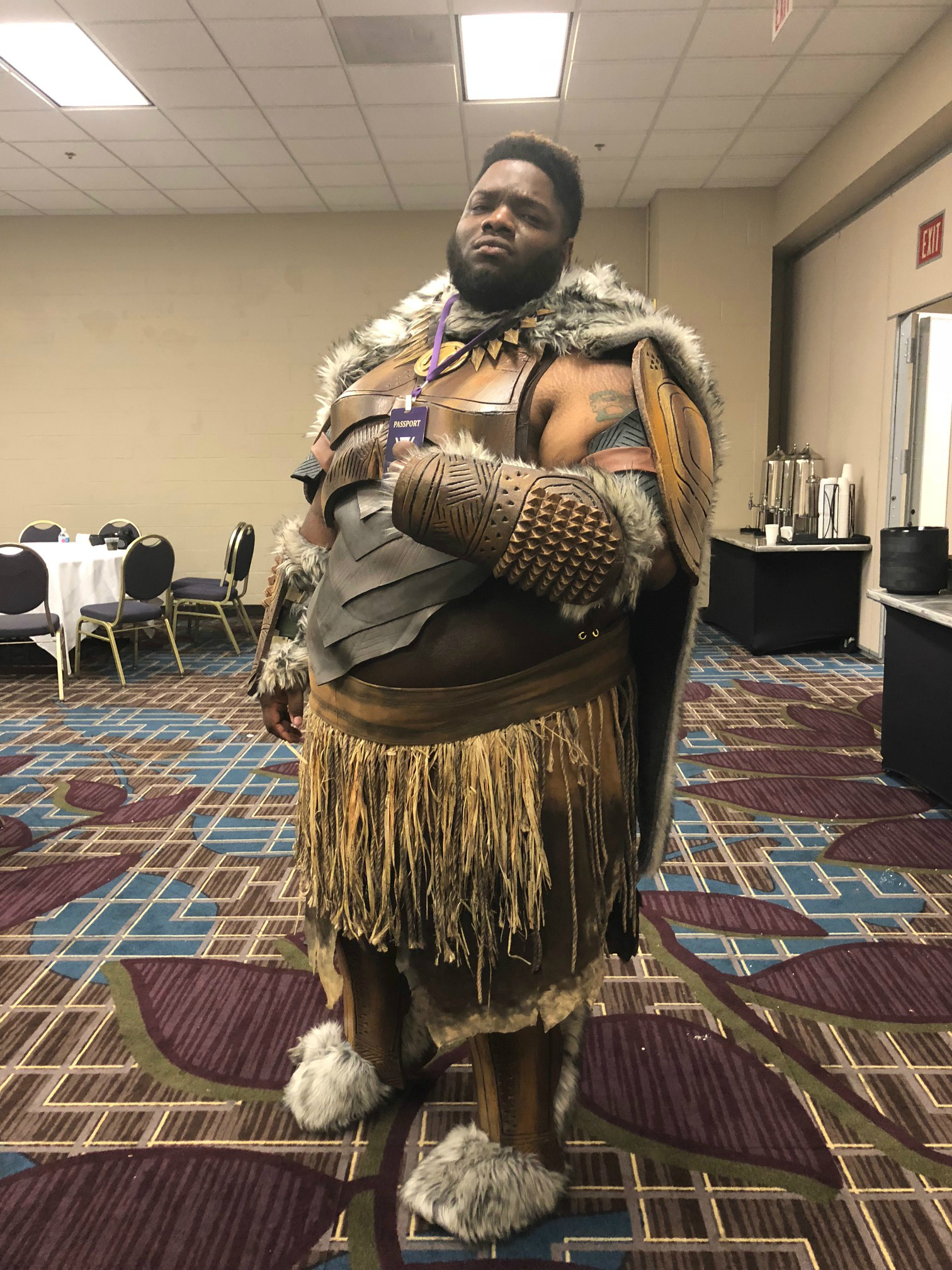 It was that feeling of unity and kinship that also drew actress Erika Alexander to Wakandacon. Alexander has been traveling the country to promote her Color Farm Media's "Keep It Colorful" contest, part of her new multi-platform venture with former Google executive Ben Arnon. She heard about Wakandacon, checked out the site, and contacted the organizers.
"I went on their site. I saw this great graphic, and they immediately had me by how they presented themselves … it looked authentic," recalled Alexander, who is currently working on a horror project with Lionsgate Films.
"My partner suggested we reach out to do a partnership because we'd been doing this 10-city tour, so we immediately reached out and they wrote back, and every one of our exchanges was respectful and immediate. They know how to do business."
Alexander, no stranger to the chaos of conventions, credited the organizers for their transparency. "There are a lot of lunatics in comics, and there are also a lot of grifters. A lot of people have good intentions but get in over their heads, and a lot of people without good intentions can sell tickets, and you go and you're disappointed in so many ways," said Alexander, who will be appearing on the second season of CW's "Black Lightning" this fall. "But these people were serious, and I think they're doing a great job."
People from across the country braved the maddening Lollapalooza crowds to make the trip to Wakandacon, including an online speculative fiction book club whose members flew in from Boston and Washington D.C. to meet, some for the first time.
"As soon as we heard about it we had to come check it out," said Miss Melony, a contributor to All Things Quite Nerdy, an online magazine. "We've gone to a lot of cons, some have been great, others not so much. But this has been great."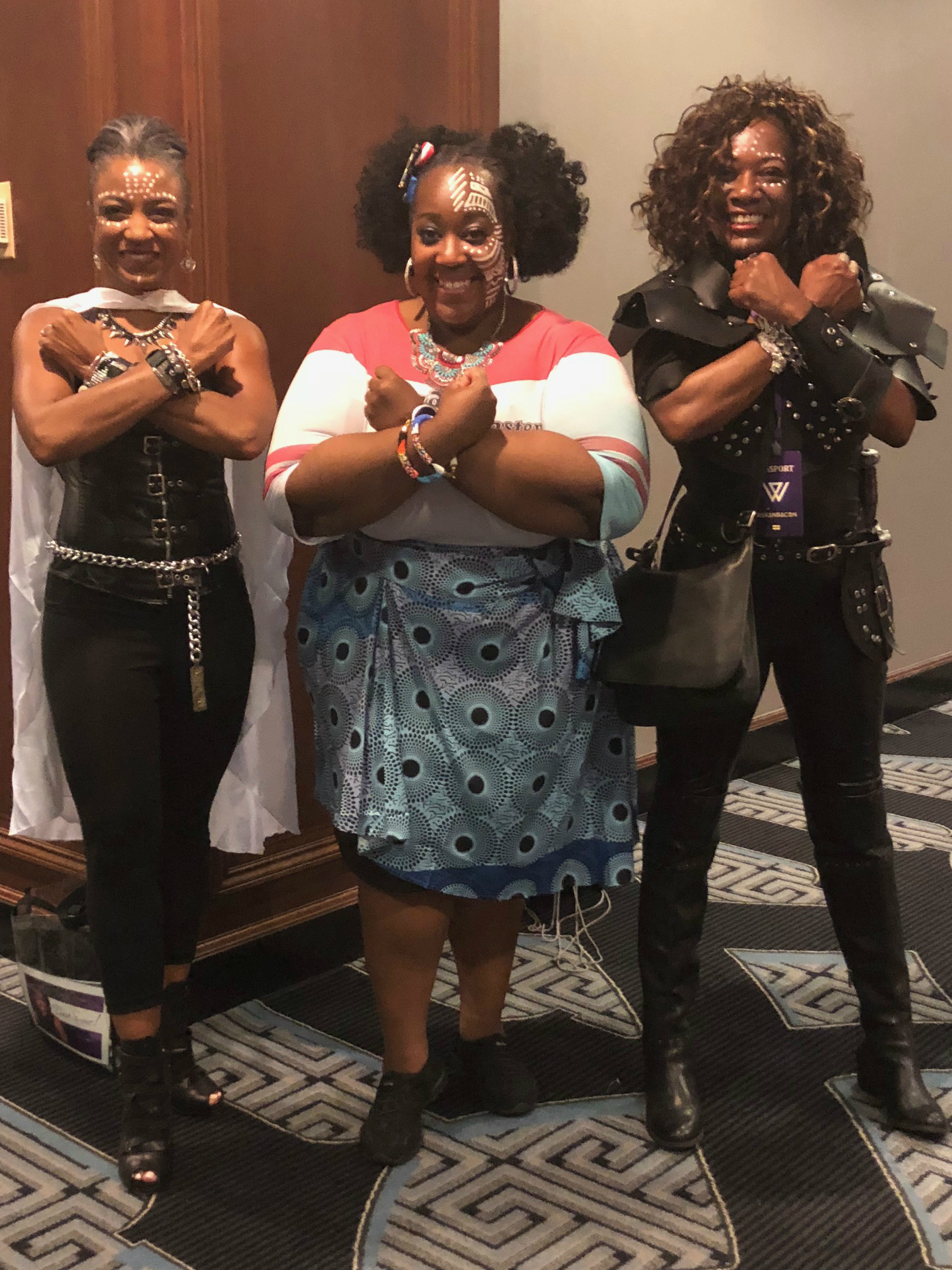 Ama Aningo, another book club member who drove from St. Louis with his wife, agreed. "I think we picked a good spot to meet up. It's been fun so far."
Cosplayers were in full effect all weekend, donning their Wakandian finest to pay homage to T'Challa, Okoye, and Killmonger. Renee Jordan and Daniel Lemon, both from the South Side and both avid con-goers, were making the rounds dressed as a Dora Milaje and Black Panther, respectively.
"I wanted to come here because this was something that celebrated black people as comic book fans, as business people, as nerds," said Jordan, who has attended Anime Central, an anime and manga convention in Rosemont for the last six years. "I liked seeing all the vendors, and it looks like a lot of people turned out for this."
When asked about plans for next year at a "Meet the Founders" panel Saturday afternoon, Barthwell was cautiously optimistic. "We definitely want to bring it back. Some things might be a little different next year, we might change a few things, but we hope that the energy and the passion will still be there to fuel us," said Barthwell.