WICKER PARK  —  The corner of Milwaukee and Wood is no longer home to one of prominent Chicago street artist Hebru Brantley's earliest murals featuring variations of a character Brantley calls "Flyboy."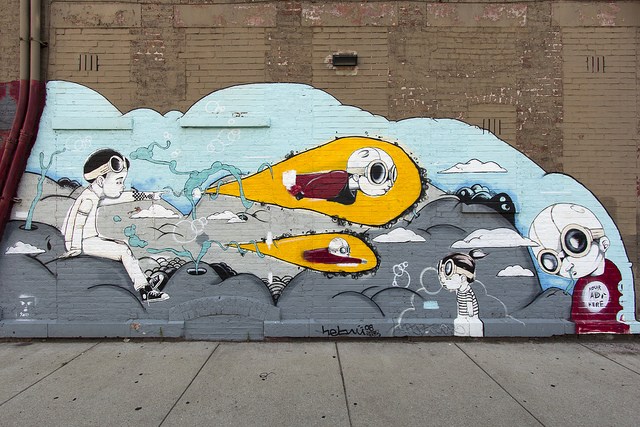 Building owner Robert Stiebel said last week that he did not give the city permission to remove Brantley's mural along the Wood-facing side of his corner building at 1401 N. Milwaukee Ave.
"A supervisor with Graffiti Blasters decided he didn't like it. I went up to him and I asked him why and his response was 'I don't know, didn't like it.' At that point it was three-quarters painted over," Stiebel said.
Stiebel said he was "too irked to be overly pleasant" with the graffiti removal team as he realized the mural was gone.
"It was a good mural, people liked it, it was joyful and uplifting. Apparently the city did not go for it," Stiebel said.
Though the removal of the mural happened about three months ago, the mural was there for almost 10 years and fans like Amy Reyes, who wrote into Block Club last week, are gradually realizing that it's been removed from the facade of the building.
"This mural was a welcoming beacon when I moved into Wicker Park four years ago. I loved seeing it all the time. It pains me now to walk by an ugly brown wall when there used to be a true work of art by a world-renowned artist there. I'm heartbroken it's gone," Reyes wrote, adding that she's "really curious as to why on Earth this was done."
Marjani Williams, a spokeswoman for the city's Department of Streets and Sanitation, confirmed that graffiti removal crews painted over the mural because it had been repeatedly vandalized with graffiti.
Williams said that the department's graffiti crews were called to remove graffiti from the building at 1401 N. Milwaukee at least 12 times since January "due to frequent graffiti vandalism" on the mural.
"It's unfortunate that a piece of public art was damaged and removed due to this vandalism months ago. DSS remains committed to ensuring that public art in the City is protected during our neighborhood improvement work and has recently made strides in our efforts to work with local aldermen and artists to restore murals after vandalism," Williams said in a statement.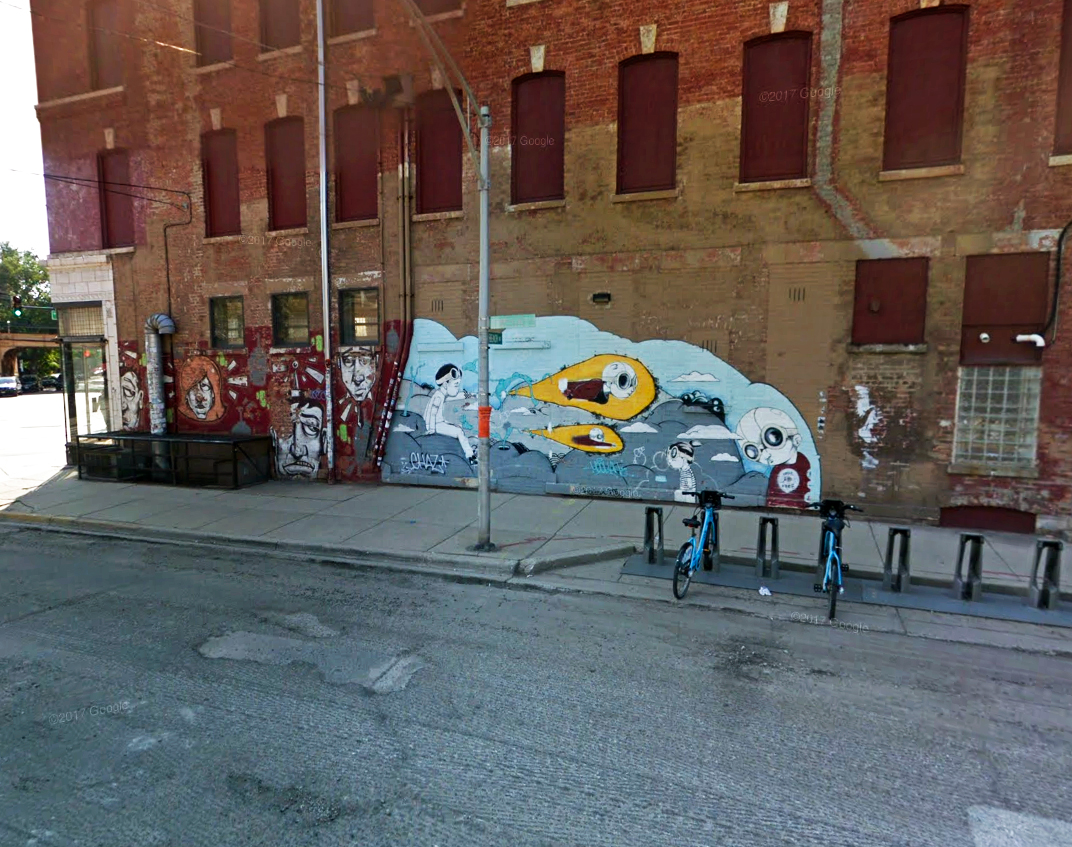 While he did not recall giving Brantley permission to paint it, Stiebel said over the years he's allowed various artists to use the wall to put up artwork, including art students from a local elementary school.
Brantley has not yet returned a request for comment on the now-gone mural at Milwaukee and Wood, which dates to 2009. In 2015, Bronzeville-raised Brantley told Street Art News that he was both glad and surprised to see it still intact.
"It is one of my favorites because every time I look at it I am reminded of my growth as an artist.  To see where I was to where I am. It was one of my first incarnations of my characters on walls. That came off in a very good way and created a narrative that people gravitated to," Brantley told Street Art News. 
"Flyboy," a character somewhat inspired by the Tuskegee Airmen, appears often in Brantley's work.
"I create the flyboy character out of a need to have heroes of color, whether black, Asian, or White, European," Brantley told DNAinfo in 2013 at the unveiling of another flyboy mural for a  Nike store on Damen.
In mid-June, Toronto-skincare brand Deciem, which plans to open a store in the building this fall, put up a vinyl mural on the corner of the building, but for now Deciem has only partially used the parts of the wall where Brantley's mural used to be. Currently, there are three monkeys peeking out of bricked-in windows in the same spots where there was once portions of a blue sky in Brantley's mural.
A spokeswoman for Deciem told Block Club that Deciem did not remove the mural or ask for it to be removed.
It's not the first time a Brantley mural has been painted over in Wicker Park.
Another Brantley flyboy mural was removed about four years ago from the Evergreen-avenue facing side of Hollywood Cleaners at 1438 N. Milwaukee Ave.
Last week, Hollywood Cleaners' owner Phil Luparello said the mural by Brantley lasted from 2012-2014 and it was initially installed for the Silver Room's annual Block Party. Luparello said he told Brantley that he wanted new artists to be able to use or paint on the Hollywood wall.
Last year, another Flyboy mural was removed from a 26-story apartment tower under construction at 1136 S. Wabash Ave. "That is the nature of street art," Brantley told DNAinfo in an email when the South Loop mural was removed. "It is the idea of creating something that may not be permanent."
Williams said that the Department of Streets and Sanitation responds to more than 100,000 graffiti removal requests each year in four days or less and graffiti crews have responded to more than 70,000 resident requests in 2018.