RIVER WEST — Bulletproof glass and Crayolas seem like an unlikely combination, but for the founder of a nonprofit group focused on collecting and redistributing gently-used school supplies, a former currency exchange at a busy corner was the perfect spot to set up shop.
Sometime this fall, the one-story River West building will be demolished and replaced with a 7-story, 97-unit apartment building from developer Lipe Property Company. 
But for the past few months, and until that impending demolition, the building at 800 N. Milwaukee Ave. has been home to Upcycling Colors. Its predecessor, the New Ogden Milwaukee Currency Exhange, closed last summer.
Colorful signs in the window of the former currency exchange advertise school supplies. But a big sign out front promoting  "checks cashed" and "Moneygram" (and the fact the currency exchange is still listed as open in an online directory) has understandably confused some folks.
In the half hour that Block Club visited Upcycling Colors on Wednesday, two people came in seeking currency exchange services from Upcycling Colors founder Mariela Bertorelli and board member and volunteer Susan Lipe.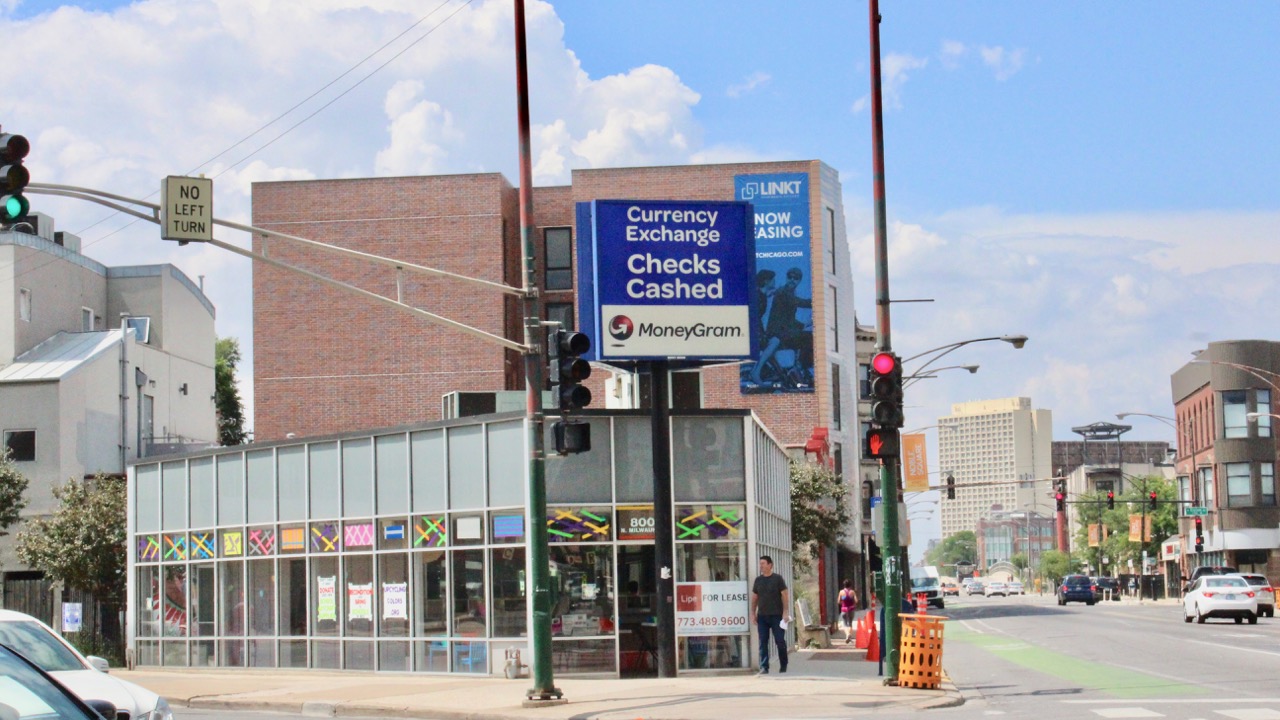 "I'm sorry… it's closed," Mariela Bertorelli told a woman who was confused.
Earlier in the day, another woman who'd been looking for the currency exchange turned out to be a former Sunday school teacher and said she'd talk with her church about coming back for arts and crafts supplies, according to Lipe.
Bertorelli still remembers the joy she felt as a child in Argentina when she received her first box of Crayola crayons as a gift from a visiting aunt and uncle who lived in the United States.
"I did not want to use them, I wanted to just look at them. It was a treasure for me, I remember the joy. So many kids don't have that experience. I see what we do as rescuing school supplies by redistributing from where there is so much to where there is not," Bertorelli said.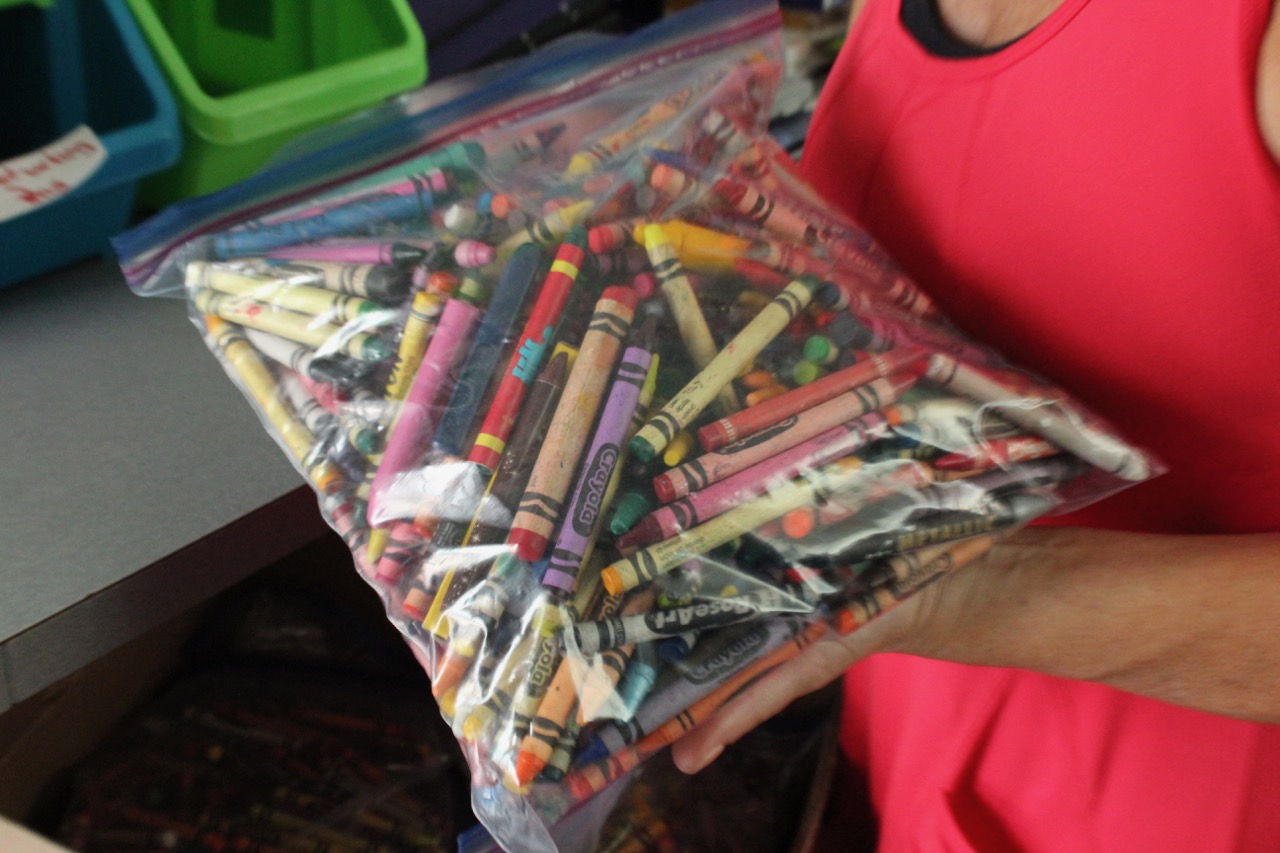 At Upcyling Colors, all donated items — from private homes and schools and anyone who wants to drop off their unused supplies —  are "reconditioned" and made to look as new as possible before getting delivered to schools and after school programs in underserved communities. 
If a bottle of glue is only three-fourths full, Bertorelli will fill it to the top and clean the nozzle and sides of the bottle. Pencils are sharpened. Stickers in books that have other stickers removed on the pages will be cut out individually and put on new pages, so a child won't feel like they are missing out. 
"We rescue supplies and we transform them to like-new treasures," said Bertorelli, who serves as founder, executive director and driver. It's a labor of love and an all volunteer gig for now, she said. 
Currently Upcycling Colors works with 13 international schools and about 15 Chicago schools, a combination of CPS, private schools and after school programs. 
Parents can pop in with their children to donate or volunteer to assist with reconditioning supplies at one of the "upcycling" stations. Local businesses can drop off unused office materials, like printer paper. Earlier this week, a retired photographer dropped off dozens of sheets of new cardboard frames and an architect with an office up the street brought in boxes of tile samples that could be used for art projects or mosaics, Bertorelli said.
Lipe, co-owner of Lipe Property Company, serves on the board of Upcycling Colors and donated the space to Bertorelli, who will be seeking a new storefront when the currency exchange building gets demolished. The women's daughters go to school together at the Latin School of Chicago and Lipe and her husband Steve Lipe bought the currency exchange building last August.
Until moving into the currency exchange, Bertorelli was using her Lincoln Park home to store donated supplies. She started Upcycling Colors informally in 2016 to help out families in Argentina, where she's officially from, but as more and more families jumped on board to donate boxes and bags of barely used supplies, Bertorelli gradually expanded her reach.
Upcycling Colors officially became a nonprofit organization in January, and donations are tax deductible.
In addition to Upcycling Colors' temporary headquarters at 800 N. Milwaukee Ave., supplies can be dropped off at several locations throughout the city, such as Building Blocks toy stores in Lincoln Square and Wicker Park (3606 N. Lincoln Ave., 2130 W. Division Ave);  Snippet's Mini Cuts salons (2154 N. Clybourn Ave., 1251 W. Madison, 3724 N. Southport) and Apple Dentle Care (2062 N. Milwaukee Ave). 
Earlier Wednesday, Bertorelli said she dropped off 502 pounds of supplies to a pre-school/after-school program in Back of the Yards.
"When you see these kids, even in the city, there is so much joy when they get the supplies," Bertorelli said.
Looking to donate? Check out the list of possible items that are needed, below. For more info, including hours of operation, visit Upcycling Colors' website.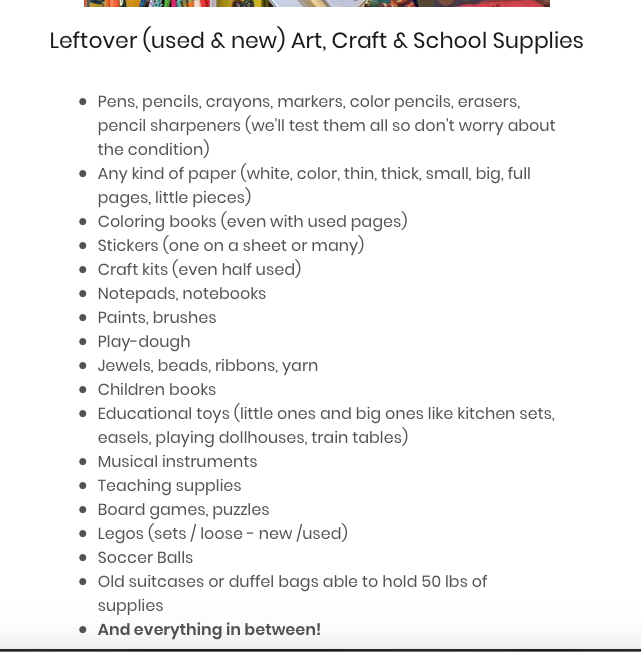 Do stories like this matter to you? Subscribe to Block Club Chicago. Every dime we make funds reporting from Chicago's neighborhoods.