WEST TOWN — Across the street from Wicker Park's Dean Park, there's an otherwise drab gray apartment building jazzed up with a hot pink door and pale purple trim.

A sign on the door says "ladies" and a crystal door handle is reminiscent of a vintage powder room. Pink, purple and white striped awning hangs over the door. Even the mailslot is pink. 

Some of the parents and children who hang out in the park have unofficially named the can't-miss building in the 1300 block of Dean Street "the doll house," according to resident Leah Root. 
The building's owner, Keith Miller, said he was not aware of that nickname, but agreed a dollhouse "sounds about right."

Miller credits his tenant Sarah Weis for the look, which started to evolve four years ago when Weis moved in.

"I let Sarah do whatever she wants. She has great creative abilities and some think she's a little weird, but I highly respect her for being a unique personality. She does a lot of creative things with the fence and the house. More power to her," Miller said.
The doll house is just one of several pink or pink-accented houses sprinkled across Chicago, adding dollops of colors to the city's not-as-cheerful landscape. Block Club Chicago checked in with some of the people responsible for the jolts of color.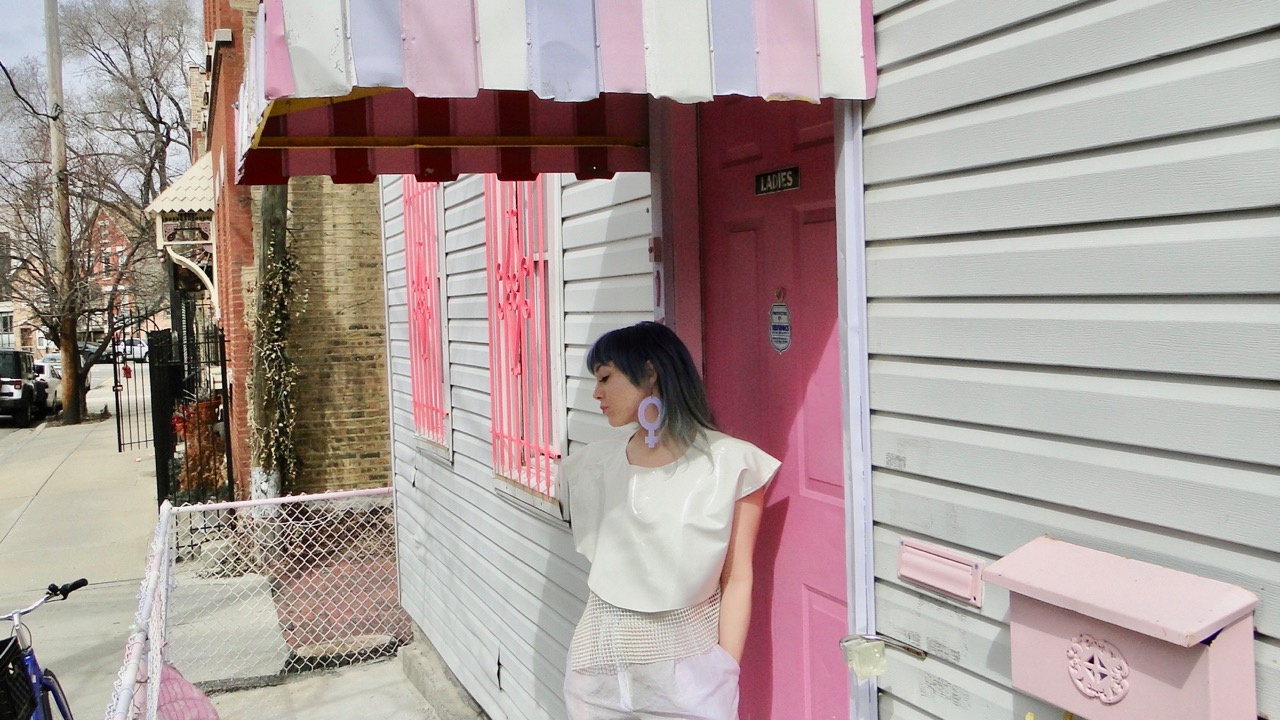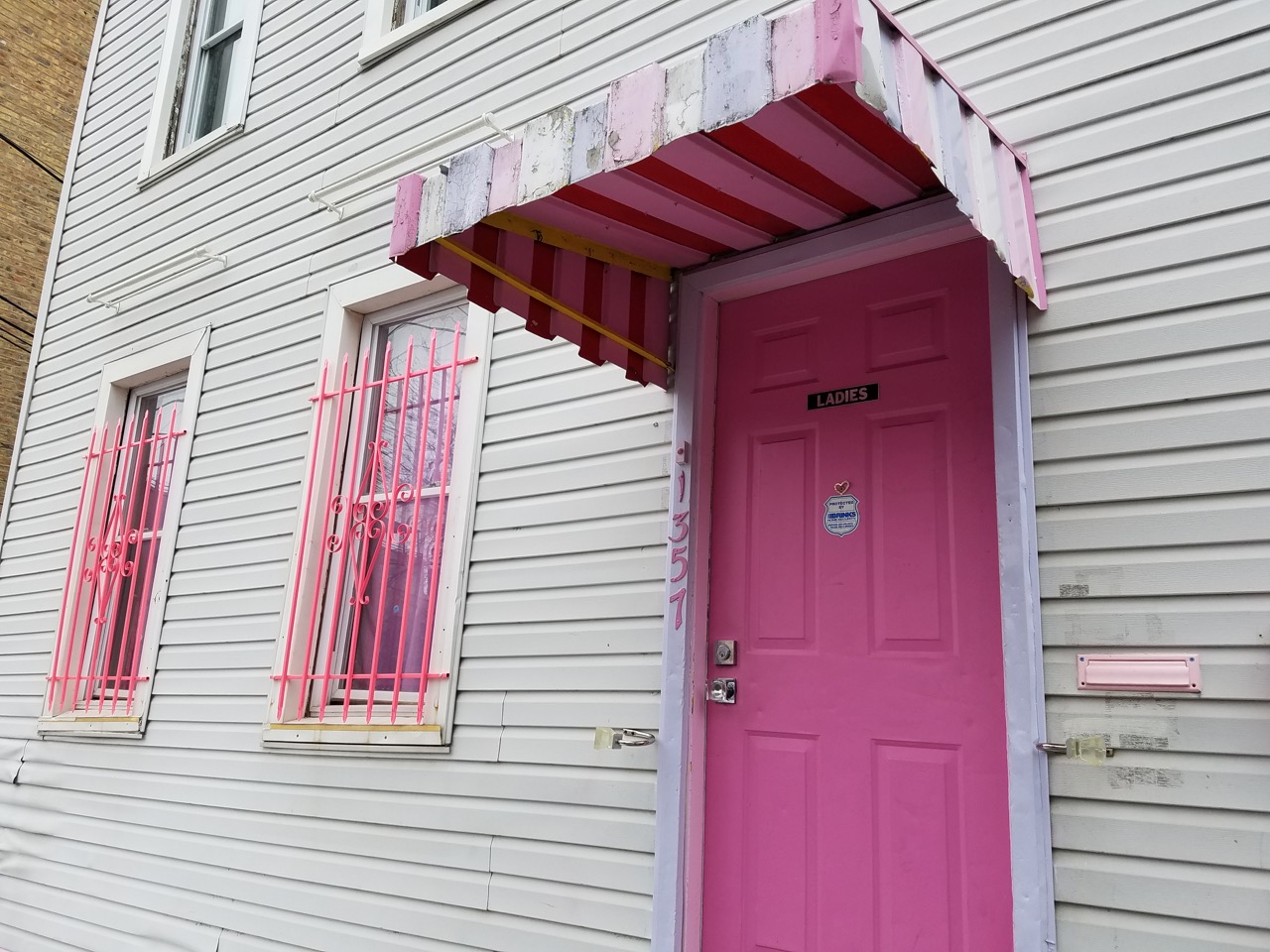 According to Miller, the multi-unit Wicker Park apartment building was gray when he bought it in 1998 from previous owners who were born in the building and had lived there their entire lives.

On a recent tour, Weis, an artist and creative director, said, "It's really a white house with pink accents, but everyone calls it the pink house."

The entryway features pink faux fur covered walls.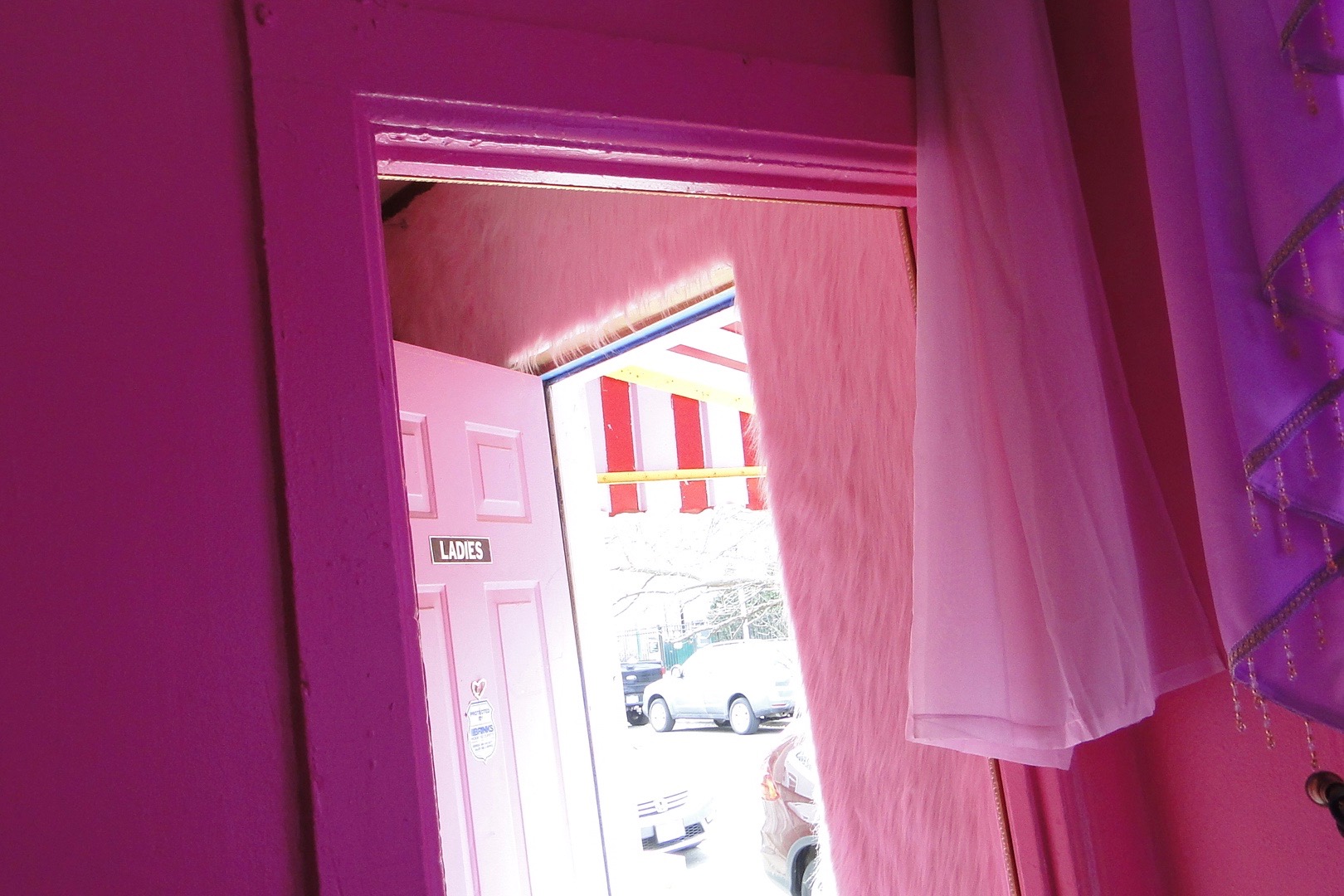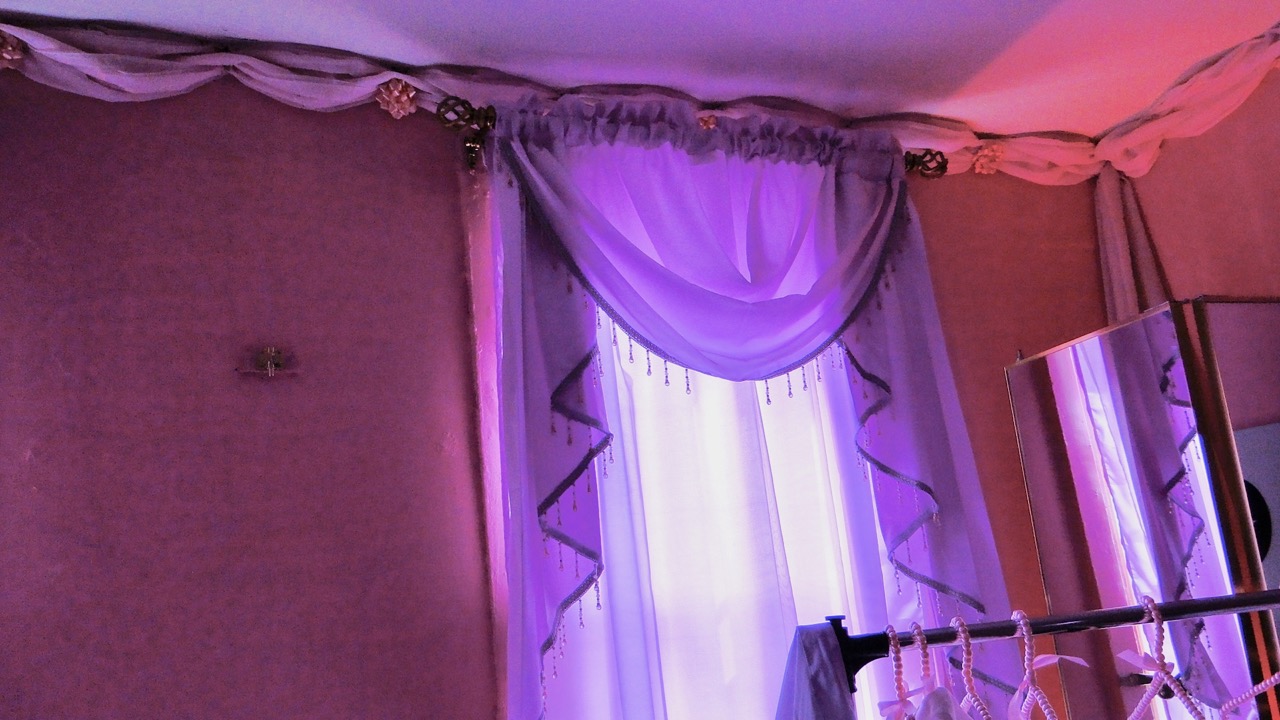 About six months ago, Weis, who said she's constantly updating her apartment, added powder-coated window bars to match a fence in front of the building, which has strands of fake pearls woven through it.
She uses a color from Benjamin Moore she's dubbed "sexy pink."
When asked what she likes about pink (which is her third favorite color after white and lavender), Weis said, "Pink is so classically feminine, it's bright and poppy. I always have and I always will love pink, it's one of those staple colors if you like to celebrate femininity and fun."
Weis also loves white and dedicated an entire room of her apartment to it, including white marble tile flooring.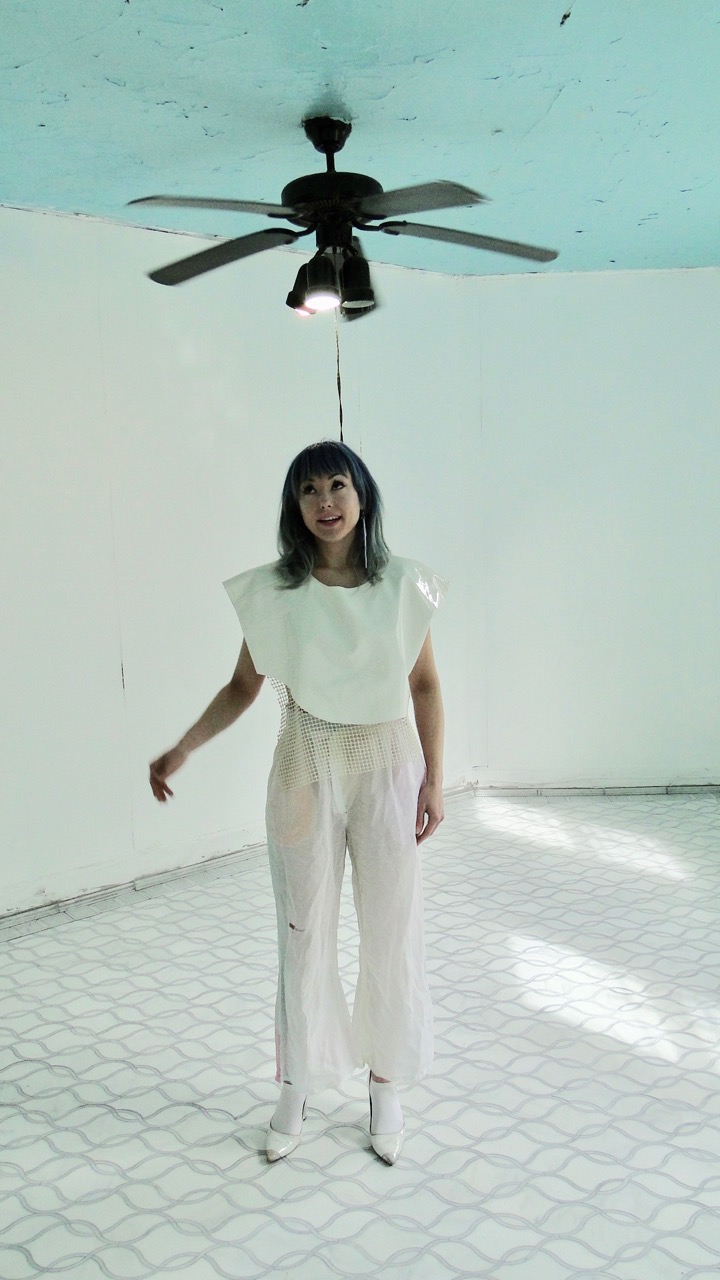 'A Little Pink House With a Blue Door'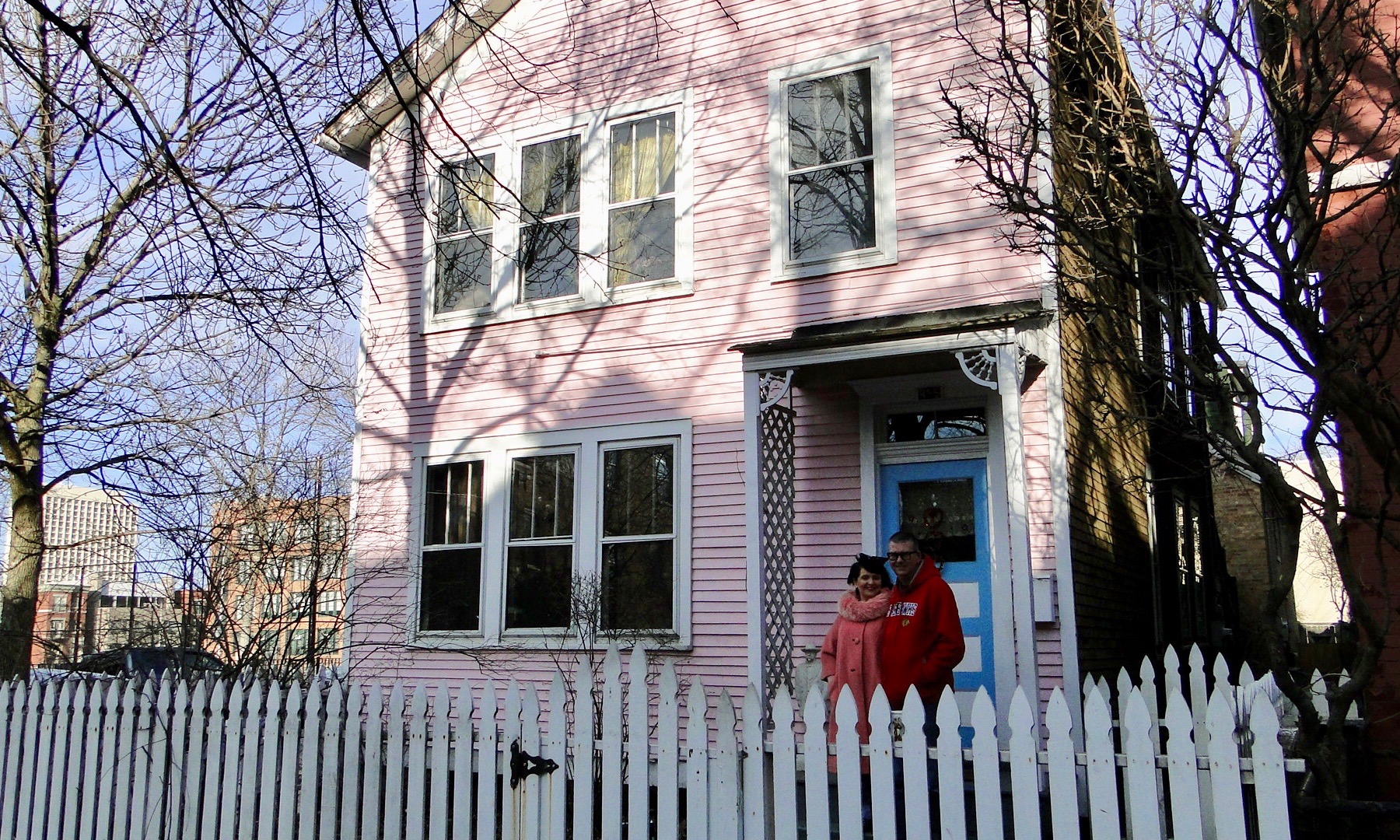 In the West Town enclave East Village, another pink house draws attention. Owner Niki Hughes said she's occasionally come out of her family's house to see people doing photo shoots in front of it. 

That house, in the 800 block of North Paulina Street, has been painted a light pink since 2004. It's actually called "pink parfait," according to Niki's husband Sean Hughes, who still has some of the paint (mixed locally at C&G Floor Finishes & Paint, 1101 N. Ashland Ave.) 

Sean Hughes bought the vintage wood-frame home in 2000 when it was painted yellow. He met Niki in 2001 at Club Foot, a now-closed neighborhood dive bar around the corner from the home.
Hughes proposed to Niki on the front steps in 2002, when the home was still yellow. But not for long.
"A pink house, a white picket fence and a blue door, that's what she wanted," Sean Hughes said.
Niki Hughes, who works as a shop manager for traveling parenting convention MommyCon, said her great-grandmother lived in a pink house in Lake Geneva and memories of visiting that house, coupled with her teenage interests, inspired her interest in pink.

"It's the ultra femininity of it when I'm not ultra feminine; it goes back to being a teenager in the '90s and a riot grrrl," Niki Hughes said, referring to the feminist punk rock movement that began in the '90s. "And 'Great Balls of Fire.'"
In the 1989 Jerry Lee Lewis biopic, the singer's third wife Myra, played by Winona Ryder, famously said "All I ever wanted was a little pink house with a blue door."

Gradually the Hughes made all those things happen, starting with the white picket fence in 2003, which Sean Hughes assembled with help from his father-in-law. In 2004, he painted the house pink and the door blue. They lived in the house until the recession hit in 2008, and moved to a coach house behind their house with their son so they could make extra income by renting out the whimsical house.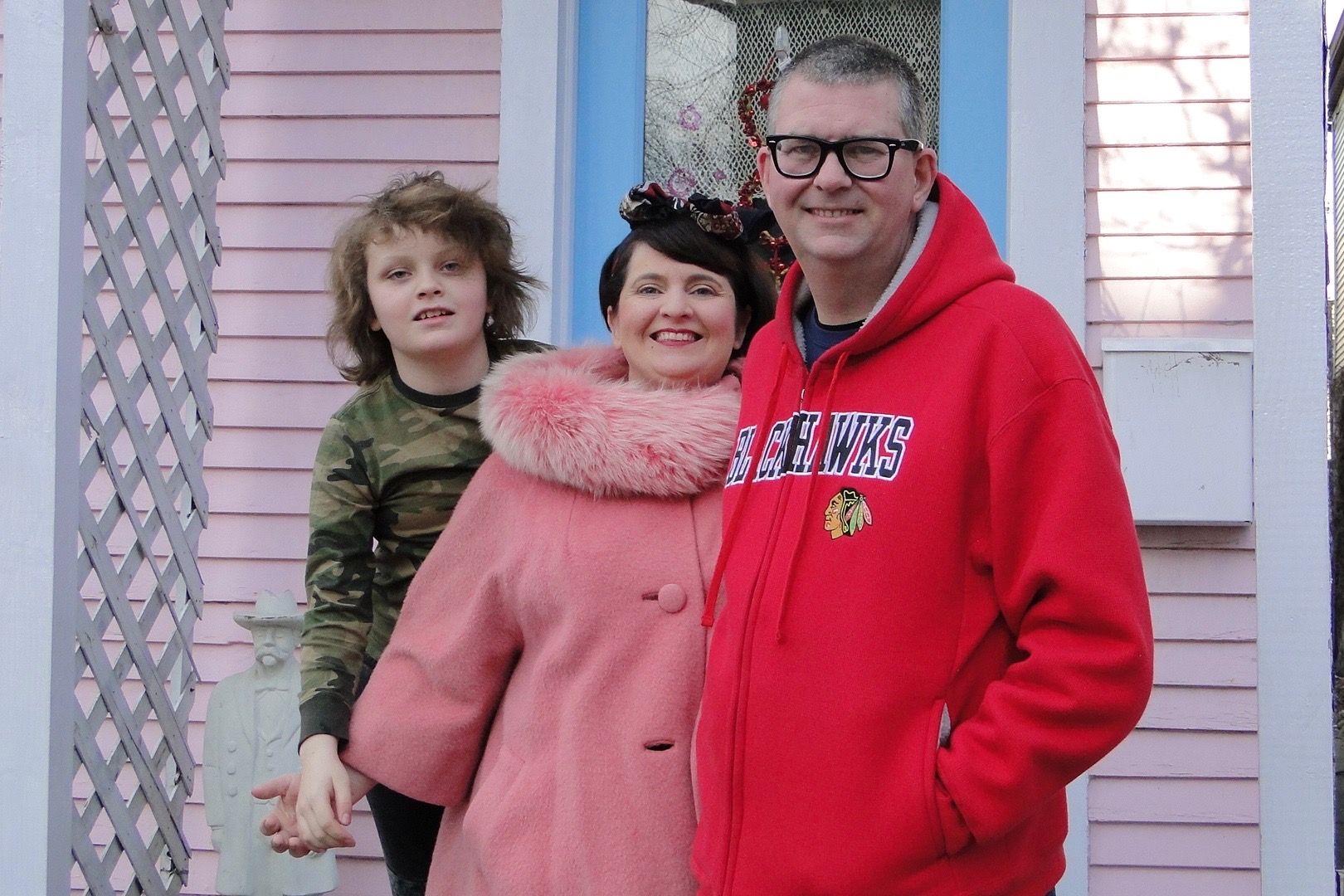 Since the house was painted pink some 14 years ago, eight people living in it got engaged or were married. No renters have moved out single, according to Niki Hughes.
"We call it the love's nest apartments," the couple said.
When the couple places ads for the two apartments on Craigslist, they always make it clear that the house is pink.
"We want people to know. Not everyone wants to live in a pink house," Niki Hughes said.
After he painted the house pink, Sean Hughes said responses were mixed but "overwhelmingly positive."
"Some people thought I was crazy. Most thought it was cool. Some looked at it and shouted 'little pink houses' (referring to the John Mellencamp lyric). It's a landmark for the neighborhood," Sean Hughes said.
When asked if she wishes more people in Chicago lived in pink homes, Niki Hughes said, "I wish people had whatever color home they want."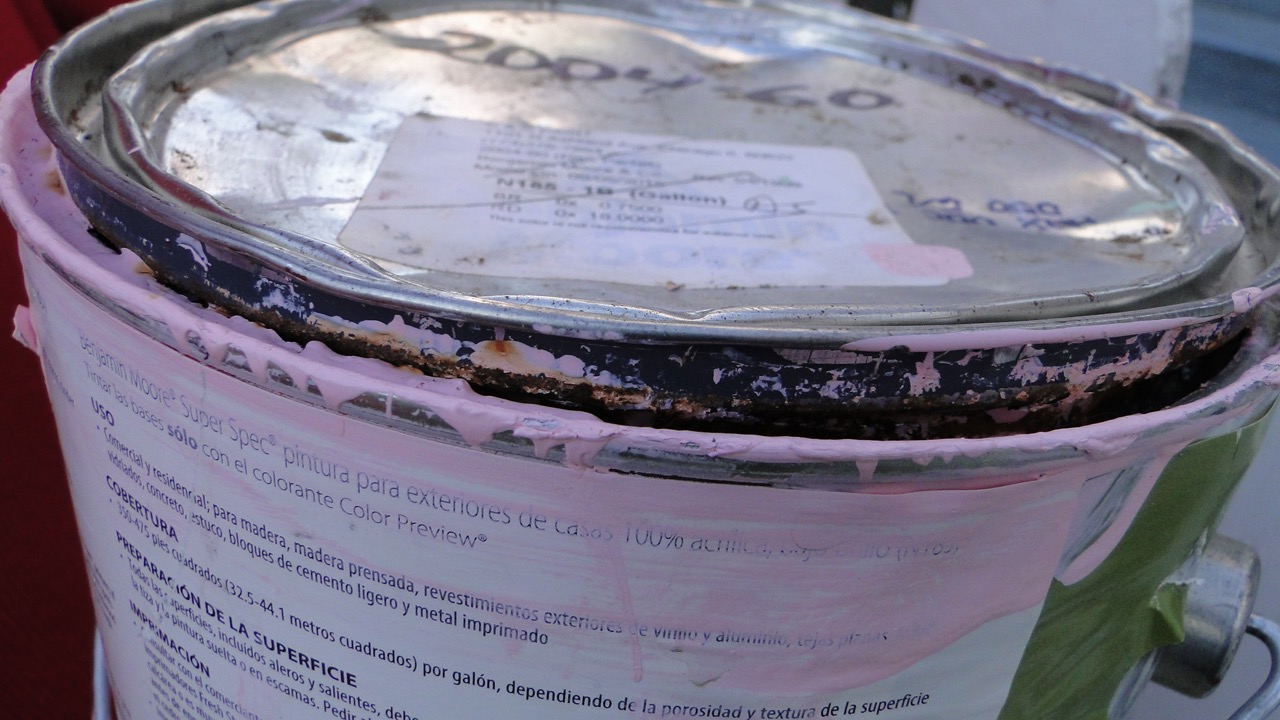 Environment Inspires Home Colors 
When the family was vacationing in the Caribbean, Niki Hughes said she saw several pink houses — and wondered if the warmer climate inspired more people to paint their homes pink.
Sue Wadden, director of color marketing at paint maker Sherwin-Williams, told Block Club that the exterior colors of homes draw inspiration from environment and climate.
"Oftentimes, the popularity of exterior colors all depends on your surroundings and the style of home. Charcoal gray, navy and hunter green are more popular in areas with pine trees, mountains and sea access, while terra-cotta reds, burlap and rust colors dominate areas of the country in the dessert," Wadden said in an email.
All-over pink homes aren't rising in popularity, according to Wadden, who said adding "pops of colors" to exterior areas, such as doors, window trim and shutters, is an easy way to showcase personal style while adding value.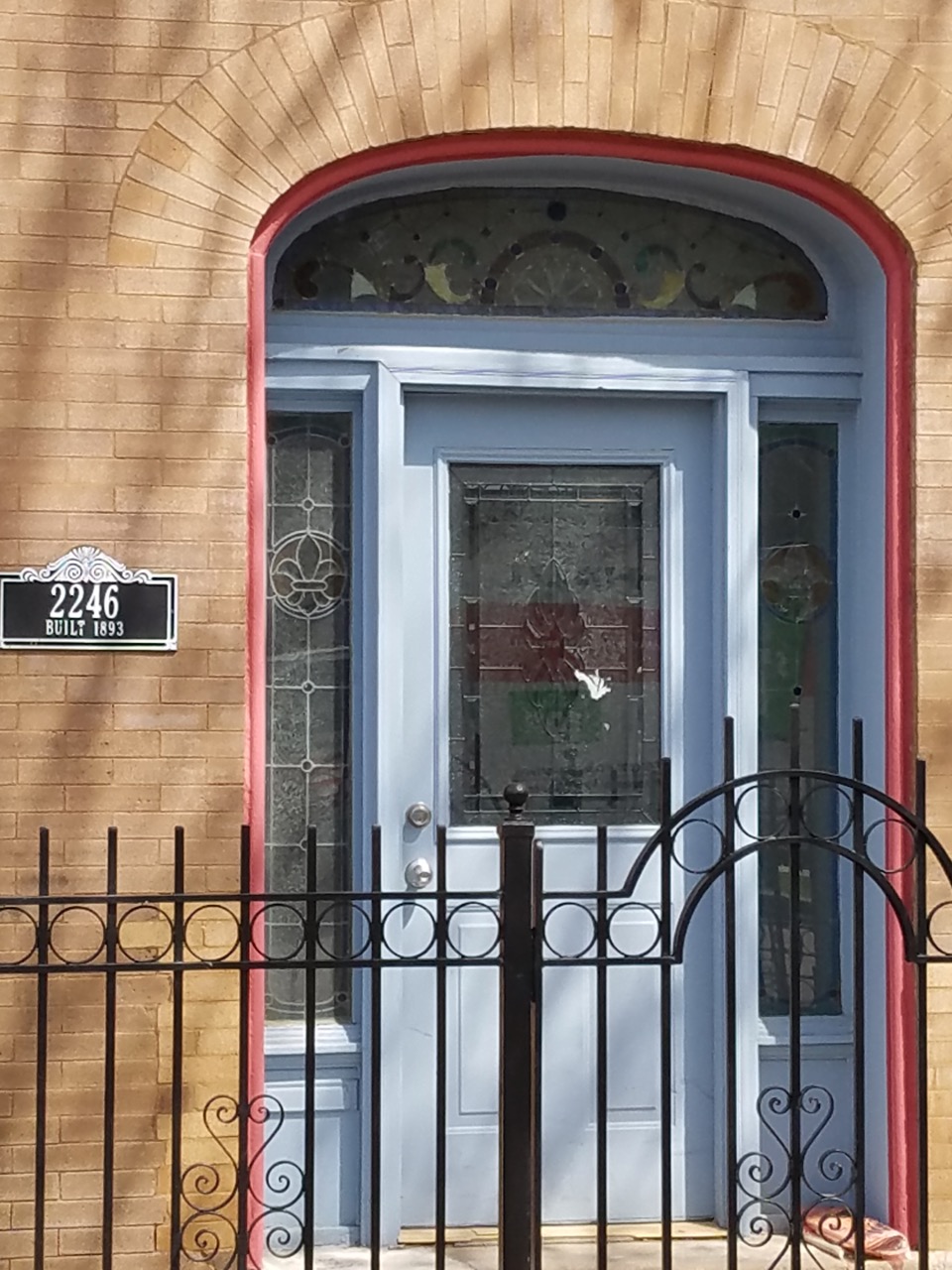 Wadden suggests using "Exuberant Pink SW 6850" on the front door of a home to "add charm and character to a neutral exterior color palette."
According to Wadden, Sherwin-Williams five most trendy pink colors for home exteriors are "Rachel Pink," "Hopeful," Exuberant Pink," Charming Pink" and "Oleander."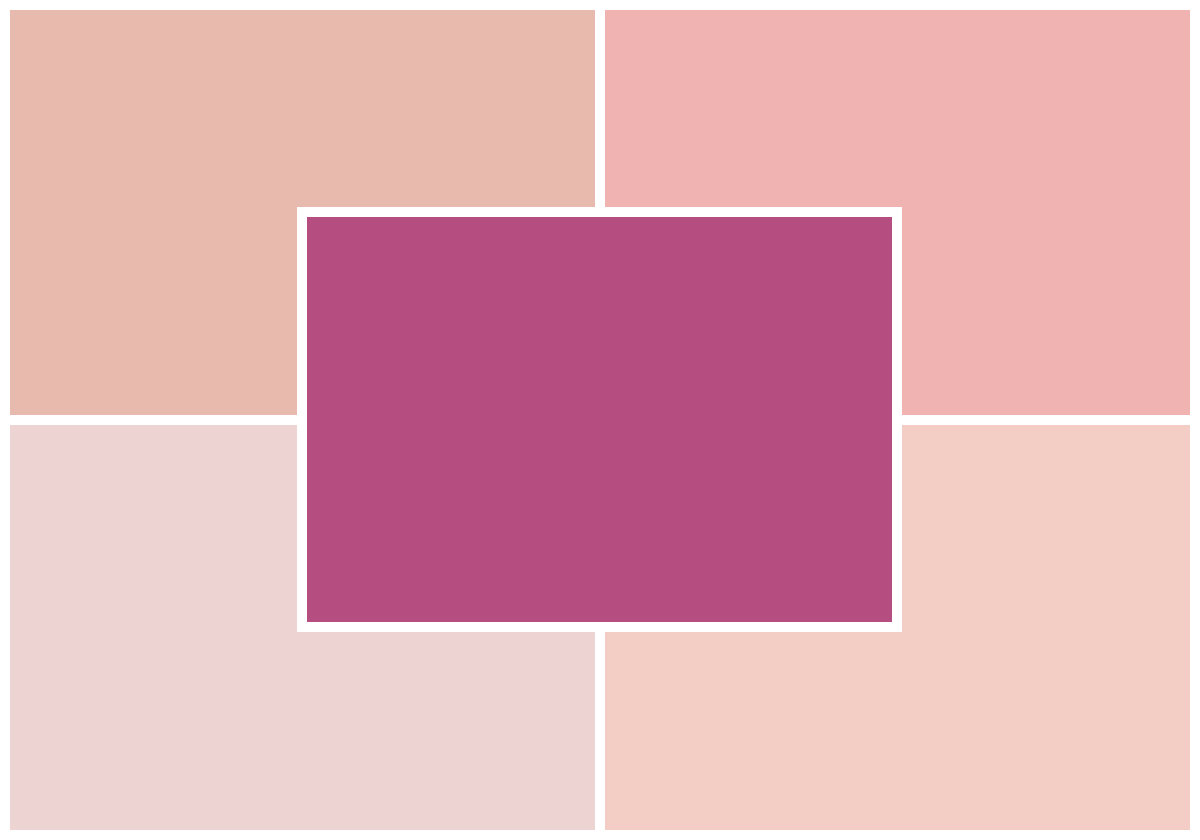 Edgewater Beach Apartments' Sunset Pink 
The stucco Edgewater Beach Apartments building at 5555 N. Sheridan Road , built in 1928, features a "sunset pink" exterior.
Rising at the beginning of what Edgewater Beach Apartments resident Janet Cheverud said was "the mansion in the sky era," the 19-story, 307-unit building is the largest pink building in Chicago.
And it's easy to spot.
"If you say you want to go to 5555 N. Sheridan, people look at you blankly and then you say 'the pink building' and they say, 'oh, okay!" Cheverud said.
The building is often mistakenly identified as the since-demolished Edgewater Beach Hotel, and it was a complement to the historic "sunrise yellow" hotel down the block, DNAinfo's Linze Rice previously reported. 
"This color is very unique, and when we had facade work done a few years ago, it took a couple tries and they had to come back to get the right tone of pink," Cheverud said.
Ain't That America 
It's hard to talk about pink houses without John Mellencamp coming to mind. His "Pink Houses" was released on his 1983 album "Uh-Huh." The popular song was ranked No. 439 on Rolling Stone's list of the 500 Greatest Songs of All Time.
In an interview with Rolling Stone in 2013, Mellencamp said that the pink house song was inspired by a man he saw who was sitting in front of a pink house.
"I was driving through Indianapolis on Interstate 65 and I saw a black man holding either a cat or a dog. He was sitting on his front lawn in front of a pink house in one of those sh—-, cheap lawn chairs. I thought, "Wow, is this what life can lead to? Watching the f—– cars go by on the interstate?' Then I imagined he wasn't isolated, but he was happy. So I went with that positive route when I wrote this song. This one has been misconstrued over the years because of the chorus – it sounds very rah-rah. But it's really an anti-American song. The American dream had pretty much proven itself as not working anymore. It was another way for me to sneak something in," Mellencamp told Rolling Stone.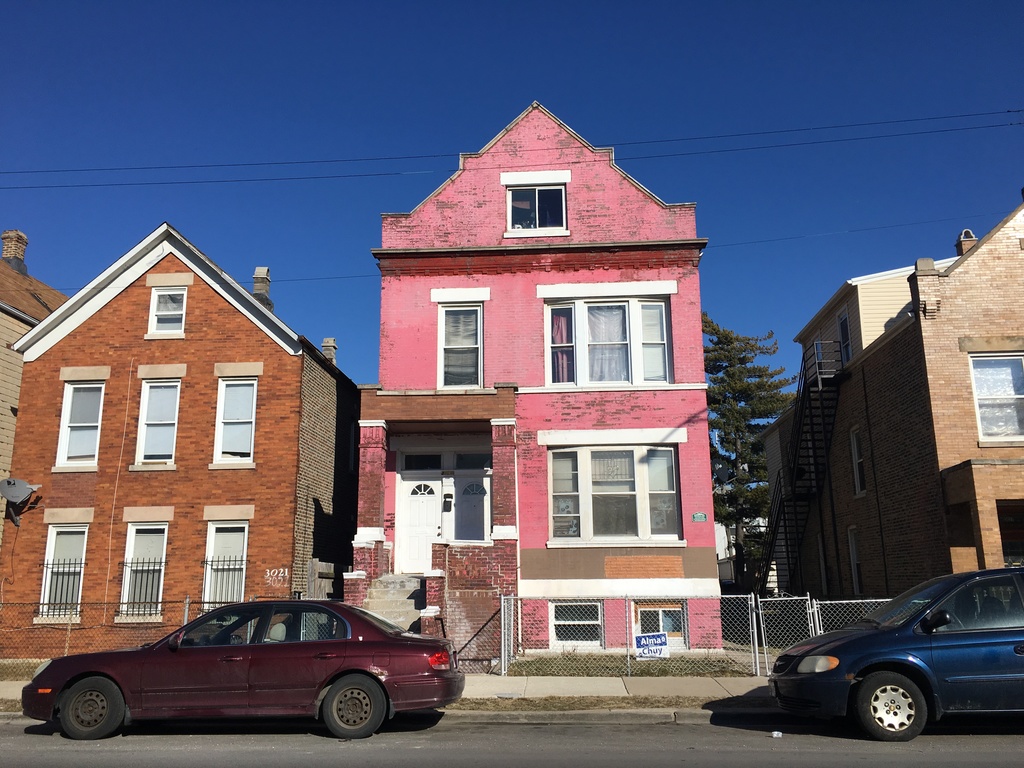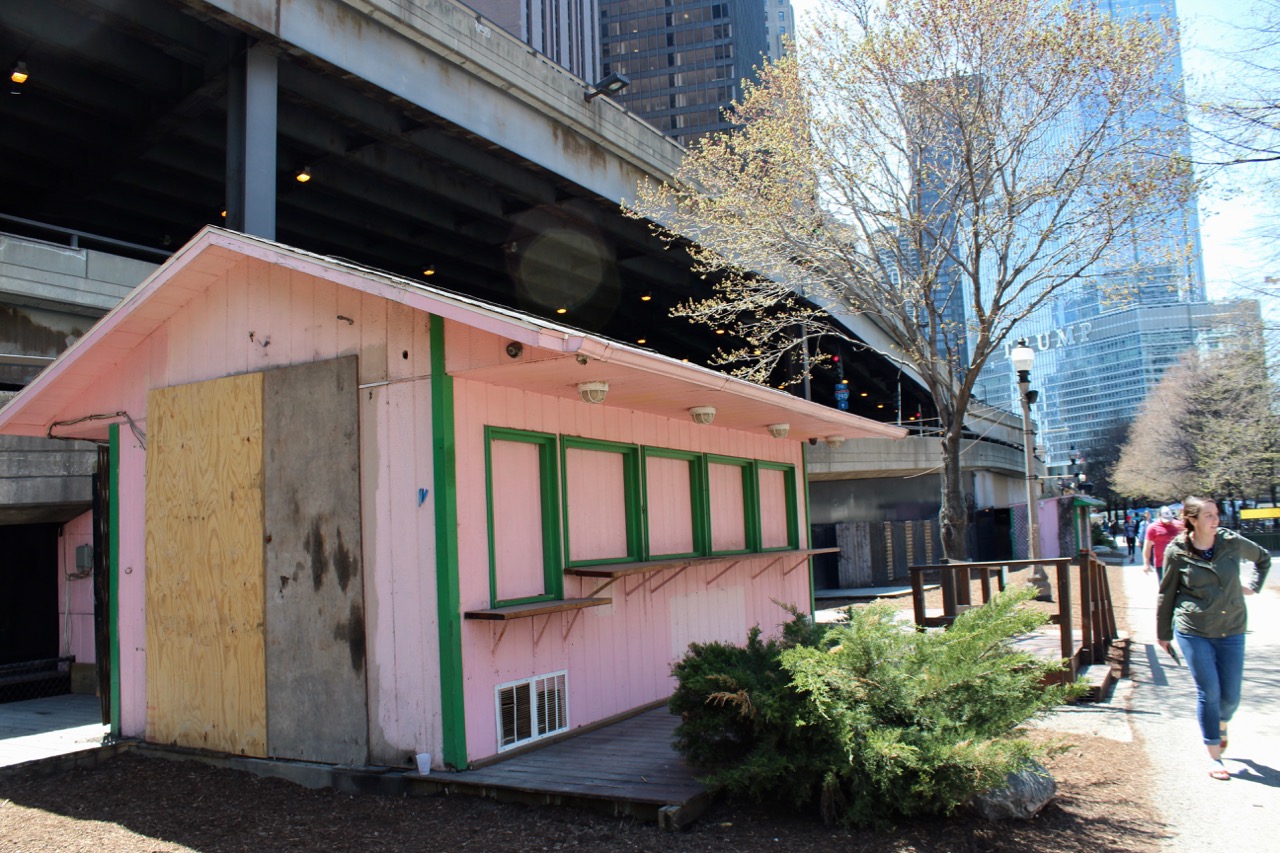 Do stories like this matter to you? Subscribe to Block Club Chicago. Every dime we make funds reporting from Chicago's neighborhoods.