LAKEVIEW — Activists shut down a stretch of busy Lake Shore Drive in both directions near Belmont for nearly an hour Thursday as part of a march and protest against gun violence.
The protest then streamed west on Belmont, and wound its way to Wrigley Field, where the Cubs have a 7 p.m. game. The group, estimated by police at about 150 people, assembled before the historic ballpark's red marquee.
The group prayed, chanted and called for change in Chicago before the march began to wane after 6 p.m. The march remained peaceful throughout, with no arrests reported, police said.
The peace march and rally began near Belmont and Lake Shore Drive, as buses with protesters arrived and the group assembled.
Protesters streamed onto the Drive after 4 p.m., with some stopping to write messages in chalk on the road. It's the second prominent shutdown of a Chicago highway this summer. A group marched on the South Side's Dan Ryan Expy. on July 7.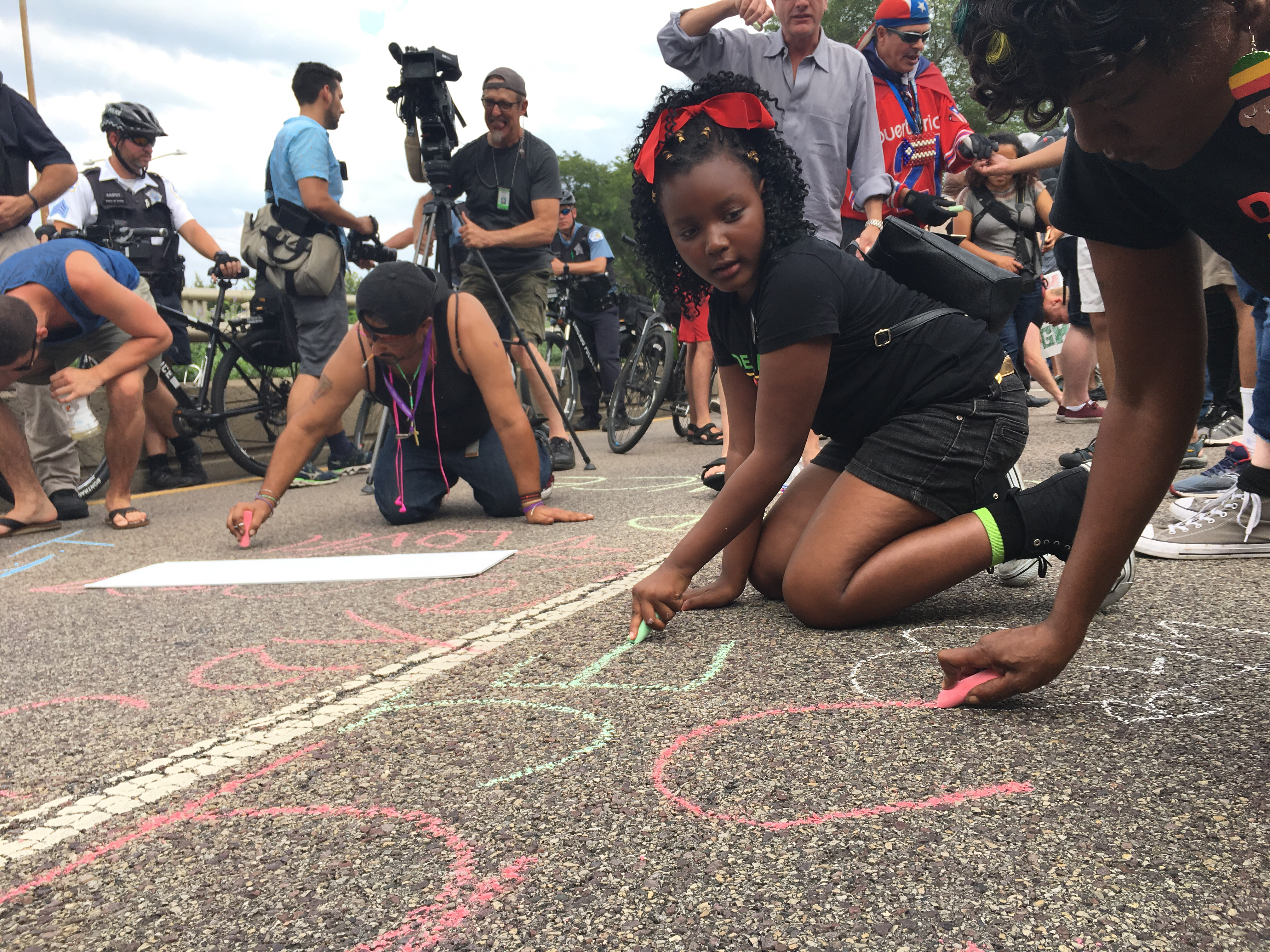 The City of Chicago used bike cops and salt trucks to stop traffic in both directions. The Drive eventually opened just after 5 p.m., as a logjam of rush hour traffic slowly streamed along the lakefront.
Odessa Riley, 51, of Englewood marched with her 7-year-old granddaughter, Camaya Louden. Riley wants lawmakers to take action against the violence plaguing some parts of Chicago.
"We shouldn't have to fear for our life in our neighborhoods," said Riley, who participated in three marches aimed at structural inadequacies between the North and South sides."I want there to be a better life for my grandchildren and people in my neighborhoods."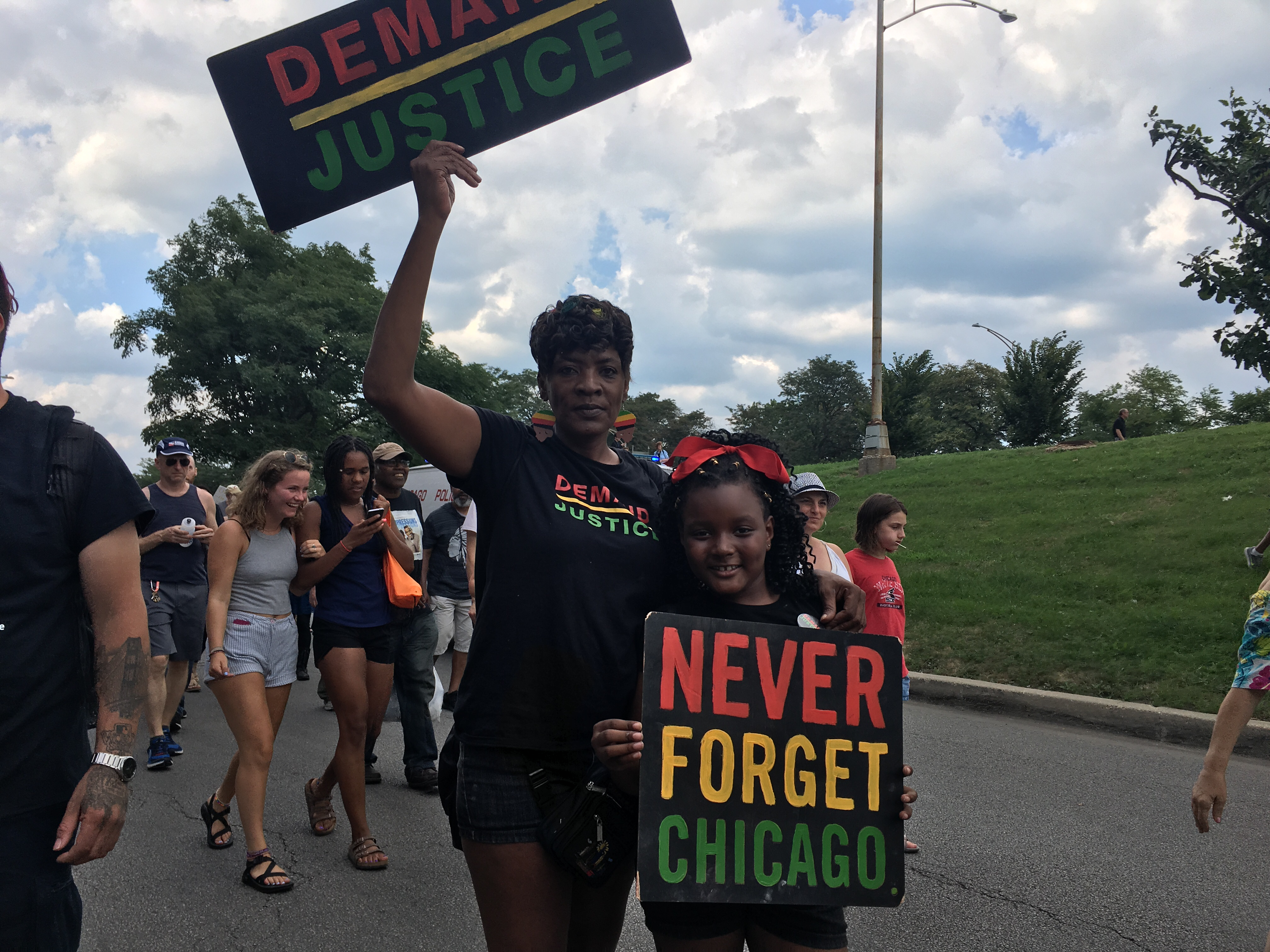 The organizers, led by Rev. Gregory Livingston and anti-violence activist Tio Hardiman, had originally planned to only march along northbound lanes, closing them off.
But Hardiman later said the activists would instead shut down the entire drive before marching on Belmont and then to Wrigley Field.
"We're gonna shut Lake Shore Drive down and get our message out," Hardiman said.
Although police were expected to stop traffic on the drive between Irving Park Road and Fullerton Avenue at 3:45 p.m., the actual shut down didn't happen until about 4:15 p.m., with bicycle police wheeling into the highway.
Organizers hope the protest will "redistribute the pain" felt by South and West side communities to those on the North Side. They want there to be more economic investment and job opportunities outside the North Side, particularly for people of color.
"Stop traffic and bring Chicago to a standstill once and for all to let everybody in the world know that we need help in Chicago in regards to resources in our community," Hardiman said during a Facebook Live. "We need everybody out there."
After the protest, Hardiman said organizers will work with foundations and anti-violence groups to find jobs for men and create lasting change.
The activists were expected to shut down the drive for 15 minutes, according to police. They'll then go west on Belmont Avenue to Clark Street before heading to Addison Street, where the march will end.
Here are some scenes from the protest: