DOWNTOWN — Lollapalooza means four days of music and fun — or four days of closed roads, crowded trains and sweaty crowds, depending on how you look at it.
The festival runs Thursday through Sunday, and headliners this year include The Weeknd, Bruno Mars and the Arctic Monkeys.
But the festival isn't fun for everyone.
Here's what to expect:
1. No Booze On The Metra
Alcohol is banned from the Metra starting at 7 p.m. Thursday and Friday. Don't try bringing any over the weekend, either: It's prohibited on trains all day Saturday and Sunday, too.
2. Crowded Trains
Yeah, the CTA and Metra will have extra trains and buses across multiple lines to take care of the Lolla crowd, and Metra is encouraging Lolla-goers to avoid rush hour trains and only travel after 9:30 a.m. But riders should still expect the CTA to be more crowded and, as a result, be slower than usual.
3. Don't Be Surprised If Uber Is Busy
Think you can skip the train lines by grabbing a Lyft or Uber? Travel might not be as easy as that: More people in town for Lolla could mean more demand for ride-hailing services and longer wait times. Surge pricing could go into effect, too, meaning your trips would be more expensive than they usually are.
4. The Roads Will Be A Mess
Expect the streets around Lolla to be a mess. The Chicago Department of Transportation is advising drivers to use Lake Shore Drive or State Street for alternate routes around the festival.
• Columbus Drive is closed between Monroe Street and Roosevelt Road.
• Balbo Drive and Jackson Boulevard are closed between Michigan Avenue and Lake Shore Drive. Balbo will remain closed until Aug. 9 and Jackson will be closed until Aug. 8.
• Congress Parkway is closed between Michigan Avenue and Columbus Drive.
5. People Are Terrible
Lollapalooza draws hundreds of thousands of people to the Downtown area every year. We hope you enjoy gaggles of teens blocking the sidewalk during your commute.
6. Good Luck Going Live On Facebook
As with any huge event, cellphone service could be dodgy as thousands of people try to Instagram their blurry band photos, drunk tweet and text their buddies to figure out where they wandered off to. AT&T alone saw 24 terabytes of data cross its network at Lollapalooza in 2017, according to a news release.
The good news: Providers are trying to find ways to deal with the data demand. AT&T will have two cell-on-wheels at the festival, and one of them will be equipped with a massive antenna to make social sharing as smooth as possible.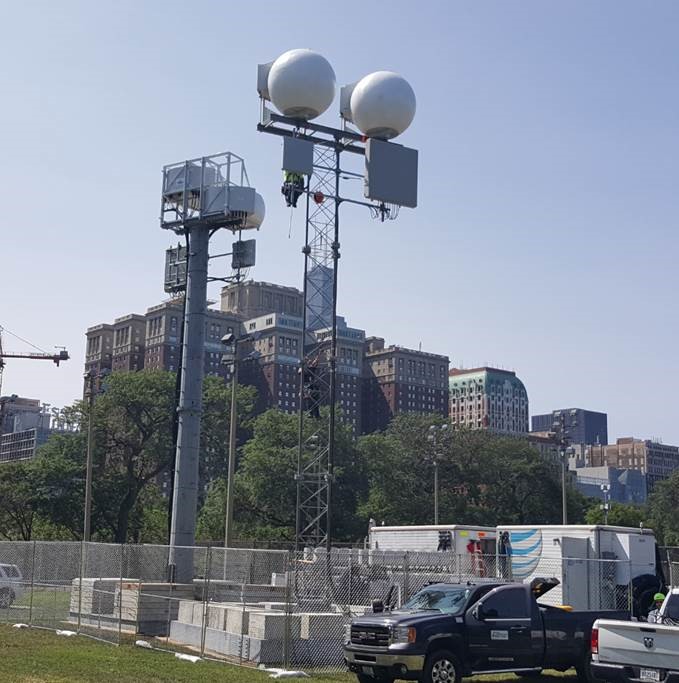 7. Full Parking Garages
Downtown parking garages are offering specials for Lolla, but drivers should expect to see garages fill up and to see heightened prices in some lots.
8. The Weather Isn't Doing Us Any Favors
Rain and thunderstorms are possible on Thursday, the first day of Lolla. That could mean tens of thousands of people wandering the Loop, looking for a place to hide until the skies clear.
But even if it doesn't rain, this weekend is expected to be hot and humid — so enjoy that nice, sweaty festivalgoer smell if you're Downtown.
9. Lolla's No-Compete
Lollapalooza won't let its performers play within 300 miles of Chicago for nine months after the festival occurs. That means if you're not at Lolla then you could miss your shot to see a favorite artist like Vampire Weekend or Jack White in the near future.
10. Grant Park Will Need A Good Cleaning
Don't expect to be able to use Grant Park after the festival. The festival grounds will need to be repaired, which can take weeks to more than a month depending on the extent of the damage.