DOWNTOWN — A petition that rips Aloha Poke Co. for trademarking the words "Aloha Poke" and preventing native Hawaiians from using them in their businesses has taken off in the last 24 hours, with more than 15,000 people calling on the Chicago-based company to change its name. 
The poke chain has faced intense online criticism since the weekend, when activists took to social media to say Aloha Poke Co. had targeted native-Hawaiian-owned businesses over the use of "aloha" and "aloha poke."
Several businesses across the country have been forced to rebrand after receiving cease and desist letters from Aloha Poke Co., and activists are saying no business should be able to own "aloha."
Businesses in Connecticut, Hawaii and Alaska have all said they were sent cease and desist letters by Aloha Poke Co. Two of those businesses — including one owned by a native Hawaiian woman living in Alaska — had to change their business names from Aloha Poke to other names.
The owner of what is now called Lei's Poke Shop in Anchorage, Alaska said in a Facebook Live video Monday she's spoken with two business owners on Hawaiian islands who have received similar threats from Aloha Poke's attorneys: 
"This is much bigger than our business," she said. 
Aloha Poke Co. has said social media posts about the business contain "misinformation." CEO Chris Birkinshaw said in a Monday statement that Aloha Poke isn't challenging other businesses over the use of "aloha" or "poke" and has only tried to stop "trademark infringers" who use its trademarked name, "Aloha Poke."
Kalama O Ka Aina Niheu, an activist in Hawaii who fights for Kanaka Maoli (native Hawaiian) families, spread the word about Aloha Poke's legal threats on Facebook over the weekend. Within hours, the poke shop's Yelp and Facebook pages were inundated with negative reviews. A Change.org petition, which was started by Niheu and calls on Aloha Poke Co. to stop using "aloha" and "poke," received more than 15,000 supporters in one day.
"Hawaiian culture is probably one of the most commodified cultures on the planet," Niheu said. "This is something that is far from new, and we're very, extremely familiar with the devastation it can cause."
The chain has not attempted to "own" the words "aloha" or "poke" and will not attempt to do so in the future, Birkinshaw said.
"We know that this misinformation has caused a considerable amount of anger and offense among those who care very passionately about their Hawaiian culture. First, we want to say to them directly how deeply sorry we are that this issue has been so triggering," Birkinshaw said. "Second, there is zero truth to the assertion that we have attempted to tell Hawaiian-owned businesses and Hawaiian natives that they cannot use the word Aloha or the word Poke. This simply has not happened, nor will it happen.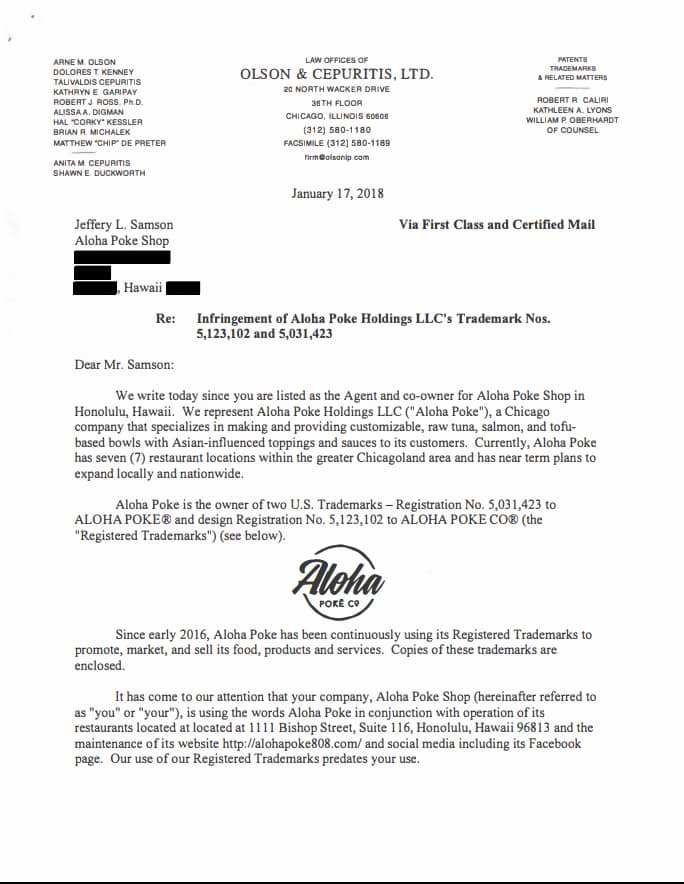 "We truly celebrate Hawaiian culture and what makes it so wonderful, which is very much the reason why we branded our business as we did."
Aloha — a word that dates back to the origins of Hawaii and serves as both a greeting and a way of life there — has no business being owned by anyone, especially by a white non-Hawaiian, critics of Aloha Poke say.
A representative for Aloha Poke declined to comment on questions about cultural appropriation and on critics saying they shouldn't let "aloha" be trademarked.
Niheu said she started to post about Aloha Poke after hearing the niece of a friend and other families had received legal threats from the Chicago chain. Native Hawaiian communities are "not rich," Niheu said, and their businesses are often both labors of love and a means of survival.
"Trademarks [trumping] culture is an incredibly privileged thing to happen," Niheu said. "And I think part of the reason why it's resonated so much is that people know … if that type of law, that type of bullying, if that type of thing is acceptable, then we know that one day we're going to look for kindness and we'll only find corporations."
Niheu thinks her message resonated in Chicago in particular because people of color here understand how gentrification, which she thinks Aloha Poke is a part of, can negatively impact vulnerable populations and force them out of their historical communities.
Hawaii State Rep. Kaniela Ing, who's running for Congress, posted a video on Twitter Sunday pointing out that coming after Hawaiian people for using the word "aloha" isn't very … aloha.
"It's bad enough that the word has been used and commodified over time, but this is the next level," Ing said. "To think that you have legal ownership over one of the most profound Hawaiian values is just something else."
In April, Aloha Poke founder Zach Friedlander told Eater the cease and desist letters weren't intended to ruin anyone else's business, but said it "really just comes down to business and protecting the Aloha Poke Co. entity."
Friedlander stepped down as CEO of Aloha Poke in the spring and was replaced by Birkinshaw. In a post to Facebook to Monday, Friedlander wrote there had been "an incredible amount of misinformation shared."
"… More than anything, I am truly sorry that anyone, especially native Hawaiians, have been offended by this situation," Friedlander wrote. "I want them to know I have nothing but love and respect for them."
In his video, Ing said Hawaiian poke shops should be suing Aloha Poke, but they likely wouldn't.
"All we ask that if you're making so much money off our words, our values, our food, our culture, that you at least hear us," he added.
"The root base of aloha are the words ALO and HA. Alo means presence, or as some kupuna have described it, recognition," Niheu said in the petition. "HA means the breath of life. Therefore when we as Kanaka Maoli say 'Aloha' we are recognizing being in the presence of another person's breath of life. To threaten suit to Kanaka Maoli families who are simply trying to practice their generations old culture and feed the community? So that you can profit off of a culture and a people that are not yours to sell?"