WASHINGTON PARK — Chicago's drought of hosting professional tennis events came to an end Friday night — with the help of Billie Jean King.
Kamau Murray, owner and founder of XS Tennis Village in Washington Park, hosted a World Team Tennis event at his tennis facility in partnership with King, an equal rights champion and tennis icon.

XS Tennis Village, 5336 S. State St., hosted a World Team Tennis league match featuring Washington Kastles vs. Philadelphia Freedoms match. Philadelphia was the de facto home team. The event was years in the making following the groundbreaking of XS Tennis three years ago.
It was important, Harris said, to bring tennis to communities who historically aren't exposed to the sport because everyone can't afford to go to New York for the U.S. Open or to London for Wimbledon.

"I feel very grateful to Billie Jean King and all the players coming here to play on the South Side for the first professional tennis match to be played in the city of Chicago in 25 years," he said.

Harris said XS Tennis was built in Washington Park to boost exposure to the sport.
"We are positioned here to have the greatest impact on the South Side, not because this is the worst piece of land the city had to give us," he said.
Junior memberships at XS Tennis Village cost $25 per month and an adult membership costs $45 per month. XS Tennis also offers summer programs, free tutoring and helps athletes land college scholarships. 
King, a co-founder of World Team Tennis and co-founder of the Women's Tennis Association, said the day's match was "concentrated on community."

"Nothing exemplifies that more than being here at XS Tennis Village. We thought that was very important," King said. 

World Team Tennis is a co-ed team consisting of two female players, two male players and a coach. Teams compete in women's single/doubles, men's single/doubles, and mixed double play. 
World Team Tennis has history in Chicago — the league was  headquartered in Chicago from 1985 to 2002 and was home to the former franchise Chicago Fyre/Fire. 

Several current tennis stars played on Friday evening, most notably Women's Tennis Association 2017 U.S. Open champion Sloane Stephens, 25, who is currently ranked as the #3 player in the World, and Chicago native Taylor Townsend, 22.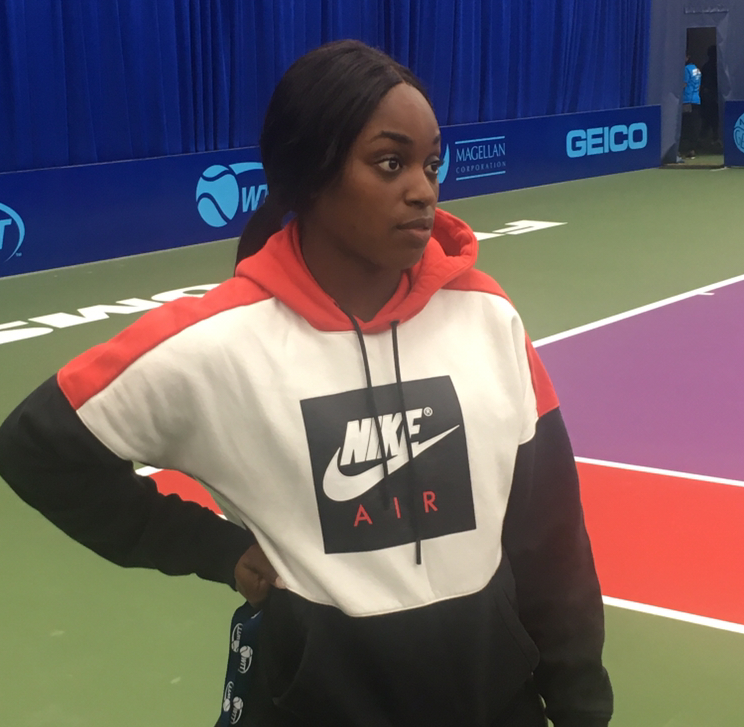 Stephens said XS Tennis Village will give thousands of kids the opportunity to play tennis. 

"At this point in time, Kamau building this facility gives hundreds of thousands of kids an opportunity to pick up a racquet," she said. "It's important to do what you can where you can." 
Towsend, who has trained with Murray throughout her professional career, said South Side kids need a safe place to play.

"I think XS Tennis Village gives people the opportunity to have access to the sport in a place that's safe, that's comfortable, that's affordable, and I think that's the biggest thing," she said. 

In the end, the Philadelphia Freedom defeated the Washington Kastles with a team score of 23-18. Stephens and Townsend beat their female opponents 5-1.