ALBANY PARK — Tenants of an Albany Park apartment building are fighting their new landlord's plan to evict them on Aug. 31, holding a BBQ and tour of the building on Saturday to raise awareness of their plight.
Tenants of the building at 4841-4853 N. Kimball Ave. said they received a notice on April 19 telling them they had to move out by the end of August. They argue the building has fallen into disrepair.
Tenants held a rent strike earlier this month, and say they haven't been able to get a response from the building's new owners.
The residents organized the Kimball Tenants Union to fight what the groups says are the unjust evictions and disrespectful treatment by the apartment building's current managers.
Property records show that the apartment building was bought by Stark Holdings LLC on Feb. 13 for $4.65 million. Stark manages the property using a subsidiary named Albany Parkers LLC, according to state records.

Stark did not return repeated requests for comment.

Current residents of the apartment building say they've also reached out to Stark with concerns over aging infrastructure, pest issues and their fear of displacement but have only been told they have to move out by Aug. 31.

"We have some broken pipes and mold, it's a very old building," one tenant who asked not to be named said.
She's been renting a one bedroom apartment for $650 a month for the past 20 years. "It's a lot of money to come up just like that to pay to move out and have a deposit ready for a new place."

Stark manages apartment buildings in Albany Park, North Park, Lincoln Park and Lincoln Square. The listed rental price for a one bedroom apartment at their 5354-5358 N. Kimball Ave. location is $1,295 per month, according to Zillow.

"When the building was sold no one told us anything," the tenant said. Tenants only found out about the change in ownership when a letter was put under their doors on April 19.

"They put a note under the door saying we need to leave by August," the tenant said. "It was very scary. We are good people, families. This is not a way to treat anyone. If you want to address us then come talk to us, don't go posting notices on our doors without talking to us."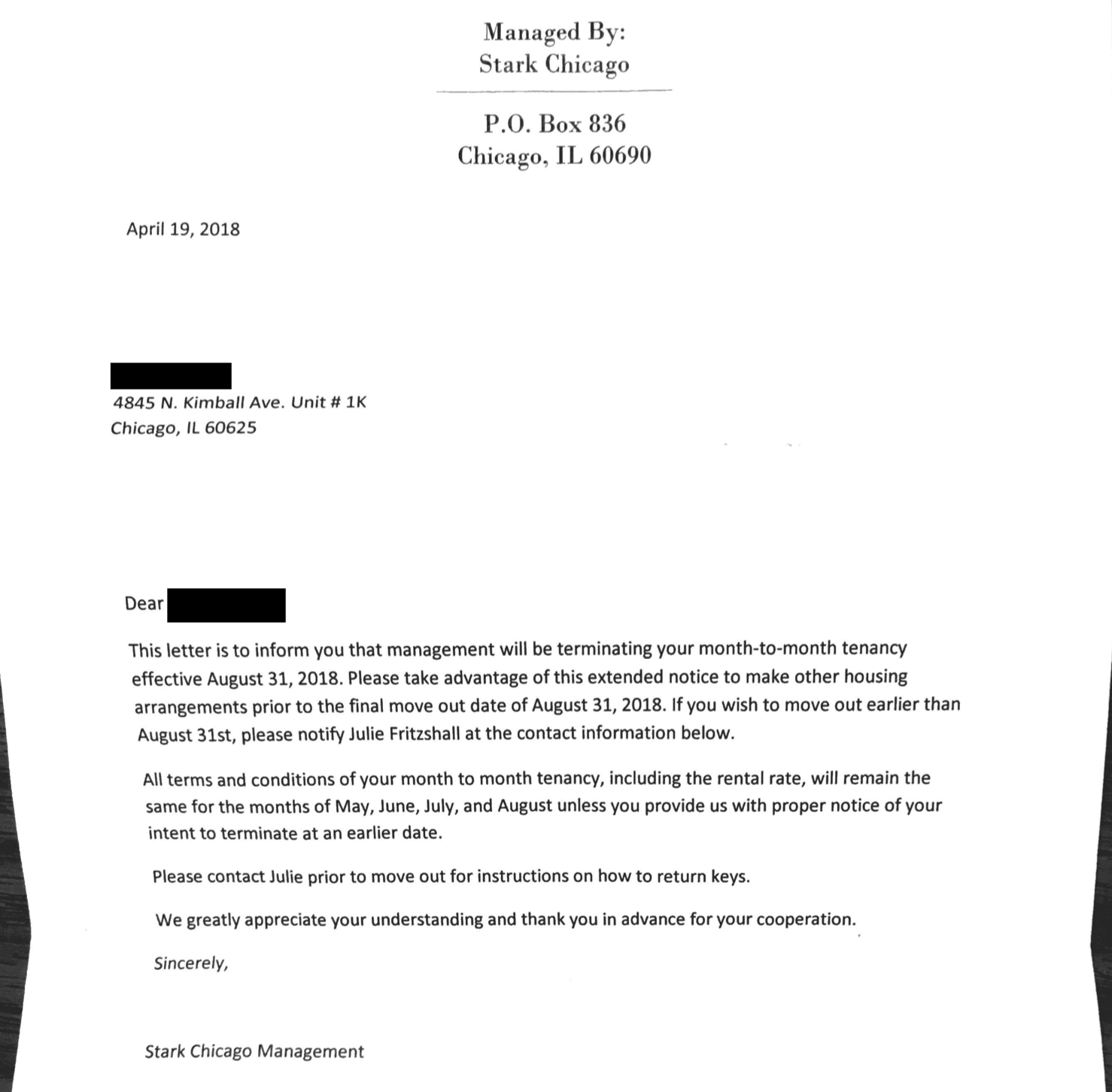 The April 19 letter stated that Stark Chicago would be ending the "month-to-month tenancy" for residents of the building and that "all terms and conditions of your monthly tenancy, including the rental rate, will remain" until August 31.

The Kimball Tenants Union began a rent strike earlier this month to protest "unjust evictions," building infrastructure issues and "disrespectful treatment" by Stark. On July 12 tenants received a 5-day eviction notice posted on their doors. Tenants ended the strike before their eviction deadline and paid rent on July 16.
In a release, the Kimball Tenants Union says Stark has still not responded to their requests to simply talk with them.

"The building's almost entirely populated by immigrants or people of color, all working class people. And a lot of people who have been there for a long time," said Jake Marshall, an organizer with the Autonomous Tenants Union, a group of tenants fighting gentrification and displacement and is offering help to the Kimball Tenants Union.

"Some of the tenants we're working with have been there 14 years, 20 years. So, it's kind of just been one of those big old affordable buildings that you see in Albany Park a lot," said Marshall. "It was owned by the same guy for a very long time. And it kind of just was a pretty stable, affordable housing option for a lot of people that's in a great location. You know, it's just a couple blocks from the Kimball Brown Line Station. It's right near Von Steuben High School."

On Saturday afternoon the Kimball Tenants Union will be offering tours of their building's apartment interiors as part of a press conference and BBQ cookout in the building's courtyard where tenants will share their stories with the public.
The BBQ is from noon to 3 p.m. at 4843 N. Kimball Ave. Saturday.