WICKER PARK — Orange-vested folks will soon be walking the streets as part of a new effort to bring a welcoming vibe and extra eyes to Wicker Park and Bucktown's commercial corridors.
"I was already kind of doing this, talking to strangers and helping them not be lost. It's a thing I'm good at," said Melissa Schlesinger, a WPB Neighborhood Ambassador, during a training walk on Wednesday.
The ambassador program "soft launched" last week and will officially start on Friday, to coincide with this weekend's Wicker Park Fest.
A design director for Escape Artistry, a Milwaukee Avenue theater company, Schlesinger is part of a group of workers from local businesses who've agreed to get out of their shops or theaters and walk around outdoors up to 5 hours each week. 
The WPB Ambassadors, who earn $17 an hour, traverse commercial streets, greeting passersby and documenting graffiti and potholes, among other things. 
So far, seven local independently-owned businesses have signed up for the new initiative and each plans to have one or two of their employees work as ambassadors, according to Wicker Park Bucktown Special Service Area Taxpayer District No. 33 program manager Samantha Choudhury.
The hourly wages will be paid by each ambassador's employer and the money is reimbursable up to $4,420 per year per applicant by the taxpayer district, which brands itself as "WPB" for Wicker Park/Bucktown. According to the group's website, the WPB Ambassador Program "financially incentivizes the district's businesses to send staff on scheduled walks of the neighborhoods (up to five days per week) – engaging with pedestrians, providing neighborhood hospitality services and calling in any observed issues as appropriate."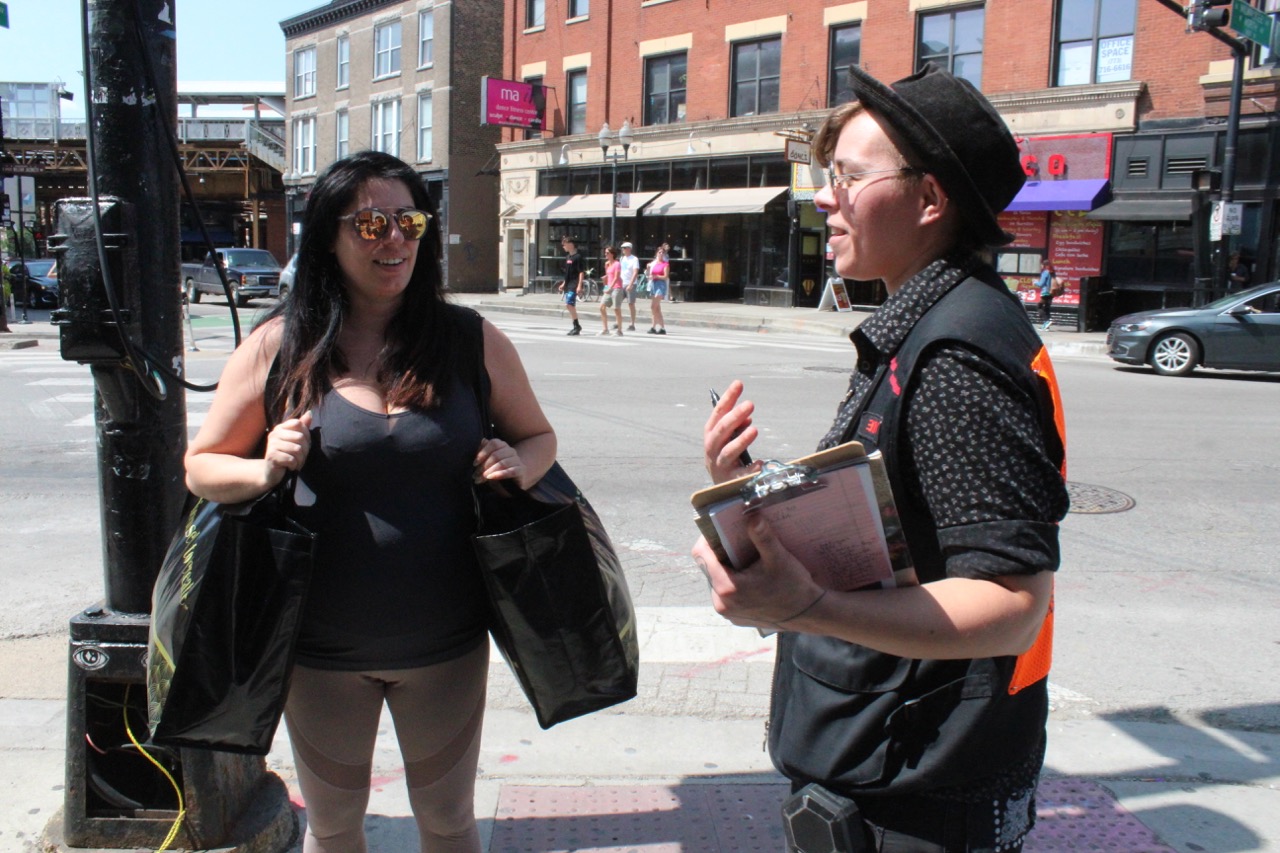 Special service area districts, sometimes called business improvement districts, levy a special tax on property owners in commercial areas for communal services such as snow removal, landscaping, sidewalk cleaning and graffiti removal.
The district's volunteer-run commission, which oversees a budget of $1.2 million, has also used taxpayer money to pay for bright orange planters and public art. The hard-to-miss color theme will continue with the orange WPB Ambassador program vests featuring a gnome — a nod to a tree planting initiative branded by orange gnomes a few years back.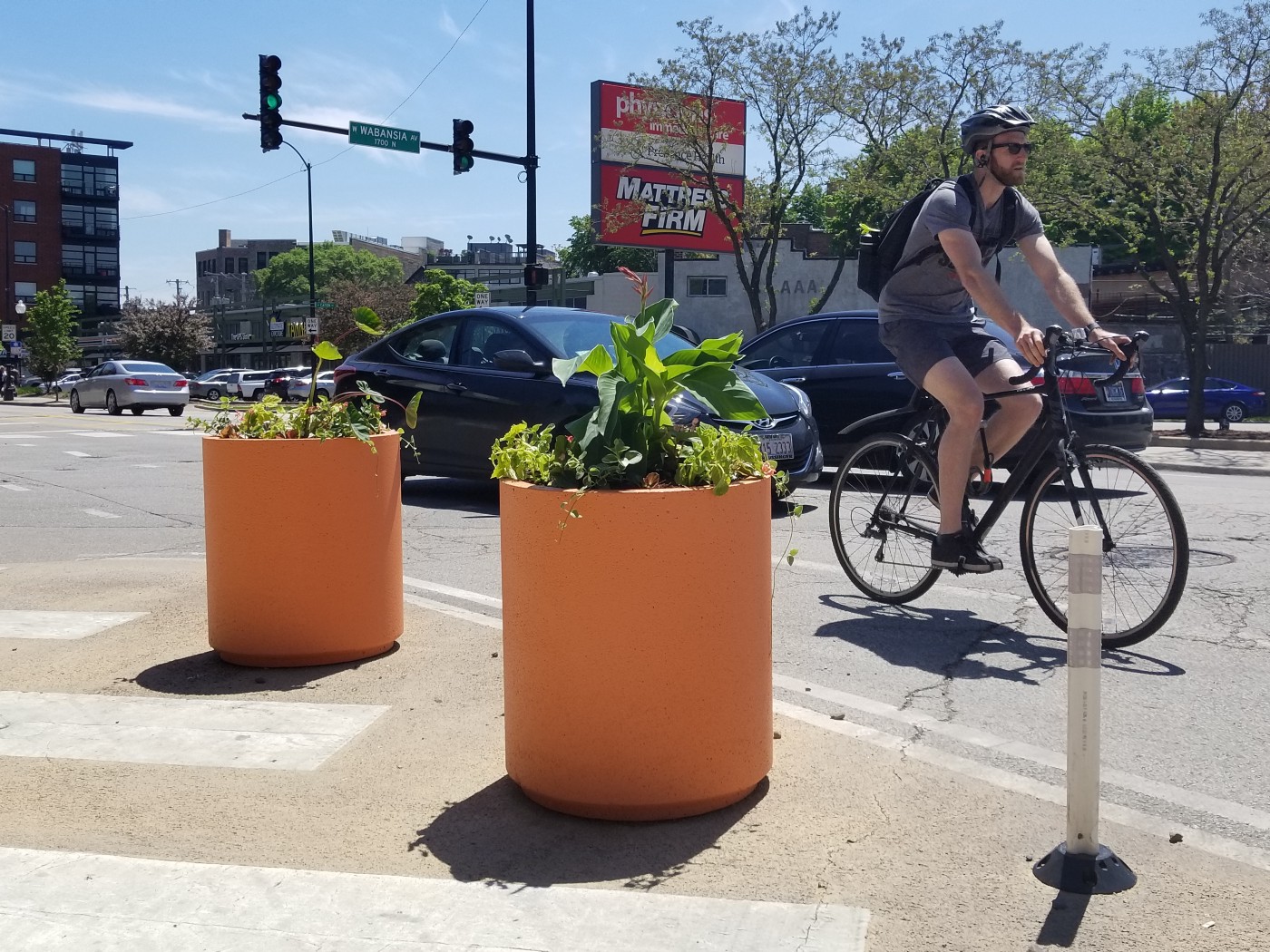 Residents who own homes within the Special Service Area boundaries can also apply to become an ambassador, even if they don't work at a local business, said the group's chairman Brent Norsman. The boundaries of the district where the ambassadors could live or work include several main streets such as Milwaukee, Damen, North, Ashland and Division.
The ambassador program is part of a safety and security rebate offer that launched at the start of the year and also reimburses commercial corridor business owners for up to 75 percent of the cost for hiring private security guards, up to $5,000 per year per location.
Choudhury said no businesses have applied to be reimbursed for hiring private security guards. In 2016, Alds. Joe Moreno (1st) and Brian Hopkins (2nd) championed for the taxpayer district to foot the bill for paying for private security guards to augment police.
Funds for the new WPB Ambassador program will come from an existing $50,000 safety program allocation in the WPB SSA No. 33 budget, which was approved in collaboration with Moreno, Hopkins and Ald. Scott Waguespack (32nd) last year.
Choudhury said the most popular reimbursable item from the safety and security budget allocation so far this year has been for broken glass window replacements and security cameras. The district has spent $6,230 as of Wednesday on reimbursing building owners for half the cost of the broken windows or cameras, up to $1,000 per location per year.
According to Choudhury, if all seven businesses that have signed up have WPB Ambassadors on board until the end of the year, the approximate total rebate will be $15,470.
Since Wednesday morning saw little foot traffic and few tourists, Schlesinger, armed with a clipboard and smartphone, was observed jotting down notes on empty storefronts and taking photos of broken pavement, graffiti and trees that looked like they needed watering.
Schlesinger said she planned to email all of the information to Choudhury near the end of her shift, as well as possibly use the city's 311 "See, Click, Fix" app for some of the larger issues, like a patch of broken street pavement in front of a building at 1455 N. Milwaukee Ave.
"The great thing about these ambassadors is that many live and/or work in the neighborhood and they are invested in the community and want to help," Norsman said.