LOGAN SQUARE — Logan Square's namesake intersection is confusing, but a group of residents wants to make sure that planned fixes won't further hurt people already being priced out of the rapidly gentrifying neighborhood. 
Representatives from Logan Square Neighborhood Association and Chicago United For Equity, or CUE, are looking for neighbors to help them craft what's called a Racial Equity Impact Assessment.
The assessment is a "systematic examination of how different racial and ethnic groups will likely be affected by a proposed action or decision," according to Race Forward.
A public meeting, which doubles as a training, is scheduled for Wednesday, from 6-9 p.m., at Second Shift's co-working office, 3432 W. Diversey Ave. Any and all residents living in Logan Square, Hermosa and Avondale are encouraged to attend.
"The Chicago Department of Transportation has proposed redesigning Milwaukee Avenue and the plaza around the Logan Square monument. Join us to make sure these investments will benefit all residents without burdening any," the event page reads.
The years-long project, known as the Bicentennial Improvements Project, is designed to make the notoriously dangerous intersection surrounding the Logan Square monument safer and more friendly to pedestrians, motorists and cyclists, while maintaining the area's historic character.
Completely reshaping the intersection, adding separated bike lanes and creating more public space are just a few of the improvement ideas currently under consideration. The city is still in the planning stage.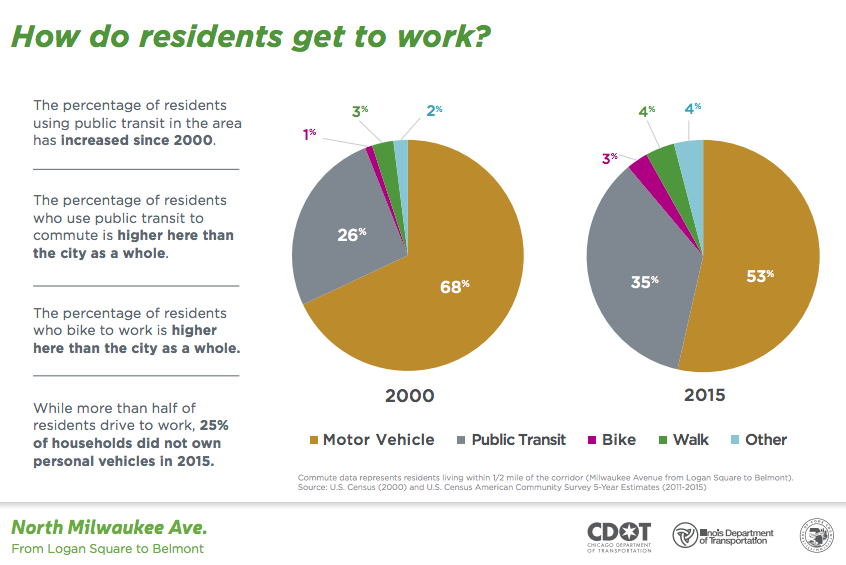 The project is expected to cost at least $10 million in city, state and federal funds. But officials say that figure will likely change once the plan is finalized. Construction won't begin until at least 2020, according to officials.
Between 2011 and 2015, the Logan/Milwaukee/Kedzie circle saw 121 crashes, according to CDOT data. In 2016 alone — the most recent year data is available — the circle saw 34 crashes, according to the Illinois Department of Transportation. The data only includes reported crashes.
Another important finding: Logan Square residents are biking and taking the train more than residents in other parts of the city, according to CDOT data. The city agency said cyclists make up 4-7 percent of daily traffic on Milwaukee Avenue. The number jumps to 11 percent during morning and afternoon rush hour.
In an email, Ash Lottes, a volunteer with Logan Square Neighborhood Association, said the assessment is a proactive measure.
"Infrastructure and transportation improvements have the ability to bring about quality of life improvements for neighbors, pedestrians, cyclists and road users but history has also shown that major changes can lead to the displacement of long-time residents if appropriate measures are not taken to preserve affordable housing and focus on culturally competent projects that are inclusive of all users," Lottes wrote.
Register for the event here.