DOWNTOWN – To mark Equal Pay Day in April, Mayor Rahm Emanuel barred city departments from asking job applicants about their salary history.
"Equality in pay between men and women has been a problem in the United States for too long," Emanuel said in April. "By signing this executive order, we are taking action to say that this practice has no place in our city and taking a significant step towards closing the gender pay gap."
But data on active employees from the city's four pension funds show Chicago has a long way to go to bridge that gap. Women that work in city government are paid on average $27,572 less than males, according to the 2017 annual reports filed by the pension funds that represent municipal, labor, police and fire employees.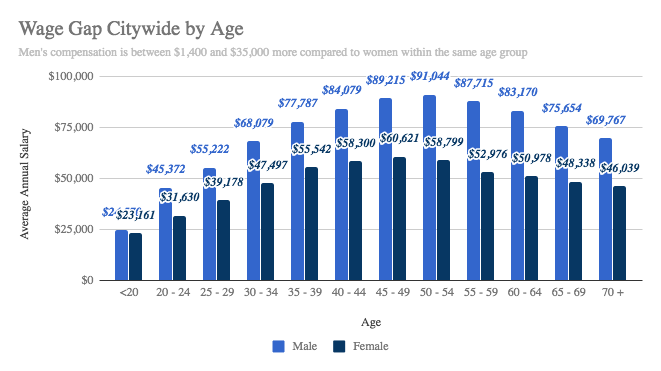 The data shows women in Chicago government consistently earn less across all four funds, by age and by years of service. Funds where annual pay is more equal between genders generally have far fewer female employees, according to the data.
Officials with the mayor's office say most city employees are represented by unions, and are paid the same prevailing rate regardless of gender, and are on salary schedules which award raises based on years of service.
Many factors that impact what a city retiree can earn, including their title, rank, bargaining unit and a break in years of service, Department of Finance spokeswoman Kristen Cabanban said in a statement.
"It would be unfair to draw any conclusions about a pay gap without taking into consideration that the pay progression for the vast majority of the retirees within the pension funds is based on a salary schedule and other factors such as title, age, years of service, etc," Cabanban said. "Mayor Emanuel is a champion for women in the workplace, and when given the opportunity, he appoints women into leadership roles throughout the City of Chicago."
Of the city's 35 departments, more than half are run by women, including the chief financial officer, chief operations officer, director of government affairs and chief of strategy, the mayor's office said.
While both sexes may be paid the same salary for the same work, nearly any way the data is cut, women earn less than men in their same line of service. When total salaries from all four funds are added, the gender gap is even more pronounced, according to the data.
"You'd think it would be fairer just because it's civil service – whether it's unionized or not, it's civil service," said Wendy Pollack, the Women's Law & Policy Initiative Director at the Sargent Shriver National Center on Poverty Law. "Jobs are posted and salaries are known because they're usually by grade level, and yet we still have these discrepancies. Besides explicit, there's clearly this implicit bias, not allowing these women to access better jobs."
Appointing women to leadership positions is commendable, "but if you want to have change, you have to go down to every level," Pollack said.
More men are represented in funds with higher annual salaries, including police, fire and labor. More women are in lower paying civil service jobs represented in the Municipal Employees' Annuity and Benefit Fund (MEABF).
Those disparities create a total wage gap between men and women that is larger than any individual fund — a stunning $27,572, according to the pension funds' data.

The largest gap is between male and female employees represented by the municipal fund, regardless of age and the number of years worked with the city. The MEABF includes everything from part time crossing guards or non-teacher clerical employees at Chicago Public Schools to operating engineers and plumbers. Women are largely in those lower paying jobs, the mayor's office said, while men are largely in the higher-paying trades.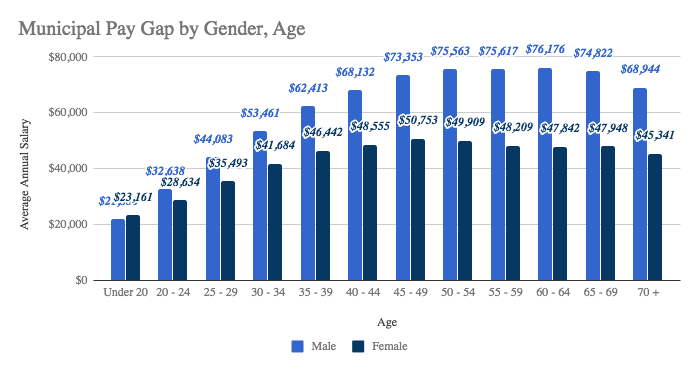 The smallest gap is for the youngest employees — women younger than 20 earn $1,275 more annually than men. But the gap widens with age and increasingly benefits men. According to data from Municipal Employees' Annuity and Benefit Fund, the average male municipal fund employees in his mid-50s earns $27,000 more than a woman of the same age.
The gap likewise widens by years of city employment for employees represented in the municipal fund. Men start at a greater advantage when they're first hired — they out-earn women by roughly $8,200 when they start in city service. Even the most tenured women earn on average $22,000 less than men with the same years of experience, according to MEABF data.
The municipal fund is the only one with more female employees than male employees. There are approximately 18,000 female employees in that fund, compared to roughly 12,500 men.
The smallest bubbles on the right side of the chart below represent approximately 125 employees, the largest represents approximately 5,300 employees.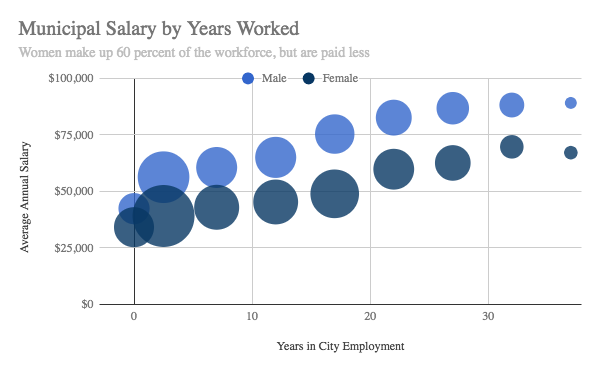 Women are also outnumbered and out-earned in labor services by age and years of city service, according to Laborers' and Retirement Board Employees' Annuity and Benefit Fund data.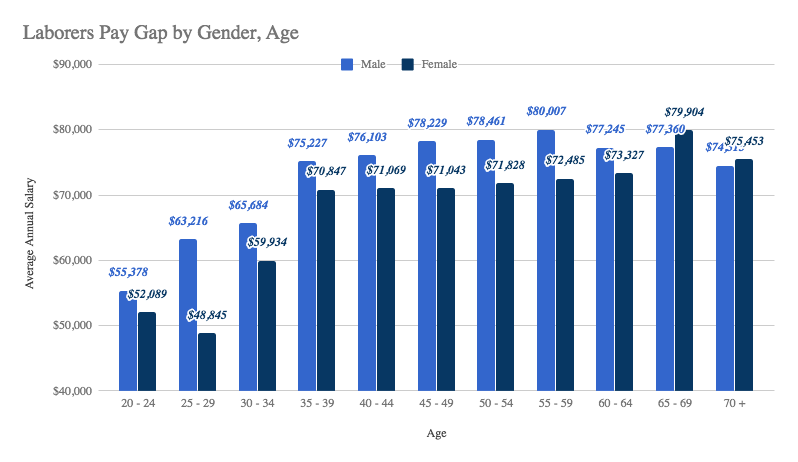 The last two columns above show that women older than 65, on average, slightly outearn their male counterparts. However, there are only 13 women that fit that bill, according to LABF data.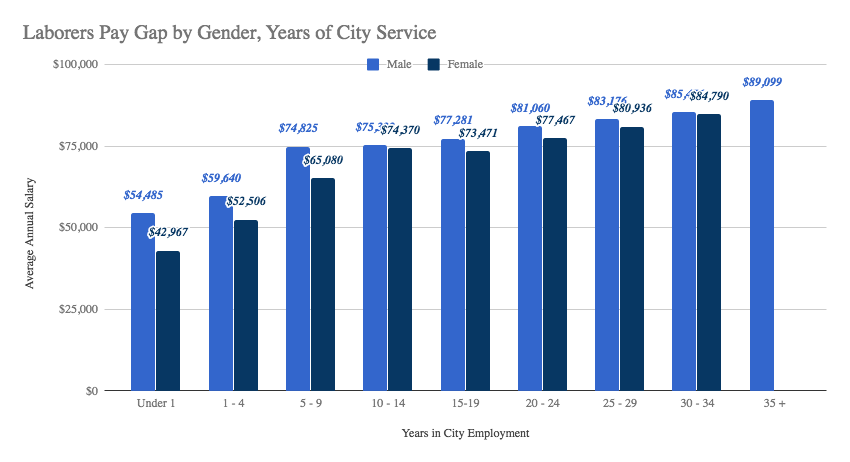 The gap is smaller between men and women laborers with more than a decade of experience. The smallest gaps are for those who have worked for the city between 10 and 14 years — both genders earn about $75,000 annually — and between 30 and 34 years of service, when both earn about $85,000, according to the data.
"Clearly it's disappointing but probably not surprising," Pollack says of the lack of women in trades, police and fire. "It just kind of reflects what's happening to women throughout the economy. It shows where what's considered male-dominated professions versus what's considered female-dominated positions. Female-dominated positions are also lower paid."
The chart below illustrates how few females represented in the laborer fund overall — 559, compared to 2,235 men. The smallest navy dot on the left side represents 14 female employees.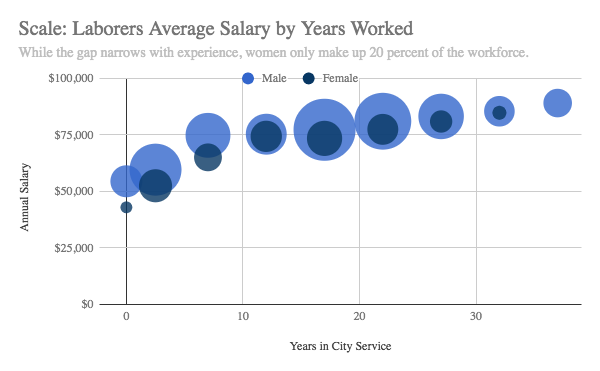 Similarly, women make up a fraction of the employee base in the police and fire departments. The smallest navy dot in the chart with fire pension fund data below represents one female employee, who makes approximately $185,000 annually. On average, women in the fire department earn $1,121 less than their male counterparts, according to Firemen's Annuity and Benefit Fund of Chicago data.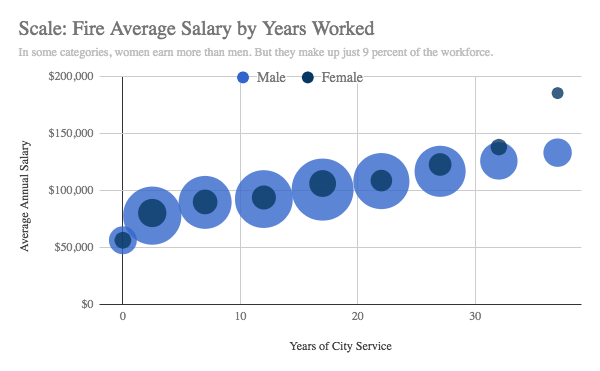 The gaps are similarly relatively small between police officers of different genders, though men out-earn women on average by $2,130, according to police pension data. There are 2,861 women represented in the Police Annuity and Benefit Fund, compared to 9,772 men.
Part of the problem is that women are discouraged from pursuing work in male-dominated fields in the first place due to a perception they won't be welcome or accommodated, Pollack said.
"I'm aware there have been in the last few years, lawsuits against the city in both police and fireabout sex discrimination and sexual harassment," Pollack said. "A lot of that has to be addressed in a more proactive way."
According to the Better Government Association, since 2008, Chicago has paid close to $100 million in workplace discrimination cases involving the fire department. One recent settlement was reached with a female fire department employee who sued because she had no place to pump breast milk. About a quarter of the department's 100 firehouses have been upgraded with facilities for nursing mothers and a long-term plan is being crafted to upgrade half the firehouses in the coming months, fire officials said.  
"More needs to be done to support women in male-dominated fields," Pollack said. "Make sure they're fair, non-discriminatory and harassment-free and where they have equal footing to progress."
Employment data should be audited to determine what is driving the discrepancy, including how people are promoted, professional development for existing employees, and comparing qualities and skill levels in traditionally women-dominated versus the men-dominated fields to make sure wages are equal, Pollack said.  
"If women are earning less than men, anywhere from $5,000 to $10,000 a year over 50 years… they're losing hundreds of thousands of dollars," Melissa Josephs, the director of equal opportunity policy at Women Employed said in response to the wage gap for women working in Cook County government. "It's a problem."
This data came from annual reports of the city's four pension funds from 2017. All disclose the total wages of active employees broken down by age, gender, and the number of years worked for the city:
Get more in-depth, daily coverage of Chicago politics at The Daily Line.