IRVING PARK — The owners of recently opened Lucky Charm Cafe discovered a bit of Irving Park history in their basement this week.
The cafe, which opened up at 3600 W. Irving Park Rd. at the end of June, features fresh coffee and pastries. And on Thursday afternoon, owners posted a photo of a vintage safe to the cafe's Facebook page. 

Beata Mazur, co-owner of Lucky Charm, said she first saw the safe, which appears to have been built by the Herring-Hall-Marvin Safe Co., when while she walking around the basement.
"We opened the cafe and it's been a few weeks already and I went to the basement and was surprised to find a huge door that was very heavy to open," she said. "It's very beautiful old piece of artwork, the ornamentation around is just beautiful."
When she checked inside she was surprised to see another set of doors that were already open. When she peeked behind those, she says she found some old boxes.
"It's just a pretty cool thing, standing in that space with something from like 100 years ago," Mazur said.
Mazur reached out to the building's owner and was told that the cafe's large storage room also once housed a much larger safe for the building. 
"The Herring-Hall-Marvin Co. of Cincinnati and Chicago manufactured fine and fancy safes and was located in Chicago at 225 W. Lake St. Some safes made to order by the company were beautifully decorated with hand-painted pictures and designs," according to a 1987 Chicago Tribune article.

Additionally, the building's facade has the words "Hill Block" and "Erected by A.H. Hill & Co."

According to an an article in a 1914 issue of the The National Corporation Reporter, a publication that focused on business and municipal corporation news, A.H. Hill & Co. was "Irving Park's oldest and strongest bank." The article also says that the bank first opened its doors around 1891 when Mr. A. H. Hill "secured the valuable business corner the bank building now occupies."
In 1914, the neighborhood bank was expanded to a statewide financial institution and was renamed the "A. H. Hill & Co. State Bank of Chicago."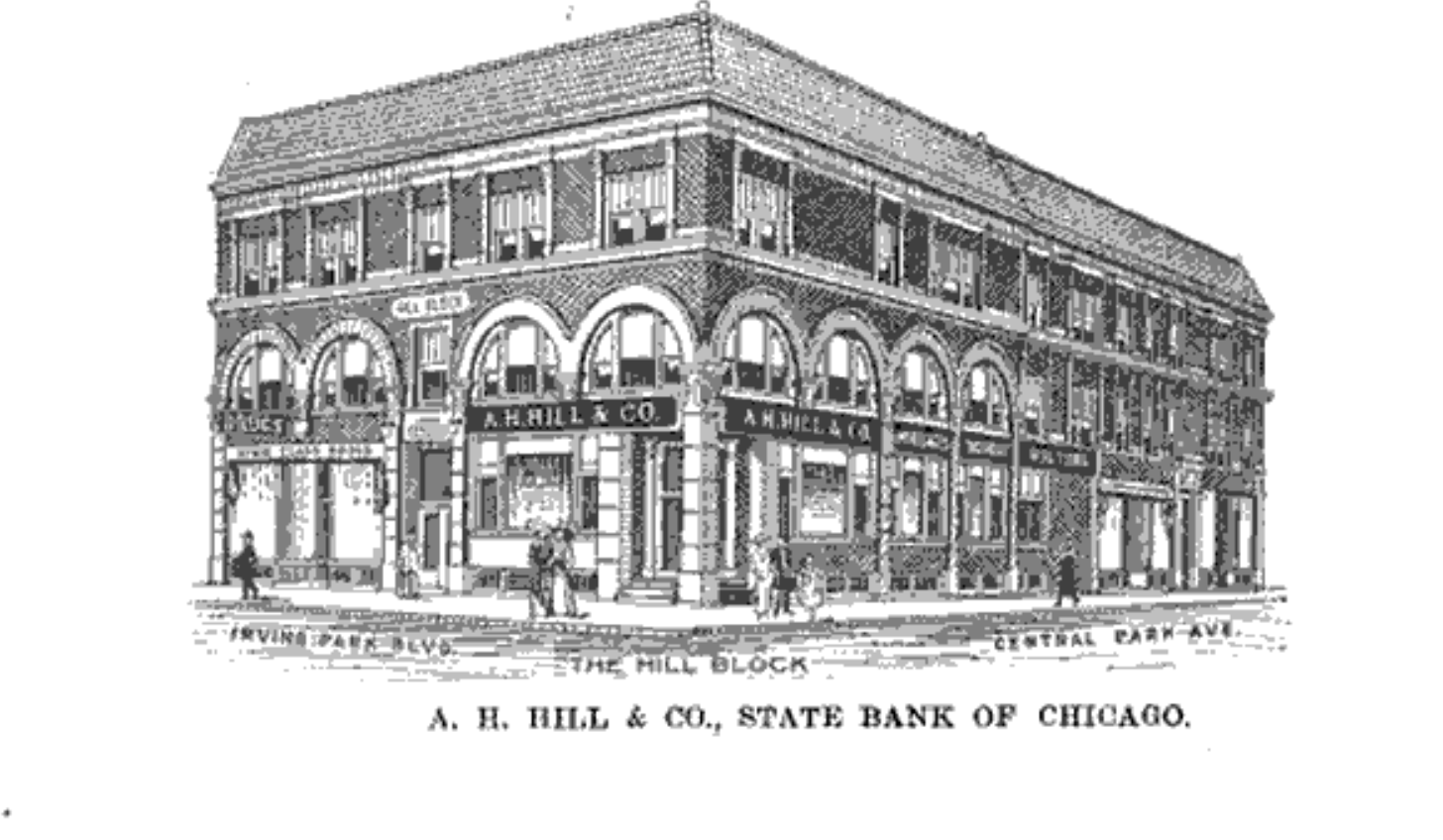 "Probably no other banking institution outside the downtown district — either state or national — started so strongly entrenched," according to the article.
"I posted a bit of info I found on our Facebook and on the Irving Park neighborhood group hoping to find out more about this," Mazur said.
The cafe owner said she is considering opening the basement to customers in some capacity.
"Since we found the safe I'm thinking that maybe people should see it," she said. "I'm still thinking about how that would work, something special in the basement for people in the neighborhood, just have fun with it and at the same time they can get a snack with coffee."