DOWNTOWN — Kathrine Switzer, who helped women break into competitive running, has come to Chicago in hopes of getting seniors racing in the same way she's long motivated women competitors.
Switzer was the first woman to officially compete in the Boston Marathon in 1967, and photos of a race official trying to force her out of the marathon made history. Switzer's run, and the attack on her, led to a huge surge of women in running, and she became a symbol of women overcoming sexism in athletics.
But Switzer has expanded her advocacy work: She's traveling the United States trying to get seniors to run, too. At 71, she still loves running and plans to compete in the Humana Rock'n'Roll 5K on Saturday and the event's half marathon on Sunday to raise awareness of how running has helped her and can benefit older people.
"When you go out and run you feel as good as you felt when were 25," Switzer said. Laughing, she added, "You're just going a little slower."
Switzer has run in Chicago many times before, she said, and even lived in suburban Park Forest for a period as a child (the Field Museum was the first museum she ever went to, in fact). In the late '70s and early '80s, when she was devoted to getting women into running, she organized the Avon International Running Circuit and hosted a 15K at Grant Park. She's also done broadcasting for the Chicago Marathon.
"Chicago is near and dear to my heart," she said. "I would say [it's] a special relationship … ."
And though Switzer still advocates for women in running, she's back in Chicago for Humana's Rock'n'Roll races as an "ambassador for active aging," she said.
"People are talking about seniors the way they talked about women 50 years ago: You're too weak, you're too fragile, you're going to fall down," she said. "That's exactly the wrong thing."
Instead, older people should know it's "never too late to put on your sneakers" and should be encouraged to run, with a focus on their wellness rather than speed, Switzer said. Running can help older people feel accomplished, raise their self-esteem and keep them fit, she said. For Switzer, it also helps her reduce stress and gives her a break during busy times.
"We're really realizing that good health is not just about exercise, per se … it's about the whole person and the socialization, the sense of empowerment, the sense of optimism and self-belief and self-esteem," Switzer said.
Switzer's running advocacy goes back decades. She made history when, in 1967, she registered for the men's-only Boston Marathon under a gender-neutral name and ran in the event. A marathon official who realized Switzer was a woman tried to rip her running bib from her body and remove her from the race, but Switzer's boyfriend knocked the man over and she continued running.
Switzer finished, becoming the first woman to register and officially complete the race. Her actions caused controversy in the racing community, with the Amateur Athletic Union banning women from running with men in competitions and an organizer for the Boston Marathon saying he'd "spank" Switzer if she was his daughter because she'd broken the rules.
But women runners and their supporters fought back for years, launching their own competitions, and more women became involved in racing. The Boston Marathon finally allowed women to compete in 1972.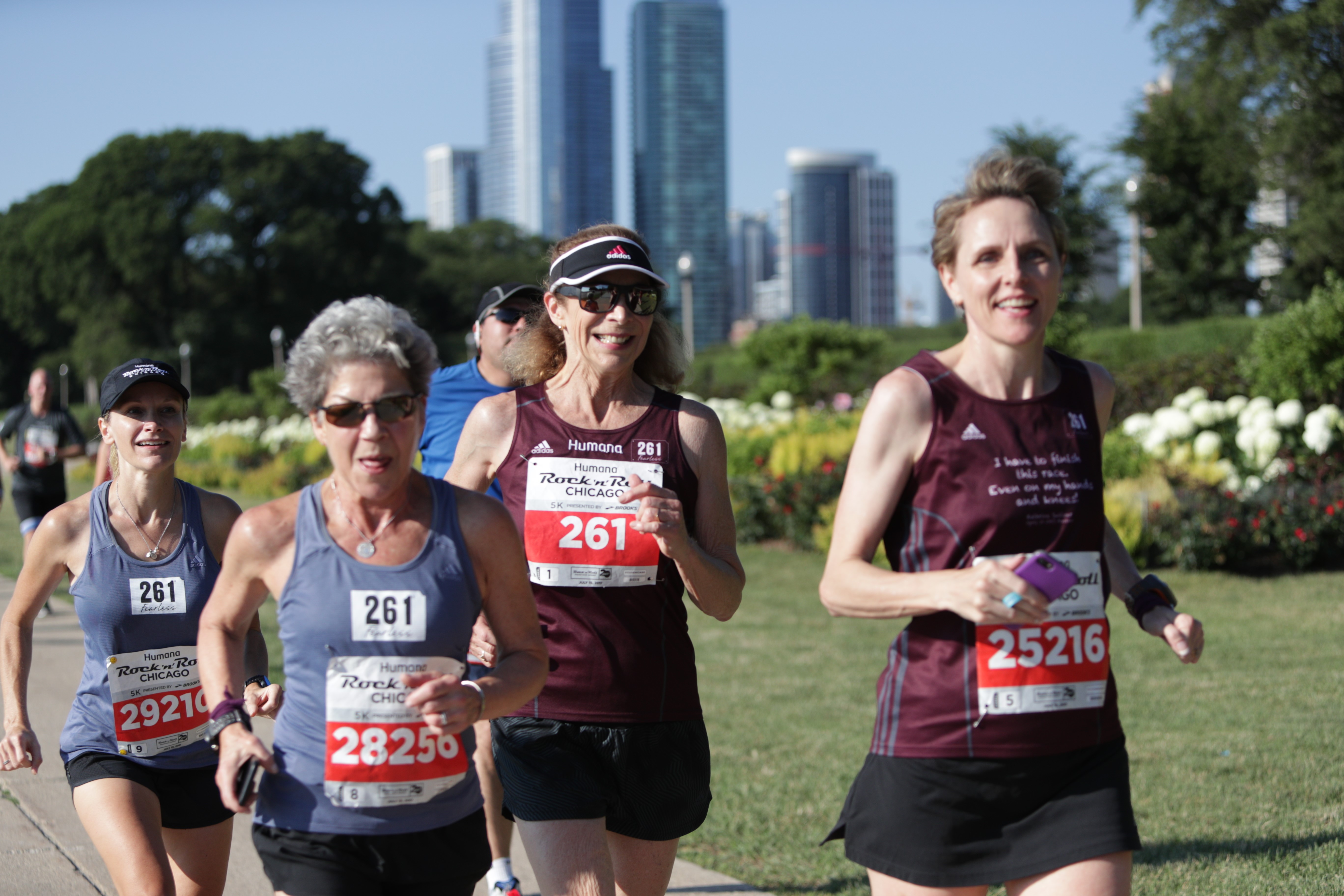 Now, there are more women running than men in most competitions, Switzer said, and she feels "proud" to have contributed to that change. She said she's still acknowledged by many women athletes, even though they're now several generations removed from the days when women were banned from competitive racing.
"These women just fall into my arms and they say, 'I can't thank you enough for what you've done for me. You've changed my life. Running has just transformed my life,'" Switzer said. "It's very validating to hear something like that.
"It's really fun to be 71 and to be hugging a 25-year-old who knows that I've helped her life. Or an 80-year-old — that's great, too."
Switzer saw how racing empowered women and made them feel free; now, she wants all older people to realize they can achieve the same thing through running. She was partly inspired by her father, who was always "tall, handsome, strong," she said, but who struggled with his health and wellness as he aged. Now she sees more and more older people maintain their health through running and feels "great, great joy."
For women, "they think, 'Wow, there's so many areas of my life where people have told me no in my job or at home' … and running sets them free," Switzer said. "Running makes them realize they can do anything."
And for older people, "running is the thing that really keeps them strong, makes them feel full of self esteem …," she said. It "makes them feel powerful, like they always did."