WICKER PARK — People who use their cell phones to document street performers in photos or video often leave the scene without tipping — and the practice can perplex even the most seasoned performers.
Nick Alvarez, who plays drums with his band at the corner of Damen and Milwaukee avenues in Wicker Park, isn't afraid to remind people who are recording to tip before walking away. 
"I don't feel bashful about calling them out on it. People can watch all they want but the minute people start documenting our intellectual property, we deserve the respect of that exchange and when people don't understand that respect they need to be educated. No different than tipping the bartender or server or paying cover at the club," Alvarez said.
After watching Alvarez stop drumming to call out a tipless-recording young woman on a recent evening, Block Club posed the question to Twitter: Do you tip street musicians and performers if you take a photo or video?
An overwhelming 84 percent of respondents said they do, and some chastised those who don't.
Al Gill, a singer who performs R&B songs in the underground CTA Blue Line station at Clark/Lake, said he sometimes gets frustrated when people record without tipping him.
"To be honest, I think people should tip. Why would you video me and not tip me? Don't stand at a distance and record and then walk away. But I don't let it get to me. A lot of people do tip, a lot of people don't. I'm thankful," Gill said. 
Gill, who is homeless, said he will earn about $40-$50 in tips in an average 4-hour shift. He sings to motivate himself and strangers.
"I sing ballads and inspirational songs. A person can have a bad day and be coming home and hear me. It's songs that uplift the spirit," Gill said. 
According to city records, there are 480 active street performer licenses. It costs $100 for a two-year street performer permit. The CTA charges $10 for a performer's permit and only allows performances at three station platforms (Jackson on the Red Line, and both Washington and Jackson on the Blue Line).
Th city's department of Business and Consumer Protection oversees the licenses.
When asked if the city has a stance on tipping street performers, the department Commissioner Rosa Escareno said, "Our licensing structure allows individuals to hone their craft in public spaces through a street performer license/permit. We think of them as small businesses with the understanding that these enterprising individuals are trying to make a living."
Jose Perugachi, who is originally from Ecuador, was playing Peruvian and Ecuadorian instrumental music on his pan flute at the Jackson Blue Line platform on Tuesday.
"They take video and leave, I don't know where the video goes or what they do with it. They have the right to do it. I am the entertainer," Perugachi said.
Like all street performers, Perugachi relies on tips. He's 44 and says he's been playing the pan flute and other instruments since he was a child.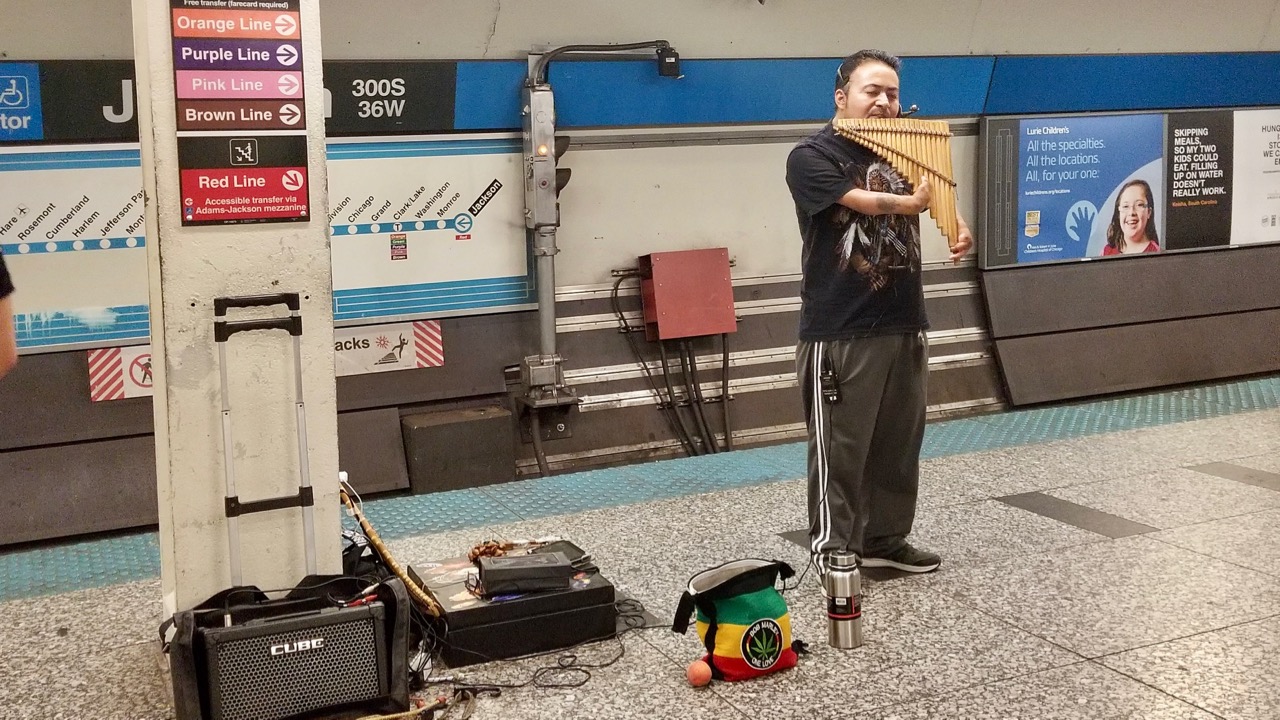 For the three members of The Red Line Lounge, who perform at the busy northwest corner of Michigan and Wacker, people who take video without tipping is "not something to get mad about," says bass player and band founder Jerrold Shelton.
Some of the videos have ended up on social media and brought the band business.
"I appreciate people filming. People will call us and say, I saw you on YouTube or Facebook and book us," Shelton said.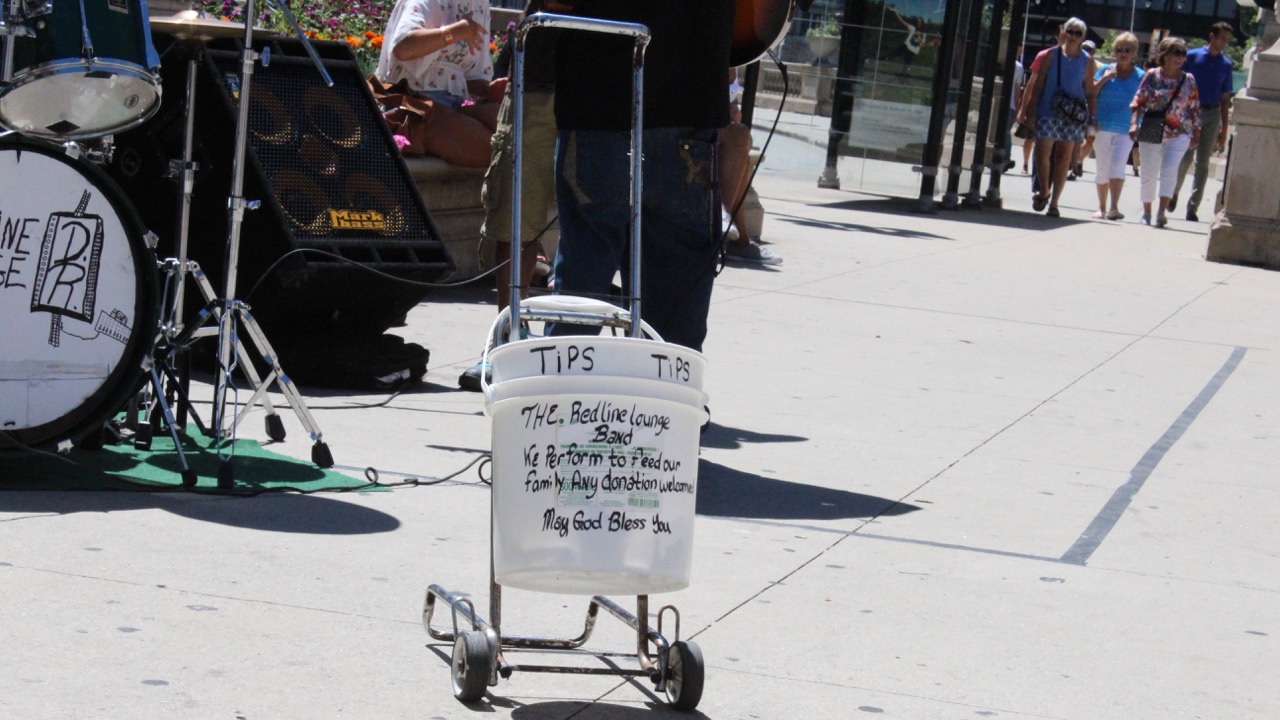 Gordon Pondstar, a bass player who frequently performs in duo "Not Ironic" with saxophonist Beau Barry in Wicker Park, Downtown and Andersonville, said locals are better at tipping than tourists and suburbanites. 
"When we play Downtown, the people who work and live in Chicago, there is an unspoken relation to us. … When they get out of work and have been anxious and stressed all day, those people, they do tip us and they get it. When we play the touristy times or near festivals, it's people from the suburbs or other countries not getting it. One of my biggest pet peeves is people who walk by and smile and say great job. That's not going to pay my rent when you smile at me," Pondstar said.
Pondstar said he suspects the lack of tipping from those documenting the performance on their phones is "directly correlated to the rise in people not thinking music is worth anything."
"People are financially devaluing music. They are watching and taking videos of us more than ever, and that's what bothers me. If you think it sounds great, it's definitely worth a dollar," Pondstar said.