DOWNTOWN — Whether you prefer it slathered in mustard and onions, dragged through the garden or (gasp) covered in ketchup, Chicago has a hot dog for everyone.
But some are a little wilder than others.
And, seeing as it's National Hot Dog Day on Wednesday, there's no better time to grab a wiener and celebrate Chicago's favorite food. You could get something traditional — or you could try the chorizo hot dog from Hot Dog Station, a crawfish dog from Hot "G" Dog or hot dogs in a traditional Chinese bun from Fat Rice.
Block Club Chicago found 12 of the wackiest hot dogs in the city: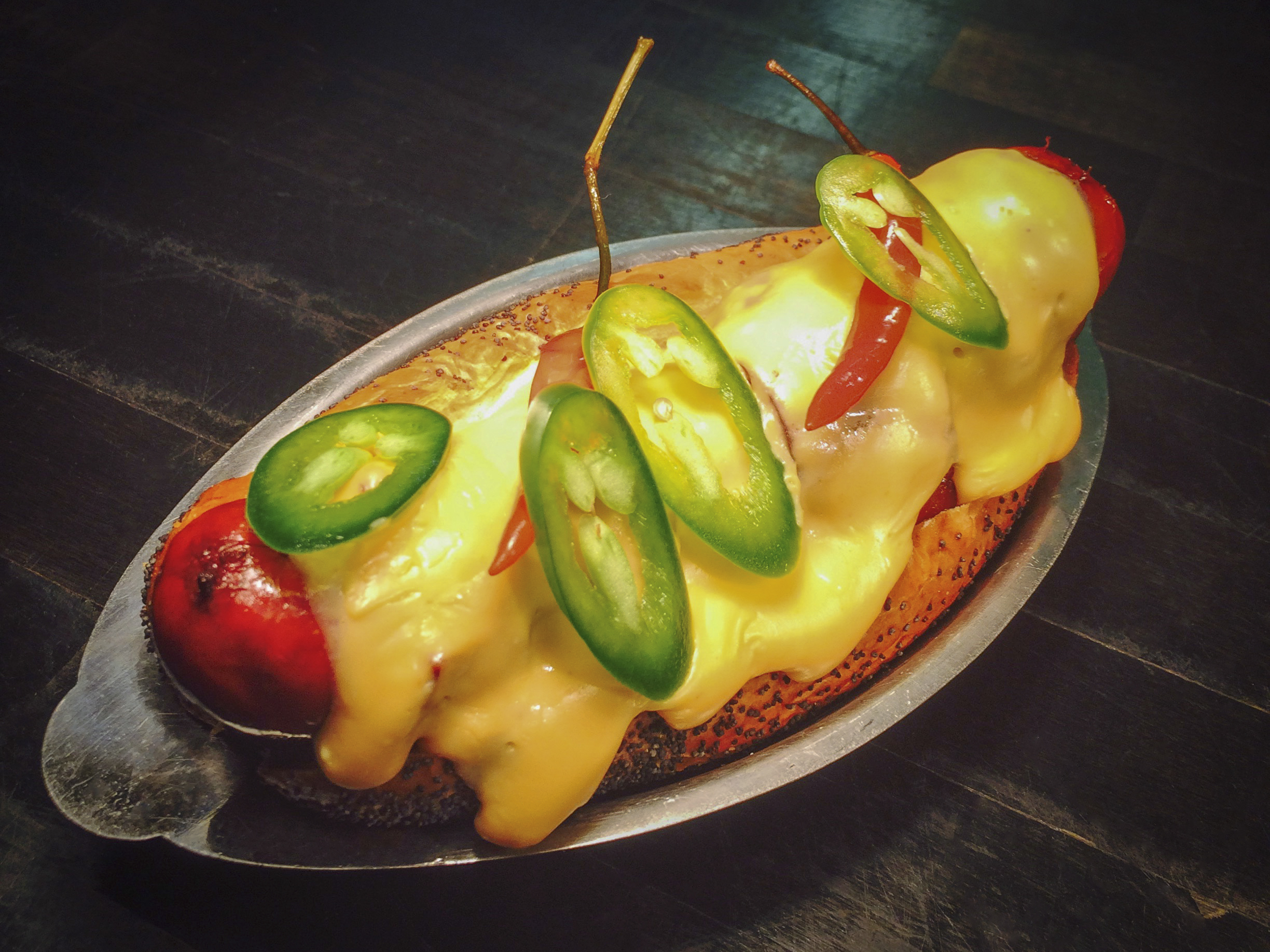 Duck Inn Dogs
Location: Revival Food Hall, 125 S. Clark St.
Hours: 7 a.m.-7 p.m. Monday-Friday until end of September
Outrageous dog: This pop-up from the Duck Inn offers the Frankenduckie, a duck fat dog that's covered in bacon, Wisconsin cheese sauce and jalapeno relish.
The Bakery at Fat Rice
Location: 2957 W. Diversey Ave.
Hours: 8 a.m.-3 p.m. Wednesday-Sunday
Outrageous dog: The Hot Dog Bun from Fat Rice is your typical Chicago hot dog — except that it's cut up Vienna Beef hot dogs served inside a traditional Chinese bun. It comes with the usual fixins.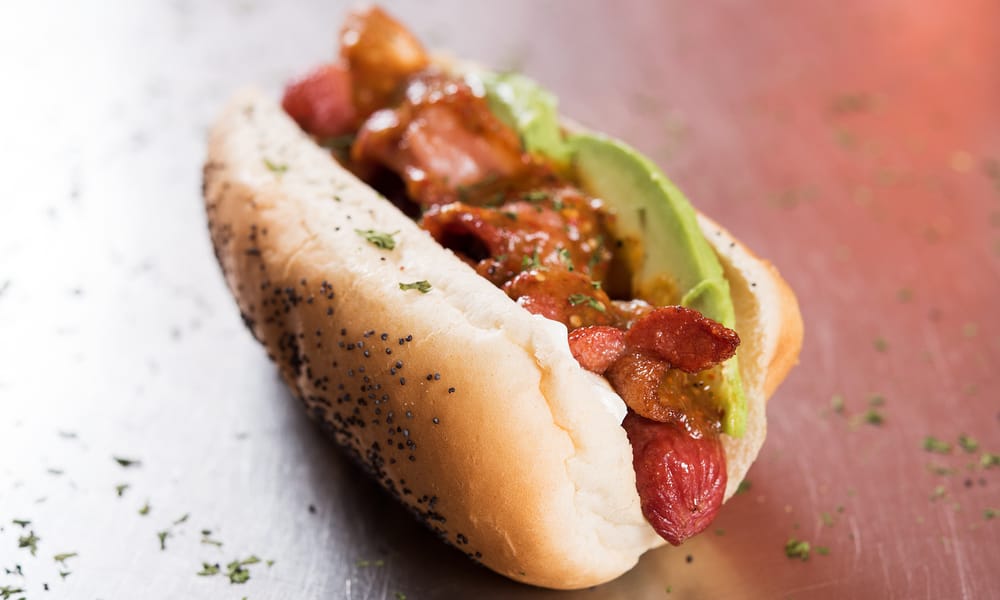 Chicago's Dog House
Location: 816 W. Fullerton Ave.
Hours: 11:30 a.m.-8:30 p.m. Monday-Wednesday, 11:30 a.m.-9:45 p.m. Thursday, 11:30 a.m.-11:45 p.m. Friday-Saturday, 12:30 p.m.-6 p.m. Sunday
Outrageous dog: Chicago's dog house has quite a few interesting wieners (the Obama dog is made with pineapple salsa, teriyaki sauce and bacon), but the T Frank dog stands out: It's topped with avocado, bacon, homemade hot sauce and — the pièce de résistance — cream cheese.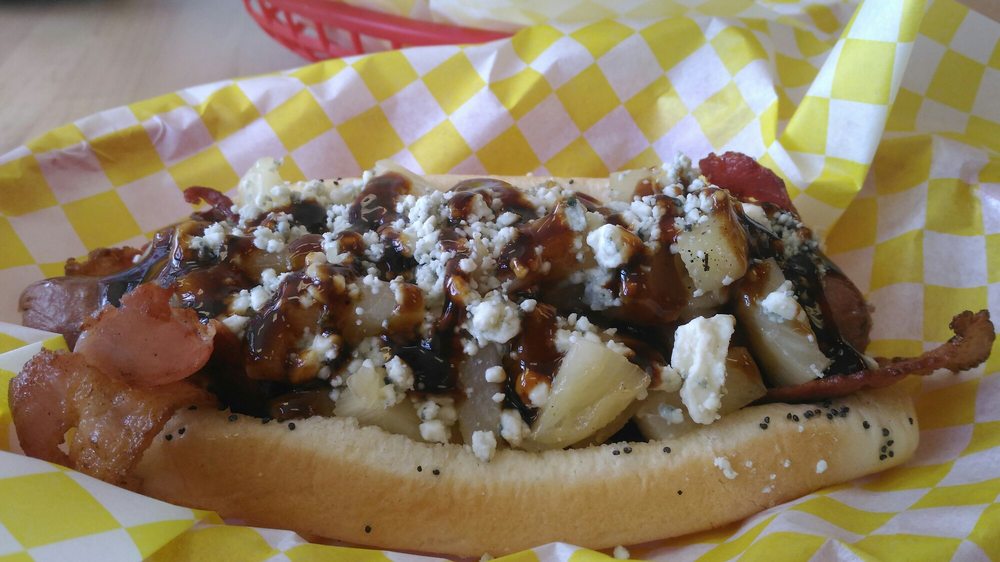 Chubby Wieners
Location: 4662 N. Western Ave.
Hours: 11 a.m.-8 p.m. Tuesday-Thursday, 11 a.m.-9 p.m. Friday-Saturday, 11 a.m.-5 p.m. Sunday
Outrageous dog: The Momona from Chubby Wieners gets covered with applewood smoked bacon, grilled pineapple, bleu cheese crumbles and a citrus-chipotle barbecue sauce.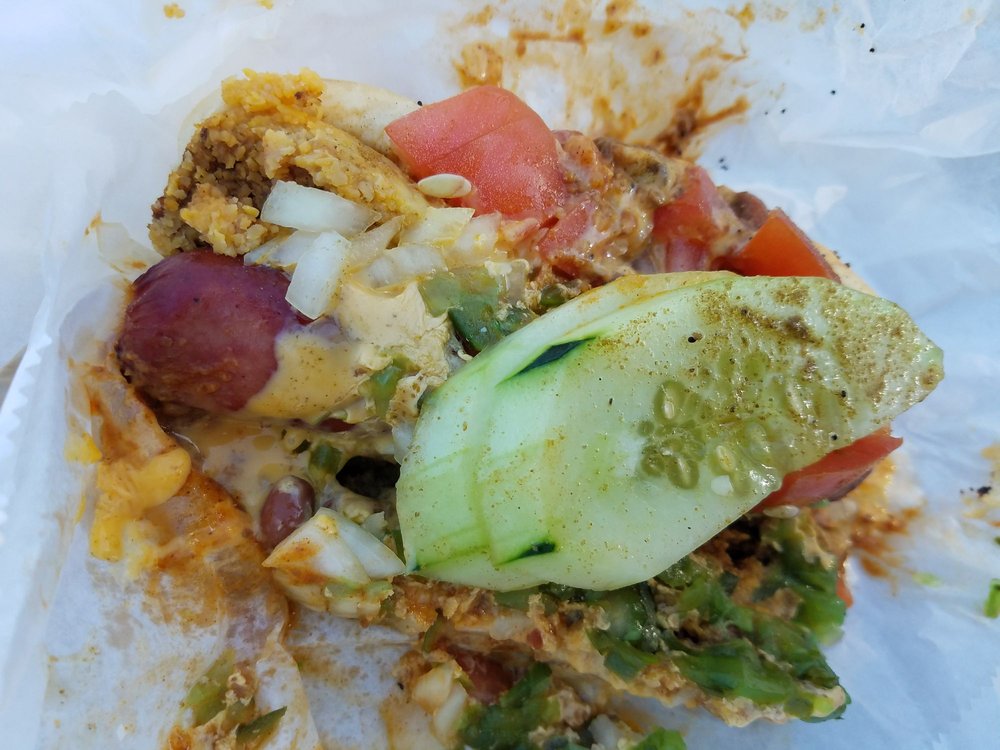 Fat Johnnie's Famous Red Hots
Location: 7242 S. Western Ave.
Hours: 11 a.m.-5 p.m. Monday-Saturday
Outrageous dog: You don't have to choose between a sausage or a tamale if you get Fat Johnnie's Mighty Dog: The tamale is included in the bun next to the hot dog. The combo is topped with wedges of cucumber, as well as tomatoes and onions.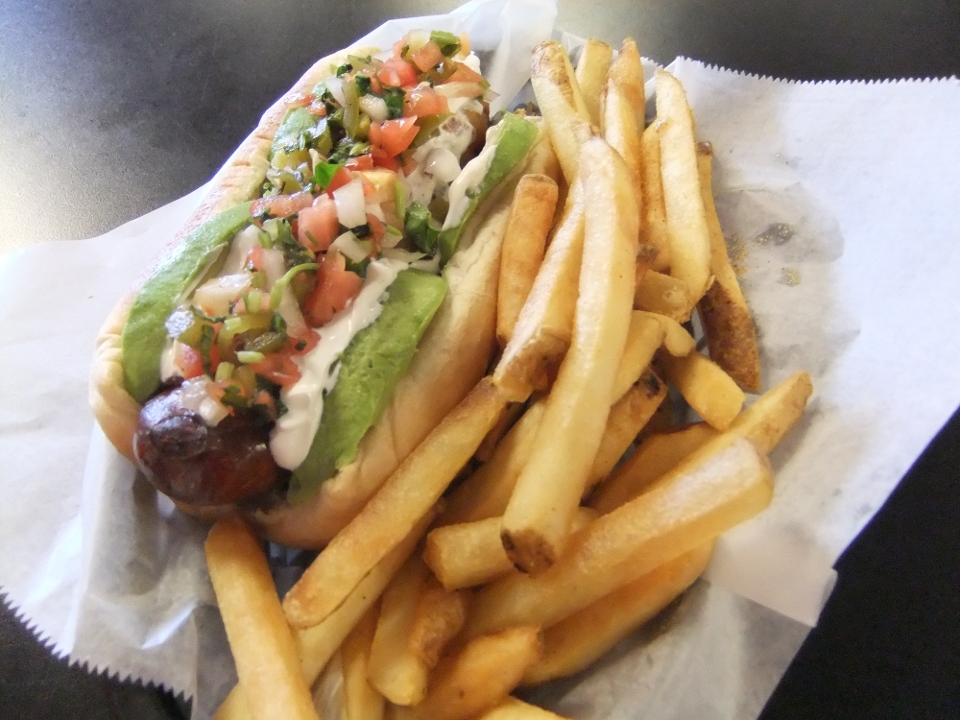 Flub A Dub Chub's
Location: 3021 N. Broadway
Hours: 11 a.m.-10 p.m. every day
Outrageous dog: Like a taco on a bun, the Chihuahua from Flub a Dub Chub's features a sausage wrapped in bacon and then surrounded by avocado slices. The dog is topped with pico and sour cream.
Hot Dog Station
Location: 4742 N. Kimball Ave.
Hours: 10:30 a.m.-9 p.m. Monday-Saturday
Outrageous dog: The Diablo dog tries to live up to its name by bringing the heat. The sausage is made of chorizo, and jalapenos, onions and jalapeno cheese make it even hotter.
Hot Doug's
Location: Wrigley Field, bleacher platform 14
Hours: Varies based on Cubs games
Outrageous dog: Javy Baez isn't the only star at Wrigley Field. Hot Doug's, the famous hot dog stand that closed in 2014, maintains a location with pared-down offerings in the Budweiser bleachers. Among its offerings is the Sergio Mitre, which has a gyros sausage topped with tzatziki, tomatoes and feta cheese.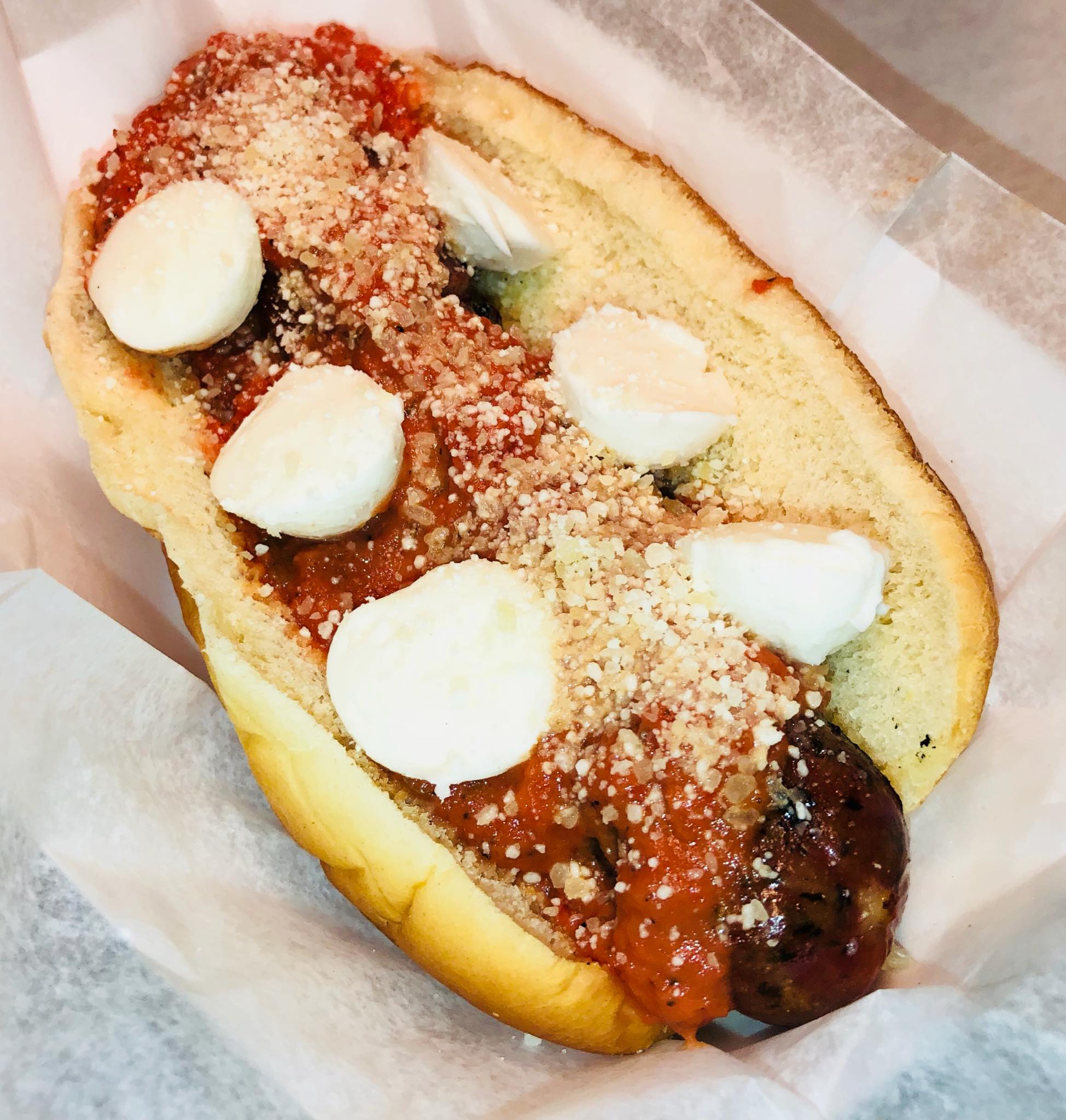 Hot "G" Dog
Location: 5009 N. Clark St.
Hours: 10:30 a.m.-8 p.m. Monday-Saturday, 10:30 a.m.-4 p.m. Sunday
Outrageous dog: Hot "G" Dog is run by the same people who served up duck fat fries and dogs at Hot Doug's. The menu is ever-changing but features unique options like pheasant and crawfish. Recent offerings: jalapeno bacon sausage with roasted grape sauce, roasted almonds and cranberry; smoked kielbasa with Coca Cola sauce and Gouda cheese; and an elk bratwurst with garlic sauce, sauteed red bell peppers and pepper jack cheese.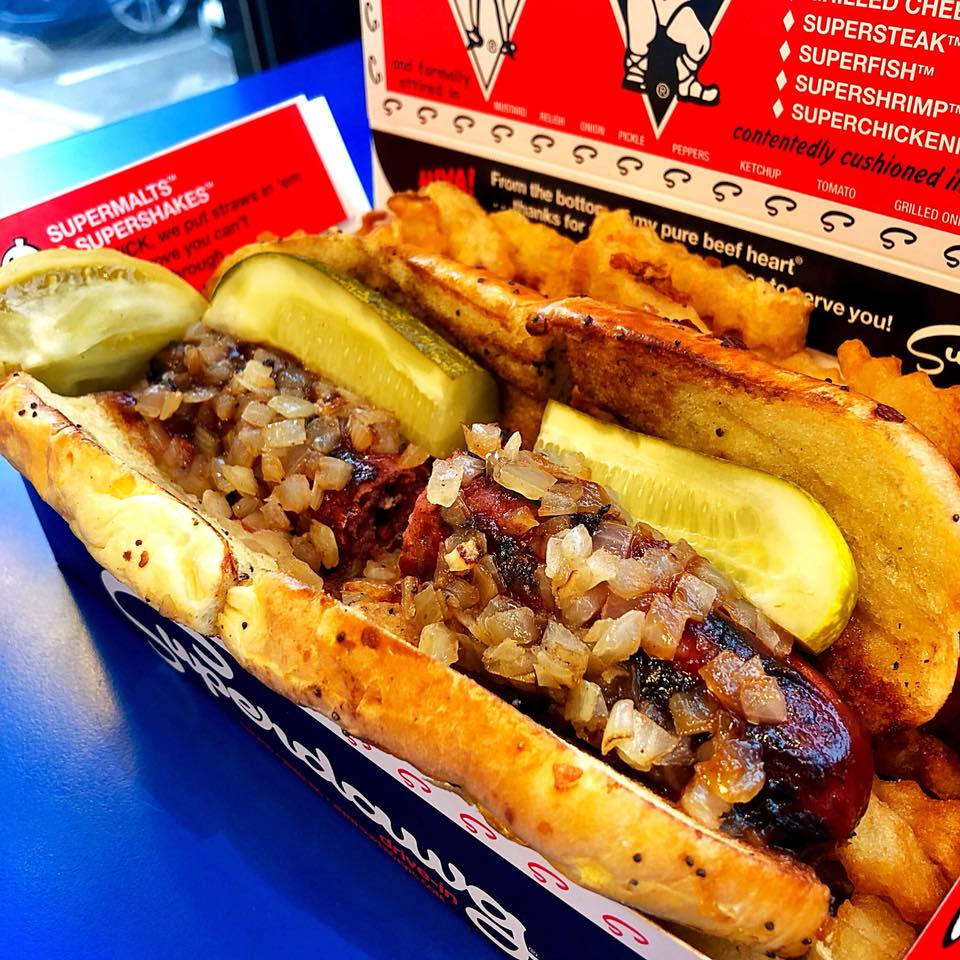 Superdawg
Location: 6363 N. Milwaukee Ave.
Hours: 11 a.m.-1 a.m. Monday-Thursday and Sunday, 11 a.m.-2 a.m. Friday-Saturday
Outrageous dog: This isn't your usual Superdawg: The Whoopskidawg is a char-broiled Romanian, Hungarian and Polish sausage. It gets coated with the famous drive-in's special sauce, dropped into a Whoopskiroll and is topped with grilled onions and a pickle.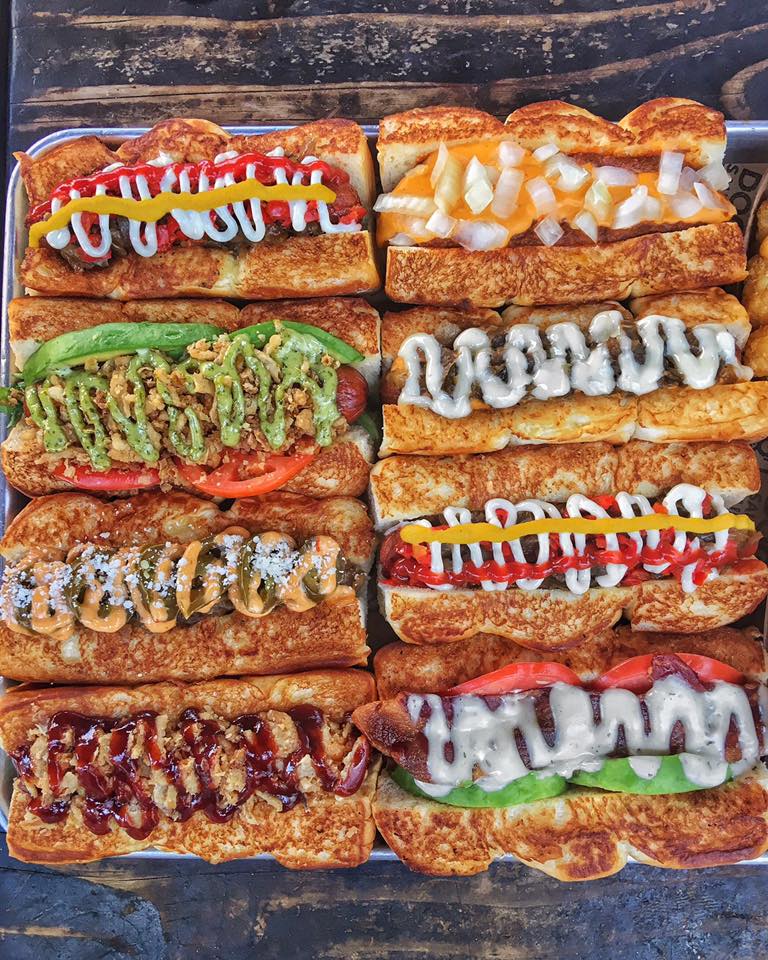 Dog Haus
Location: 2464 N. Lincoln Ave.
Hours: 11 a.m.-10 p.m. Monday-Thursday and Sunday, 11 a.m.-midnight Friday-Saturday
Outrageous dog: The Dog Haus offers several unique dogs, all of them served on sweet Hawaiian rolls. The Sooo Cali pairs a traditional hot dog with wild arugula, avocado slices, tomato, crispy onions and a spicy basil aioli.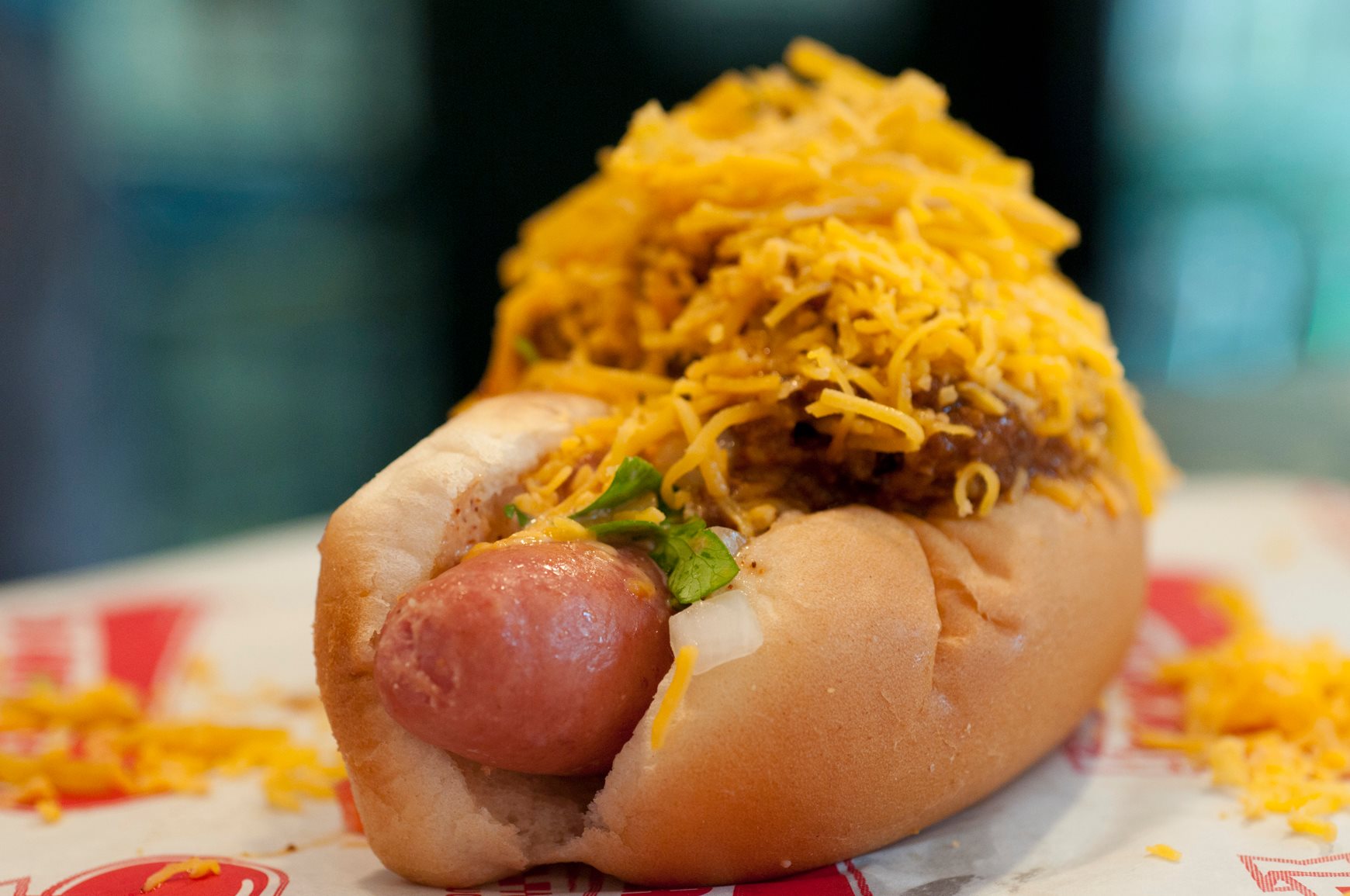 Devil Dawgs
Location: 2147 N. Sheffield Ave.; 767 S. State St. and 1431 N. Milwaukee Ave.
Hours: The South State location is open 10:30 a.m.-midnight Monday-Wednesday and Sunday, 10:30 a.m.-3 a.m. Thursday-Saturday
Outrageous dog: Devil Dawgs offers an amped-up hot dog that's spicier than most and weighs in at a quarter-pound. The Seoul Devil Dawg comes with shoyu mustard and kimchi, while the Jose Caliente Devil Dawg is topped with spicy pico de gallo, cucumber and devil sauce for an extra kick.
READ MORE: We also rounded up the most outrageous wieners in Chicago in 2015.