SOUTH SHORE — After days of protests, a memorial for the man killed in South Shore by a police officer Saturday is being planned by friends and colleagues who remain baffled by the events of the weekend. 
A service for Harith "Snoop" Augustus, 37, is scheduled for 5 p.m. Wednesday at Sideline Studio, the barbershop where he worked at 1873 E. 71st St.. 

Augustus was fatally shot by police officers who had tried to detain him at 5:30 p.m. Saturday night in the 2000 block of East 71st Street, not far from the barbershop.
After a night of protests, Chicago Police released body cam video showing him with a gun on his right hip as he ran from them before spinning around to face them. Audio of the encounter has not been released, and those who knew the quiet and polite Augustus are still looking for answers.
"When I saw it on the news I couldn't believe it," said Evelyn Crosby, a cashier at Italian Fiesta Pizzeria in South Shore. "I'm sad he had to go like that. I always told him to be safe. I tell all the young men in the neighborhood to be safe."
RELATED: Harith Augustus Shooting Captured On Police Bodycam Video (WARNING: Graphic Content) 
Crosby knew Augustus from his frequent visits to the popular pizza spot at 919 E. 71st St., just a few hundred feet from the barber shop. He usually ordered a slice or two, and never made trouble, she said. 

Dionell Hill worked side-by-side with Augustus at the barbershop for the past five months. He didn't realize until recently that his colleague owned a gun or had a firearm owner's identification card (FOID), which gave him permission to own the weapon, but not to carry it as he was Saturday. Augustus did not have a concealed carry license, according to Chicago Police Supt. Eddie Johnson.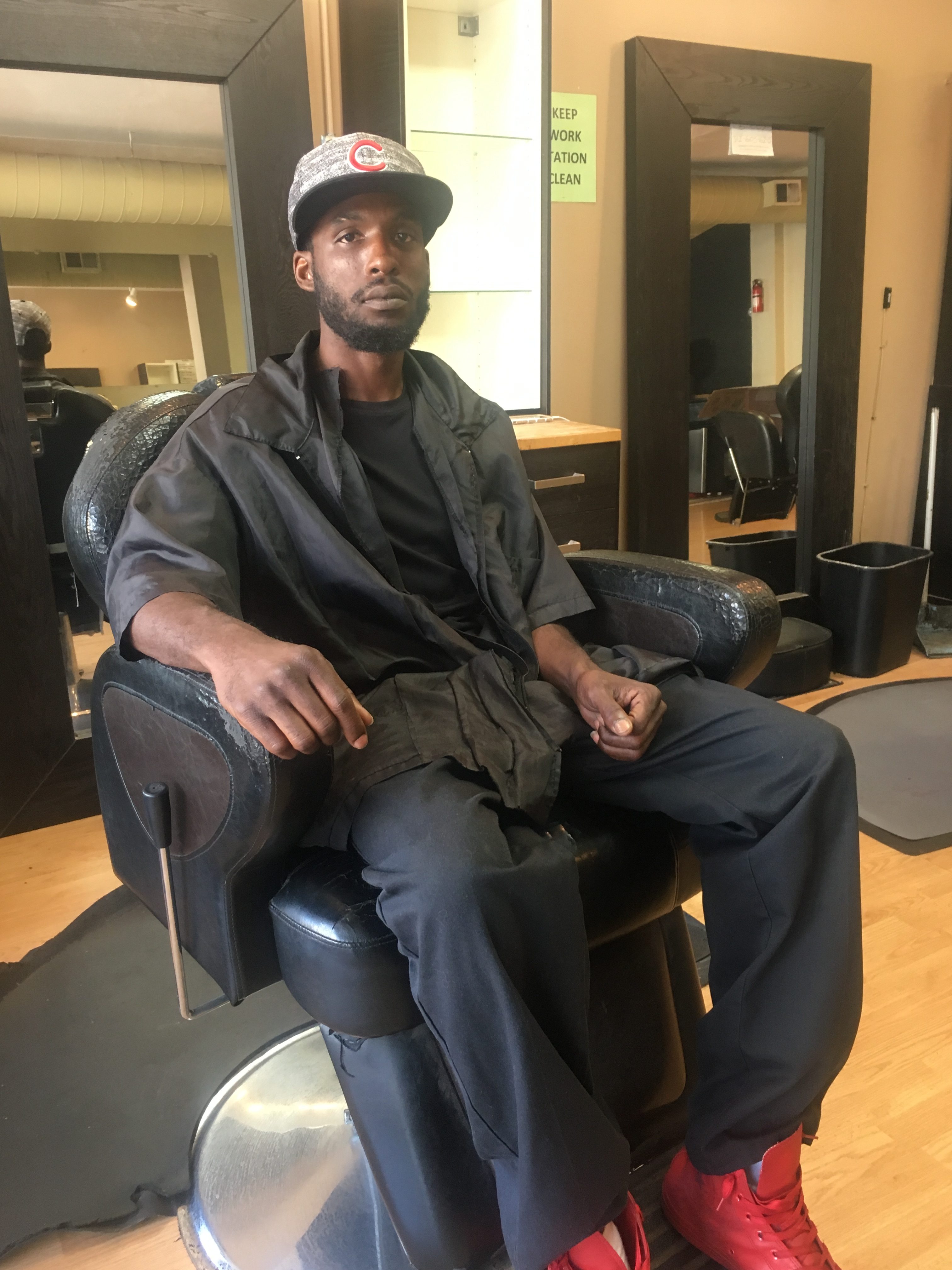 Hill last saw Augustus the Tuesday before he was shot and killed. He'd never heard of his quiet colleague having an issue with police. 

"I'm not condoning what the police did, I'm going to stand with the community," Hill said. "Am I upset about it? Yeah. Every time a young black man gets shot down, we all have a reason as black men or women to be upset."
Augustus' skill and professionalism as a barber spoke volumes, Hill said, but the man himself spoke rarely. 

"There was a lot of times I sat in that chair and watched him and he didn't say a word," Hill said. "I watched him how he cut. I watched how he moved with the razor. I saw the passion he had for it. There was never a customer that came in here that didn't leave with razor linings."  

Prior to Hill's arrival, he said Augustus was sometimes the only active barber in the shop.

Hill, a faith leader at Greater Rising Sun Missionary Baptist Church, 9015 S. Buffalo Ave., credits his faith for helping him cope with the loss of his friend. He said Augustus had a 5-year-old daughter, and that he's trying to connect with his family about their next steps.

"He didn't say much, he was quiet, and that's why people are wondering about his family, where they at," Hill said. "You can't find Snoop's family because Snoop was quiet." 

Keeping Sideline Studio a safe place for community members to come in for a haircut is paramount to Hill. He said he understands and feels the community's outrage, but wants to keep the peace. 

"I don't want the shop to get caught up in the flare of what's going on out there," he said. "People are angry out there, they're supposed to be angry, but in this shop we're going to continue to keep it professional, we're going to honor him, we're praying for his family, but we still have to do business here, I still have to be a professional barber here."
Protesters on Monday marched for a third day in the neighborhood, calling for an elected police accountability council and demanding to know the name of the officer who shot Augustus.
Augustus' death was a shock to some former classmates, who grew up with him in South Shore. 
Sneed Deadrick met Augustus in school at Ray Elementary School in Hyde Park when they were just 6 or 7 years old. The two friends, both quiet boys, bonded over a love of sports. 

They were competitive, playing baseball, basketball and softball on the playground and in gym class. Football was where Augustus was most competitive, Deadrick said.

Augustus moved to Arizona after their sophomore year of high school and the two drifted apart. But Augustus eventually moved back and the two sometimes bumped into each other in South Shore. Deadrick would ask their mutual friends how Augustus was doing. He knew people who got their hair cut by Augustus, and they all enjoyed his work, Deadrick said.

"Everyone loved him," Deadrick said. "He wasn't … the typical barber — loud and boisterous and that. … He kept to himself, took care of business."
Deadrick hopes people won't define Augustus solely by what happened on Saturday, saying people don't know what actually led to the encounter or what was going through Augustus' head.

"He was just a caring individual. He had a smile — the first thing I remember about him is his smile, the expression," Deadrick said. "Any time I'll think of him, I'll always remember him smiling.

"… At the end of the day, for 37 years he was regarded as a really nice person, quiet but very nice, respectful, and he had a wonderful smile."
Chicago Police Supt. Johnson said Sunday that, before the shooting, community residents and leaders had requested a stronger police presence within South Shore along 71st to curtail open air illegal activity.
Augustus had no criminal history since 2007, when he was charged with battery. Before then, Augustus had several "minor arrests," a police spokesman said.
John Coleman, owner of Pump High Energy Fitness Center, 1933 E. 71st St., is among those who wanted increased policing in the area.
"People who go to work every day they're tired of the activity that goes on over there [by 71st & Jeffery Avenue]," said Coleman, who has been in business for 11 years in South Shore. "For those involved in that activity it's an everyday life thing because they are trying to survive."