BRIDGEPORT — After finding himself down and out and in need of a helping hand, Freddie Gresham did what many local residents in his situation do: he headed over to Bridgeport's most well-trafficked strip mall to look for a job and ask for spare change.

Instead of just asking for money from strip mall patrons, Gresham asked customers if they needed help with their bags, or he asked shop owners if they needed their sidewalk swept.

Soon enough, Gresham's work ethic caught the attention of Nagi Soliman, owner of Xxpress Cleaners in the strip mall just north of 31st and Halsted.

Soliman has become something of a blessing for the sizeable homeless population that frequents the area. His business offers free dry cleaning for homeless people who have a job interview, and the coffee he makes for his customers is also free for the area's homeless.

But Soliman said there was something different about the 23-year-old Gresham.

"I'd always offer to help with his bags and everything," Gresham said of Soliman. "He always said no. But one day he said, 'Are you looking for a job?' I was down-and-out, so I considered it."

Soliman bought Gresham a scrubber, a squeegee and a bucket and allowed him to store the tools at the cleaners. Gresham proved to be a good worker, and soon enough, Soliman helped put Gresham in touch with the other business owners and managers in the strip mall to see if they could use some help.

Now, Gresham maintains an extensive list of clients for his burgeoning window-washing business. Nearly all of them are in the 31st and Halsted area, but Gresham has plans to expand — with Soliman's help.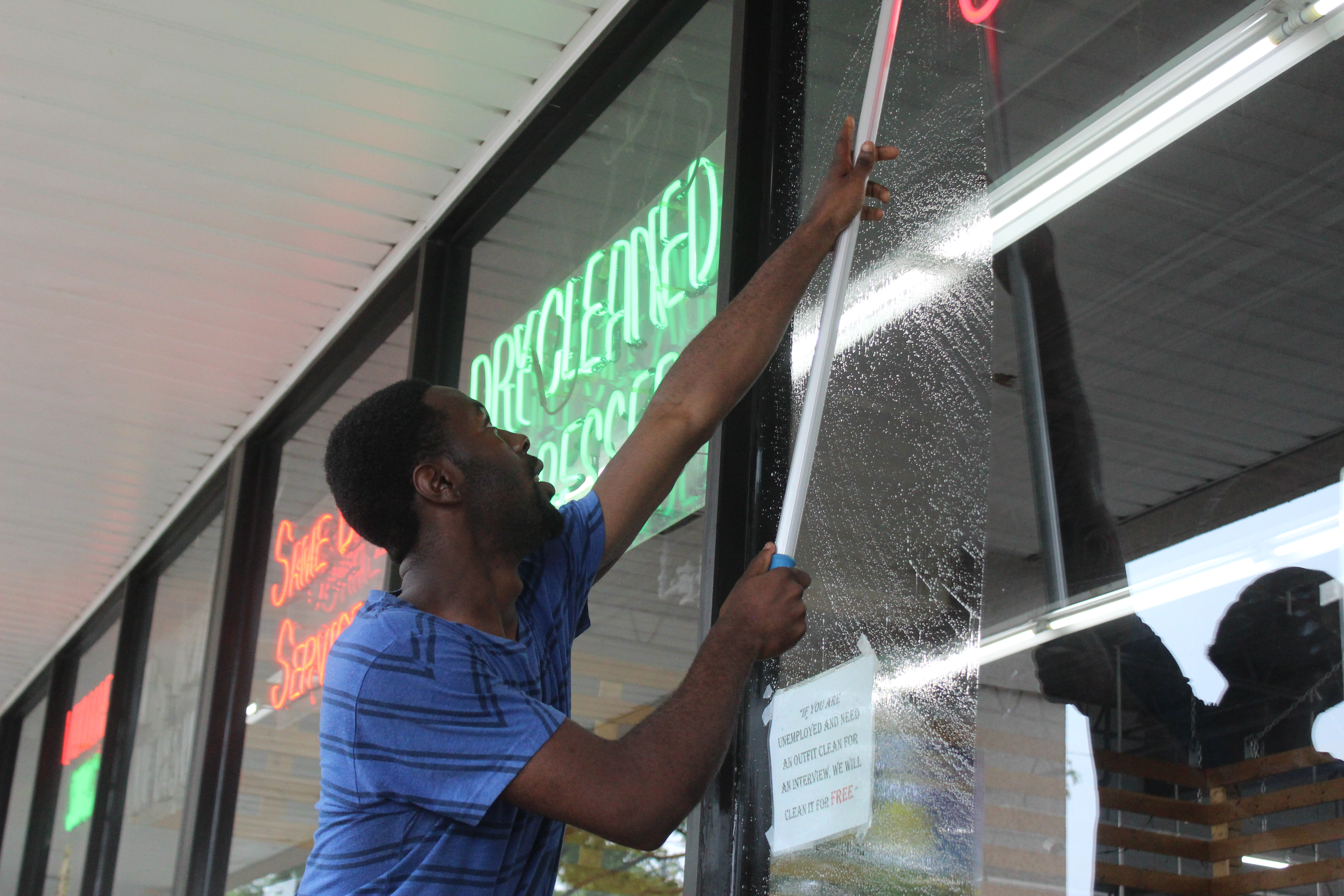 "Freddie, he just needed a chance," Soliman said. "His business kind of took off. I'm really happy for that. He's got a job, not asking for money."

Before meeting Soliman, Gresham's housing situation was unstable — he would move from place to place, staying with people kind enough to help. Gresham, who grew up in Englewood but has lived in Bronzeville, couldn't find a job, and found it hard to support himself.

"I was not really having a stable place to live," he said. "To get up on my own terms, it feels great. It takes a load off my shoulders."

Soliman's help got Gresham started, but he's been able to use some of his own savvy to grow his business. Starting out, Gresham offered two-for-one cleanings for any business who would take a flier on him. To woo clients in the strip mall on 31st east of Halsted, Gresham made sure not to leave a mark on Dunkin Donuts' windows, and he even cleaned its sidewalk, too.

A recent weekend afternoon, Gresham took pains to greet customers and hold doors. He's even added some flare to his routine, tossing his squeegee into the air, batan style.

"I've always wanted to" start a business, Gresham said. "He [Soliman] helped me out, teaching me perspective. He gave me the insight to build on my own. Without him, I wouldn't have the business I have."

Gresham's current list of clients includes Xxpress Cleaners, Dunkin Donuts, Wing Stop, Subway, Grand Triple Crown restaurant and Mitchell's Tap, among others. He is working to gain the business of some other, larger businesses on the corner.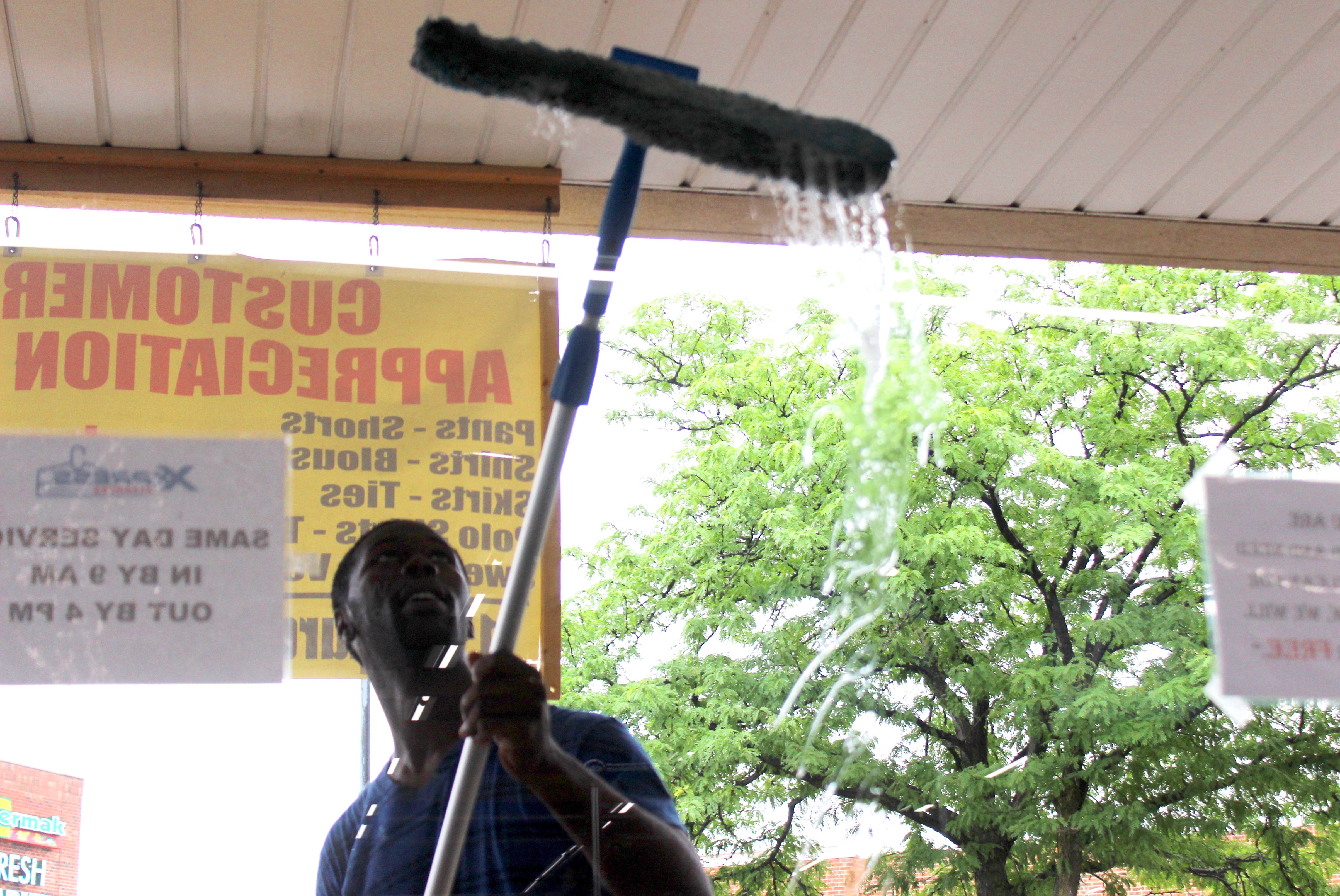 Soliman said he will help Gresham get business cards that will hopefully help him land bigger clients.

Gresham said he just wants to see his business expand to the point where he can help others.

"I want to expand to the point where I can employ people as well, lift them up like Nagi [Soliman] did me," he said.

"I appreciate him so much," Gresham said of Soliman. "He took a chance, reached out. I'm grateful."

Like he said about his free-dry-cleaning-for-job-interviews policy, Soliman, who immigrated from Egypt in 2010, said he feels a duty to help those around him.

"We have a responsibility for these people," he said. "If they get a chance, an opportunity, they will change. That's what I'm trying to do."