DOWNTOWN — You can find Jeff Zimmermann's hot dogs all over the city — but they're not the kind you slather in mustard and eat.
Zimmermann, of Humboldt Park, estimates he's painted 20 to 30 hot dogs in murals found throughout Chicago and in canvas paintings for galleries. You can see the dogs at Oak Street Beach and at California Avenue and Cortez Street, among other locales.
Zimmermann just has one rule: The hot dogs never have ketchup.
"I'm a street artist and that's street food," Zimmermann said. "They go hand in hand."
Of course, Zimmermann also finds himself turning to Chicago's favorite sausage again and again because they're so closely tied to the city: They represent a melting pot of ingredients, just as Chicago is a melting pot of people; they serve Chicago's blue-collar population; and he doesn't want Chicago to lose its "street-food-eating, hot-dog-for-lunch" element.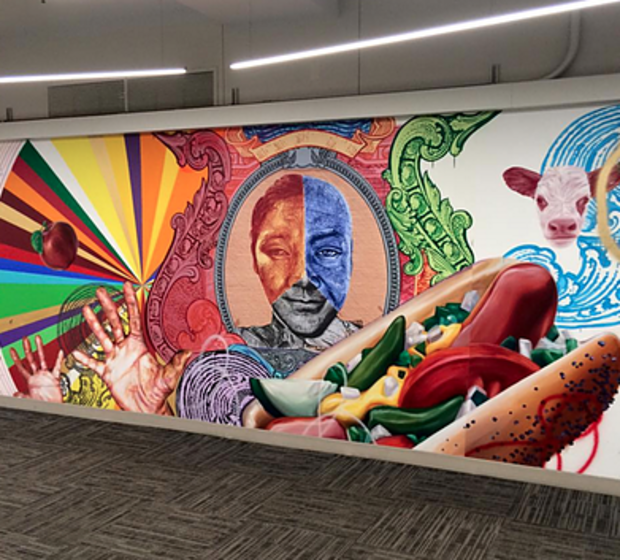 Plus, the hot dog murals make kids laugh. They love to pose with the murals, pretending they're eating the giant hot dogs; others note with pride that the dogs never feature ketchup, Zimmermann said.
Zimmermann, who's been a professional artist for about 20 years, is currently working on a mural at 30 E. Balbo Ave. in the South Loop. He's finished the hot dog for that piece, he said, but one of his colleagues questioned, "How come no ketchup on that hot dog?"
"Everyone turned their heads and looked," Zimmermann said. Of course, then they remembered: The guy's not from Chicago.
When Zimmermann's not painting them, his favorite place to grab a dog is George's, 1876 N. Damen Ave. He tries to eat healthy during the week, he said, but all bets are off after Friday.
"On the weekend I'll murder a hot dog on a Saturday and a Sunday evening," he said, laughing.
Zimmermann "tests" hot dog places by asking them to "drag it through the garden," he said, a common term for a Chicago-style dog: Vienna beef sausage, relish that's "frickin' neon green," mustard, onion, sport peppers, tomatoes, a pickle and a bit of celery salt.
"The right way, I guess I should call it," he said.
Check out some of Zimmermann's work: