CHICAGO — Bill "Mustard Cheek Man" Baffes has an offer on the table from Heinz.
The Morgan Park grocery store owner, famously caught on camera for a very long time with a big glob of mustard on his cheek at Wednesday's White Sox game, could collect a year's worth of Heinz Mustard and free season tickets if he gets enough support on social media.
KraftHeinz tweeted the offer to hook up Baffes if 10,000 people like the tweet. 
Baffes, 82, for several minutes didn't realize he'd become a human hot dog, continuing to watch the game and talk with his wife while the cameras turned to him again and again to see if he'd cleaned up the mustard.
The commentators jokingly called him "Colonel Mustard" and "Mustard Man."
But Baffes, who owns the County Fair grocery store in Morgan Park, didn't realize he was splattered — and on TV — until his kids called at the ballpark.
"They were watching the game and they called me up," Baffes said. "I was surprised. … They just told me what was going on, that you're on TV, blah, blah, blah. It was a lot of fun."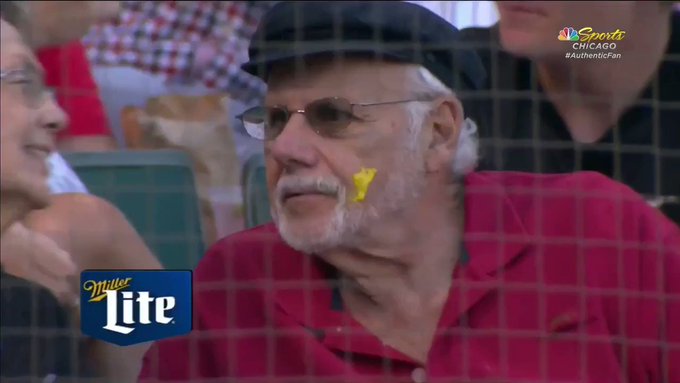 The camera still trained on him, Baffes laughed and wiped off the mustard with a napkin with help from his wife of 58 years.