OLD TOWN – While brides might have an "army of professionals" to ensure they look perfect on their wedding day, grooms often have to "figure it out by themselves," said Old Town stylist Grant McNamara.

That's what McNamara, the owner of the Wedding Groom's Personal Stylist, is changing.

McNamara, 29, formally started Wedding Groom's Personal Stylist, also called Wedding GPS, in January to help grooms look and feel their best while remaining stress-free on their wedding day.

McNamara's services can include helping with the big parts of a wedding — like styling the engagement photos — and the small things, like sewing on a button if it pops off on the "big day."

"It's kind of like pampering the guys and helping them," McNamara said. "I … make sure that everything that day goes smoothly."

And like a groom's version of "Say Yes to the Dress," McNamara will even help grooms find a tux before the wedding and will go to fittings to help the grooms choose the look that works best for them. Grooms often don't realize there are different options they can choose for their tux and their groomsmen's outfits, McNamara said, but he can talk them through styles and colors that work within their budget.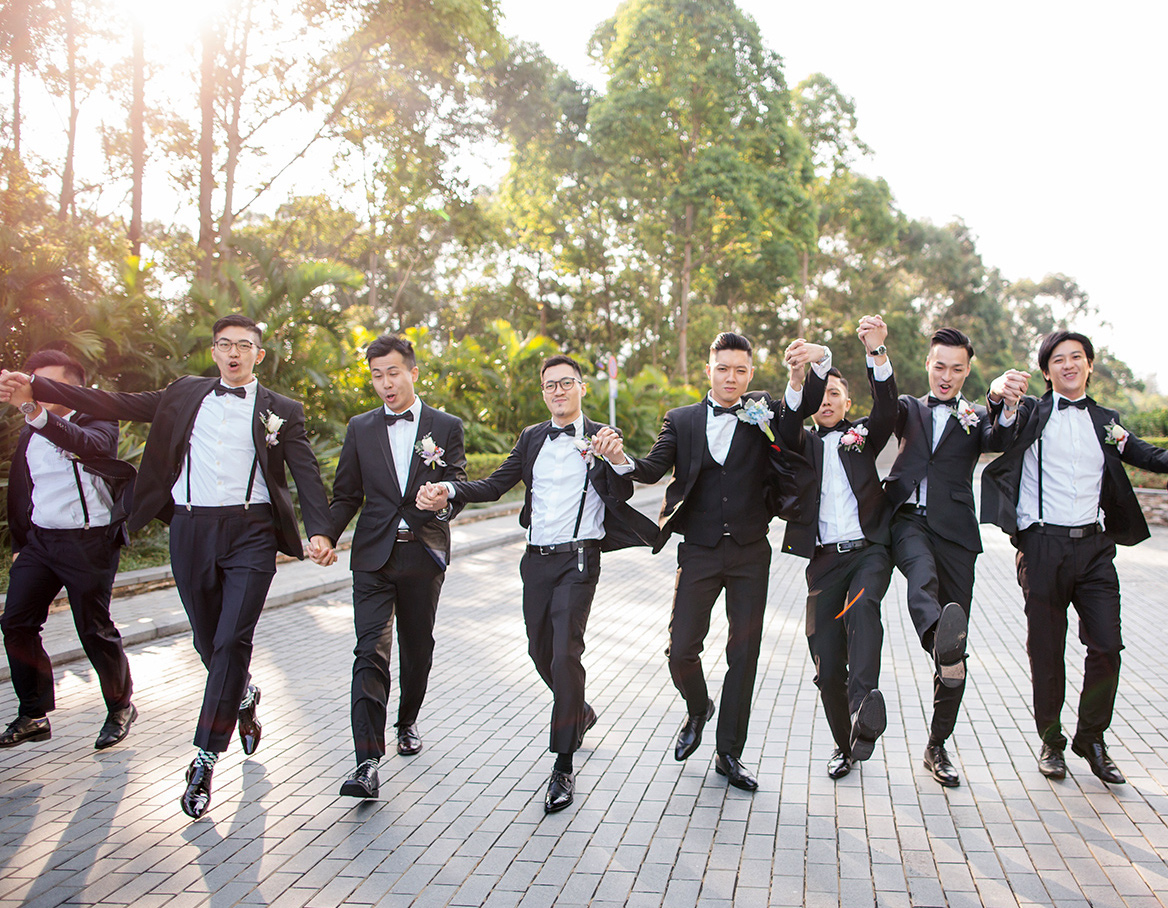 Grooms don't typically cry like the brides of "Say Yes to the Dress," McNamara said, but they do "stand up straight" and smile once they see their wedding duds. That's "always a really cool feeling," McNamara said.

"I want them to feel like they are just as important as the brides, and that they know somebody is looking out for them so they don't have to worry," McNamara said. "The spotlight's on both people with everyone they love and care about watching. I think it's so cool that I can be a part of that in some way … . To me, it's an important thing that somebody is there to help them out."

McNamara can even stick around for the post-ceremony photos, ensuring the groom and his groomsmen have their pocket squares in right and their boutonnieres in the correct spot.

Matt Riskin, a friend of McNamara's, used McNamara's services for his wedding last year. McNamara connected Riskin with a tuxedo designer, attended a fitting and helped the groom's side of the wedding party prepare on the wedding day. McNamara brought "positive vibes" to the pre-ceremony setup, Riskin said, and his skills — like shining shoes, getting bow ties right and steaming the groom's tux when it creased — helped alleviate the stress of the day.

"My bride that day was very pleasantly surprised with how everything looked," Riskin said. "The bride typically has the wedding planner and a full team of women helping her get ready with her hair, makeup, etc., but the groom doesn't typically have that.

"It was really nice just to kind of have Grant's eye, expertise and knowledge for everything day-of wedding."

McNamara has worked as a stylist for years, but it was after helping the groom's party at a wedding that a friend suggested he start catering to grooms. He loves attending and working at weddings, McNamara said, and he's found grooms love his "unique" services.

Wedding GPS's offerings can be tailored to suit the needs and budgets of every groom, McNamara said. Though he currently works in Chicago, he's hoping to expand the business to other cities and offer more services, like providing groomsmen gifts.

"I love seeing [the grooms] go down the aisle looking perfect and everyone looking at them," McNamara said. "They might not get quite the same attention as the brides, but when I help them I like to think that they're close to it."