JEFFERSON PARK — The Bike 45 Chicago riding series is back this Sunday with a guided tour of taco joints on the Northwest Side.

Cyclists should meet at the Jefferson Park Field House, 4822 N. Long Ave., at 9 a.m. Sunday for the 15-mile Tour de Tacos.
Once the ride pushes off it will mostly hug the perimeter of the city's 45th Ward but a segment will also cut through the North Branch Trail Extension.

A few of the locally-owned taco spots the ride will swing by include Tatas Tacos, 4929 W. Irving Park Rd., Chicago Taco Authority, 4219 W. Irving Park Rd. and Casa de Luna, 5481 N. Northwest Hwy.

"The North Branch Trail Extension isn't technically in the 45th Ward. But it roughly parallels the outline of the 45th Ward," said Justyna Frank, one of Bike 45's organizers. "And that's obviously a big resource on the Northwest Side and we want to make sure people know about it, and know how to safely get there and enjoy it."

Bike 45's community ride series began in 2011 with a focus on touring the city's 45th Ward. Frank also owns Cosmic Bikes in Jefferson Park. The rides were launched in 2011 by a couple that worked with Ald. John Arena's office. But once the couple that started it moved out of the area, the ride series was put on hold for a little over a year.

"But prior to that, it was a monthly community ride highlighting sites, destinations within the 45th Ward on the Northwest Side of Chicago," Frank said. "And the idea was to help area residents become familiar with better bike routes, with using bikes for recreation and for transportation. Really to encourage people in the 45th Ward to use bikes more."

Around the time she first opened Cosmic Bikes, Frank's business was featured as a stop on one of the Bike 45 rides, she said. It was a great opportunity to welcome people from the area to her shop, and as an organizer this time around, she wants to give the three recently-opened taco joints that same opportunity, Frank said. 
Jac Charlier is a member of the North Branch Trail Alliance, an economic development group that uses cycling tours to promote cultural, shopping and dining experiences along the North Branch Trail.
He said Frank's experience as a business owner with organized bicycle tours is something that can sometimes be overlooked by people hoping to grow and sustain a vibrant local businesses economy.

"The North Branch Trail is the number one used trail in the Cook County system. So our alliance is leveraging rider numbers for economic development in communities from suburban Glenview all the way down to Albany Park in Chicago," Charlier said. "Businesses and consumers don't care about map boundaries, they're indifferent to that. So you have to think more regionally."
Charlier said his experience with the alliance has shown him that people are willing to ride a bike for more than just for health benefits or as a hobby.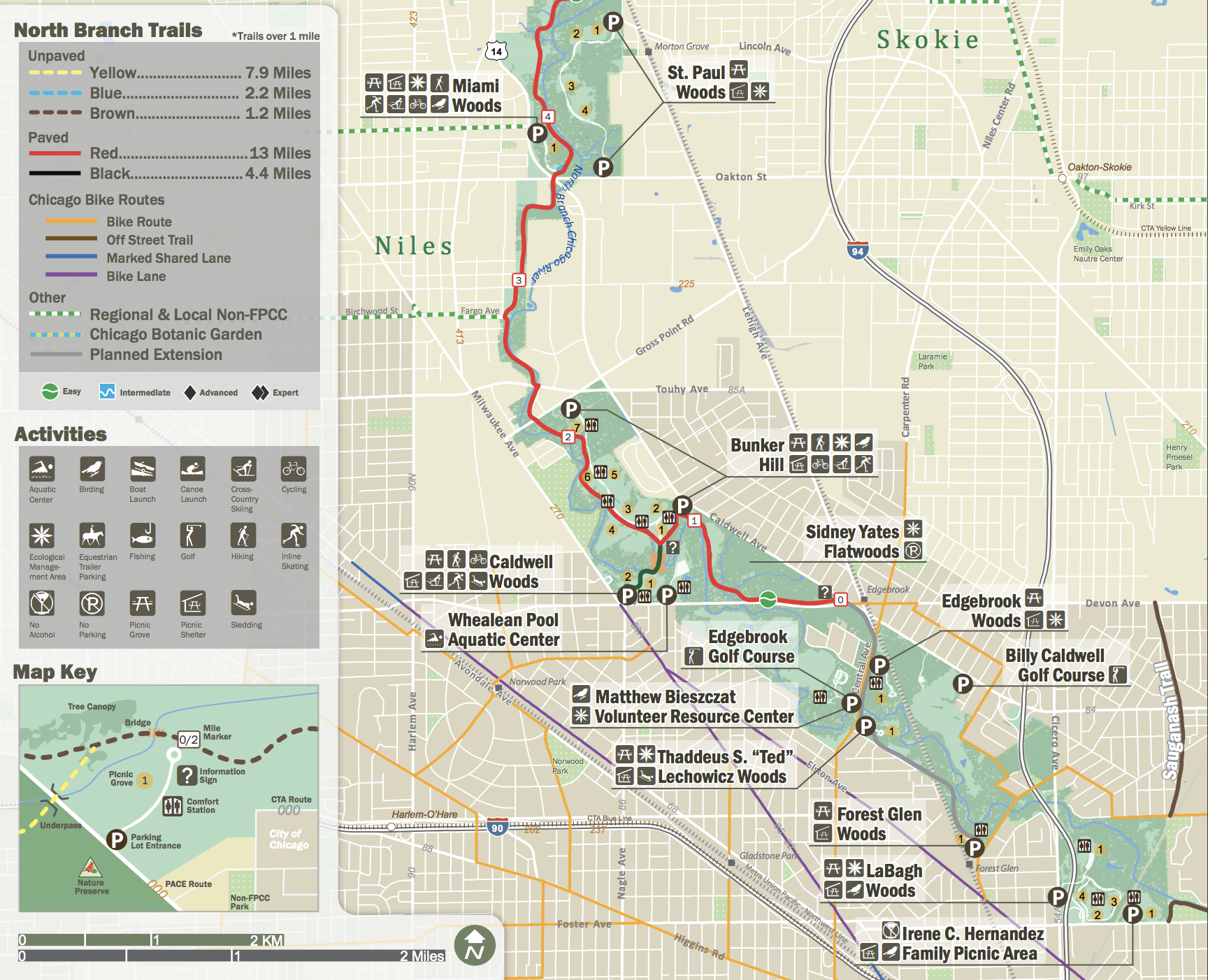 "People will leave the trail to go purchase things and make runs that they otherwise would do in cars," he said. "With that we can make the case for building more trails and sustaining trails as economic engines."

Depending on the weather, the comfortable riding season in Chicago can last until at least October. With that in mind Frank says Bike 45 expects to have its next community ride in August focus on visiting art centers and murals in the ward and a beer themed ride sometime in September.

"But this Sunday is our first ride after a relatively long hiatus. So we hope that people will come out and support it," Frank said. "We are going to do three monthly rides this year, maybe four if the weather holds up to October."
Block Club Chicago also reached out to readers who ride their bicycles around the Northwest Side to ask about their favorite places to ride, which streets or intersections are great for cyclists and which ones they try to avoid at all costs. Below are some of their responses.