BRIGHTON PARK — A tied-up and bleeding dog was rescued last week thanks to a neighborhood Facebook group dedicated to animals and two concerned aldermen.
Ald. Ray Lopez (15th) said multiple concerned citizens alerted him to a post from the Lost & Found Cats & Dogs on the South/Southwest Side of Chicago (OFFICIAL) page that depicted a dog being bound by its hind legs and bleeding in the backyard of a home in Brighton Park.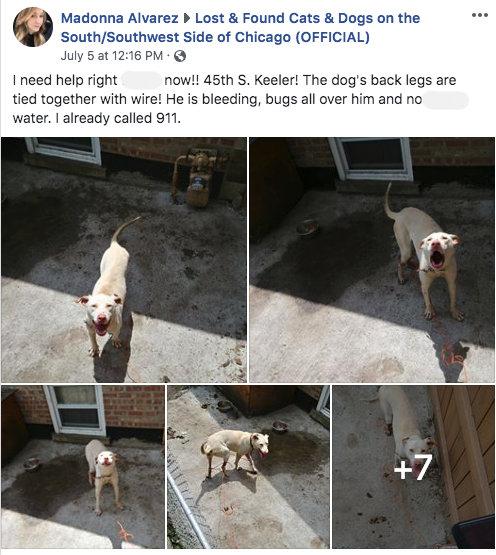 Lopez, a vocal animal rights advocate, does not represent the ward where the dog was being abused, but he immediately contacted the alderman who does: Ald. Ed Burke (14th).  Thanks to their swift response, the dog was picked up by Animal Care and Control and given medical treatment. An investigation is underway to determine whether the owner will be cited for negligence or animal abuse, Lopez said. 
Burke and a spokesman for Chicago Animal Care and Control did not respond to requests for comment. 

Lopez applauded members of Lost & Found Cats & Dogs on the South/Southwest Side of Chicago Facebook group for helping save the animal's life.

"I think it's important to recognize this rescue would not have been possible if it not had been for the diligent efforts of individuals across Chicago that care about the welfare of animals,"  Lopez said. "They maintain this page, they maintain their vigilance, and if it wasn't for them being aware of what's going on in their neighborhoods we may have never known about this animal being in the state that we found it."

While Lopez is glad the dog is currently safe, he said there is still much left to do in terms of finding the dog a new, safe home. Lopez is the owner of five dogs, two of which are rescue dogs.
"Because it is a pitbull breed, it has a about 50 percent chance of being euthanized," he said. "Our goal has to be about better education in our communities about how we deal with pet ownership and about how we deal with the large influx of animals in our communities particularly when it relates to backyard breeding and things of that nature. There's a lot more to it than saving this animal."
Since taking office in 2015, Lopez has a history of rescuing dogs in need across the city. 

This year, he introduced five ordinances to address dog-related issues such as dog licensing, rabies inoculation certification, vaccination requirements, regulations on retail sales of dogs, cats, and rabbits, among others. In April, his ordinance on stray animal impoundment and redemption passed.

"I'm hopeful that with the support of my colleague Ald. Burke, who is also very supportive of all of our animal ordinances, that we will continue to expand awareness in the council and ultimately have that lead to awareness in every neighborhood in Chicago," he said.