PORTAGE PARK — They call Randy Hughes the Mayor of Moody Street.
He's a neighborhood guy, a man who will help you put up a fence, clear your snow  … or build you a "Bags" set if you ask.
In fact, he's made hundreds of them. They line the side of his house at the corner of Moody Street and Sunnyside Avenue in the Portage Park neighborhood.
Hughes, 57, is retired from his job as a mailer for the Chicago Tribune. Most days, you can find him in open garage, crafting "Bags" ("Corn Hole" to some) sets.
For Hughes, who said he is bipolar and battles depression, it's therapeutic.
"This is my release valve," he said. "I've never found medication that works and don't think it ever will. You just have to manage it."
A good sense of humor also benefits Hughes, who finds it fateful that he lives on the corner of Moody and Sunnyside.
"This is the most fantastic thing that I can think of. I really think it's all planned. I'm a bipolar, manic depressive and where do I live? The corner of Moody and Sunnyside. That's destiny. Moody and Sunnyside, bipolar central," Hughes said, with a hearty laugh.
Making the bags sets is also about giving back to his neighborhood.
It began about 10 years ago, when he and his neighbor decided to make a set.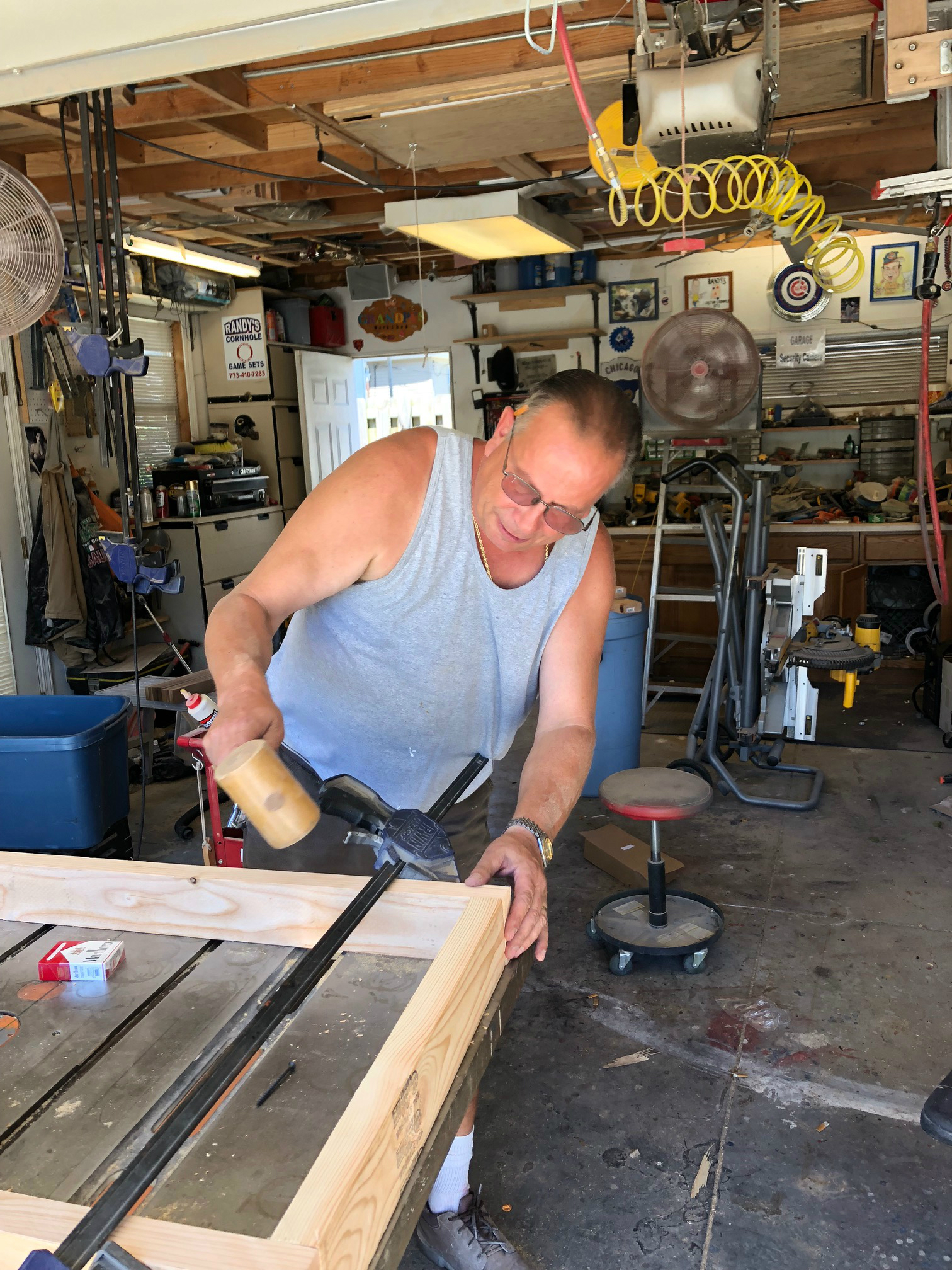 "As we were making it, a guy drove up and asked if I could make him a set. I said, 'Sure, bring a pizza and some beer and I'll make it for you.' Then, while making his, another person came by and asked if I could make a set and it just snowballed," Hughes explained.
He now charges customers for the sets. But 10 years after making his first set, beer is still the down payment of choice for most.
Hughes and his wife of 33 years, Margaret, a registered nurse at Illinois Masonic Hospital, share their home with one of his two adult sons and their daughter-in-law and three grandchildren, who moved in with them to save money for a house.
For Hughes, it's a chance to see his three grandkids, aged 6, 5, and a 1 , and to teach them about working with wood. Already, his oldest grandson has learned how to make birdhouses. And while Hughes loves that his house is full of family, he loves the serenity of working in his garage.
"I have a fridge, television and music that I keep loud in here. I have a heater and a lot of lights. It's like a little factory," Hughes said. "If I had a bathroom, I'd forget all their names."
His wife said he loves building the sets.
"It makes him happy so that helps me," he said. "In the winter, that's when we do house projects and fix things that need to be fixed inside."
In the warm weather months, it's not hard for Hughes to stay busy. As he works in his garage, with the door open and music playing, people often stop their cars to get out and inquire about the sets. 
Most sell for $350 fully loaded, which includes wheels and a paint job. Hughes makes his sets from birch or oak, cutting the wood, putting it together, then putting wood filler to cover any imperfections. He then sands them before painting and finally varnishing them. They are 2 feet by 4 feet with a regulation 6-inch hole, and sturdy, which is a point of pride with Hughes.
"I say I stand by my work and I do, I literally stand and jump on them to show how solid they are. You can drive your car over them," Hughes said. "And they are so smooth because I sand them several times. One guy thought they were plastic."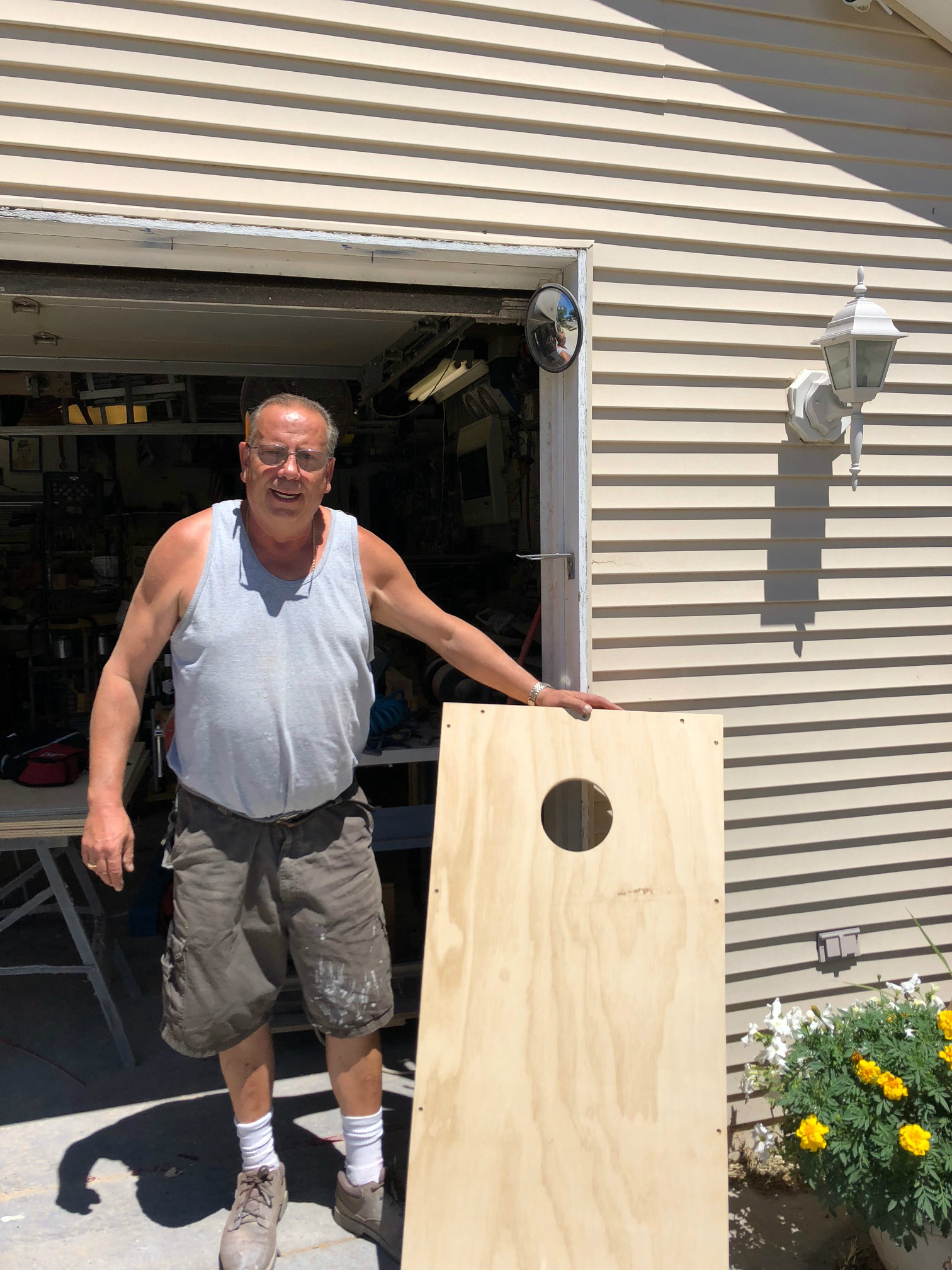 The canvas bags, which are 6 x 6 inches, weigh one pound and are filled with corn, are made by a woman Hughes found on Craigslist.
"I spray the bags with polyurethane which keeps them stiff and they have a rough side and smooth side. The rough side is for when you want the bag to stick to the board and block the hole and the smooth side is for when you want it to slide up the board.
Hughes, who keeps a couple thank you notes in his garage that were sent to him from neighbors for helping clear snow and for being a positive person, nearly chokes up when reading them.
"It's remarkable. Where do you find neighbors like that? My neighbors love me because I help everybody, and they help us. That guy over there [motioning to a house down the block] is a welder. I need anything welded, boom, he's here. He needs something fixed, I go over there," Hughes said.
"Another neighbor had a large tree that had to be removed because it was dead and dangerous. The neighbor told me that he had tried to get rid of the tree for years but the city wouldn't help him," Hughes said. "I called a buddy who had a buddy who had a buddy and it was gone the next day. That's when they started calling me the Mayor of Moody."
Bill Casey, a 64-year-old copywriter who lives across the alley from Hughes, said Hughes looks out for everyone in the neighborhood.
"One time a van tore around the corner and hit a parked car. The driver was about to drive away but Randy ran out to him and told him that he had his license plate number and would call the police if he left the scene. He's a great guy, he helped me put up my back fence and gets along with everyone," Casey said.
Hughes' desire to stay engaged with his neighbors led him to building the middle section of the fence that separates his yard from his neighbor lower that the rest of it.
"When I built this I said that we're going to make it low so we can talk to our neighbors," Hughes said. "You know, the backyard barbecue ruined this country. Everyone was a front porch person and when you're on the front porch, you know everybody. When you're in the backyard, no one sees you. We need to get back to being a front porch society."