AUBURN GRESHAM — Thousands of anti-violence demonstrators marched onto — and then shut down — the Dan Ryan Expy. Saturday morning to draw attention to the crisis of violence some Chicago residents endure on city's South and West sides.
The peaceful morning protest led to the takeover of the northbound side of the Dan Ryan. Despite warnings from the State Police, no arrests were made, Chicago Police said.
Traffic came to a full stop near 79th Street as protesters marched north on the expressway to 67th, with some stopping to write messages in chalk on the lanes that would normally be jammed with cars on a Saturday morning.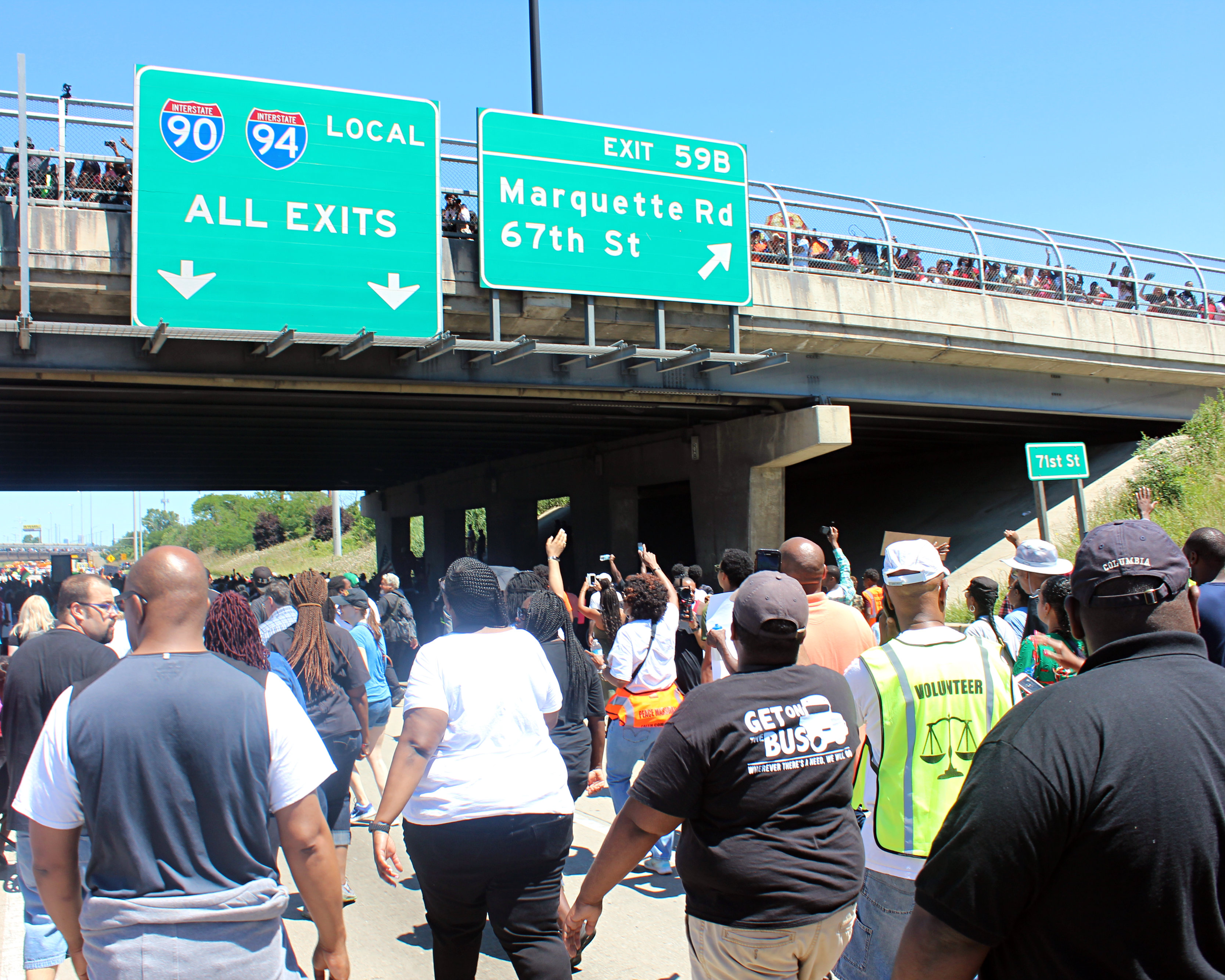 The Rev. Michael Pfleger, who helped organize the protest, credited Chicago Police Supt. Eddie Johnson with negotiating a full shutdown with the State Police, who have jurisdiction over the expressway. 
"I think they realized that young people, the people out here today, we're not going anywhere," Pfleger said. "Old folks like me, we're not going anywhere."
Pfleger said he then invited Johnson to march with him, and they did, arm in arm, with the Rev. Jesse Jackson Sr.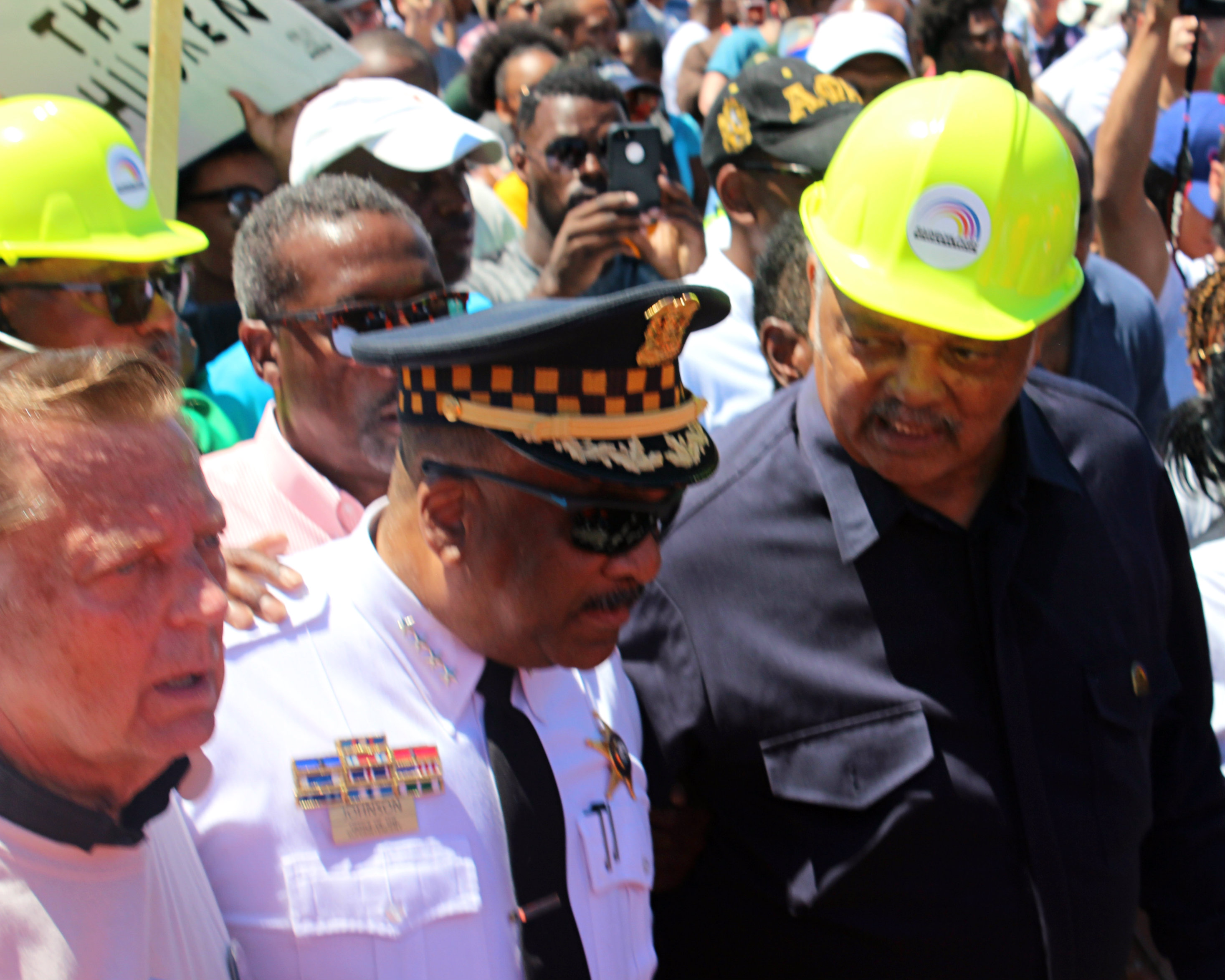 At the start, the demonstrators marched up the northbound lanes of the Ryan, with police creating a line in the middle of the expressways, allowing some northbound cars to pass on the left at the start.
Led by Pfleger and youth leaders from his St. Sabina parish, the march kicked off at 10:15 a.m. Saturday, with demonstrators marching down the off ramp and on to the Dan Ryan at 79th Street. 
Pfleger and others negotiated with police amid the march, in an attempt to move into all the lanes.
Pfleger said there was no deal made to stay on the shoulder, and anyone who said so is a liar.
"We came out here to shut it down," Pfleger said.
Soon after, protesters shut down all of the northbound lanes.
Pfleger then resumed the march north, walking with Johnson and Jackson.
The southbound lanes remained opened, although traffic crawled through the protest area.
The move to allow the protesters into all of the northbound lanes drew the wrath of Gov. Bruce Rauner, who tweeted he was "disappointed in the Mayor" and that protesters chose "chaos" instead of the law.
Mayor Rahm Emanuel responded on Twitter: "It was a peaceful protest. Delete your account."
RELATED: Rahm To Rauner: 'Delete Your Account' After Tweeting Your Disappointment Over The Dan Ryan Shutdown
Parkland school shooting survivor Aalayah Eastmond and Trevon Bosley, who lost his own brother to gun violence in Chicago, were among the thousands of marchers.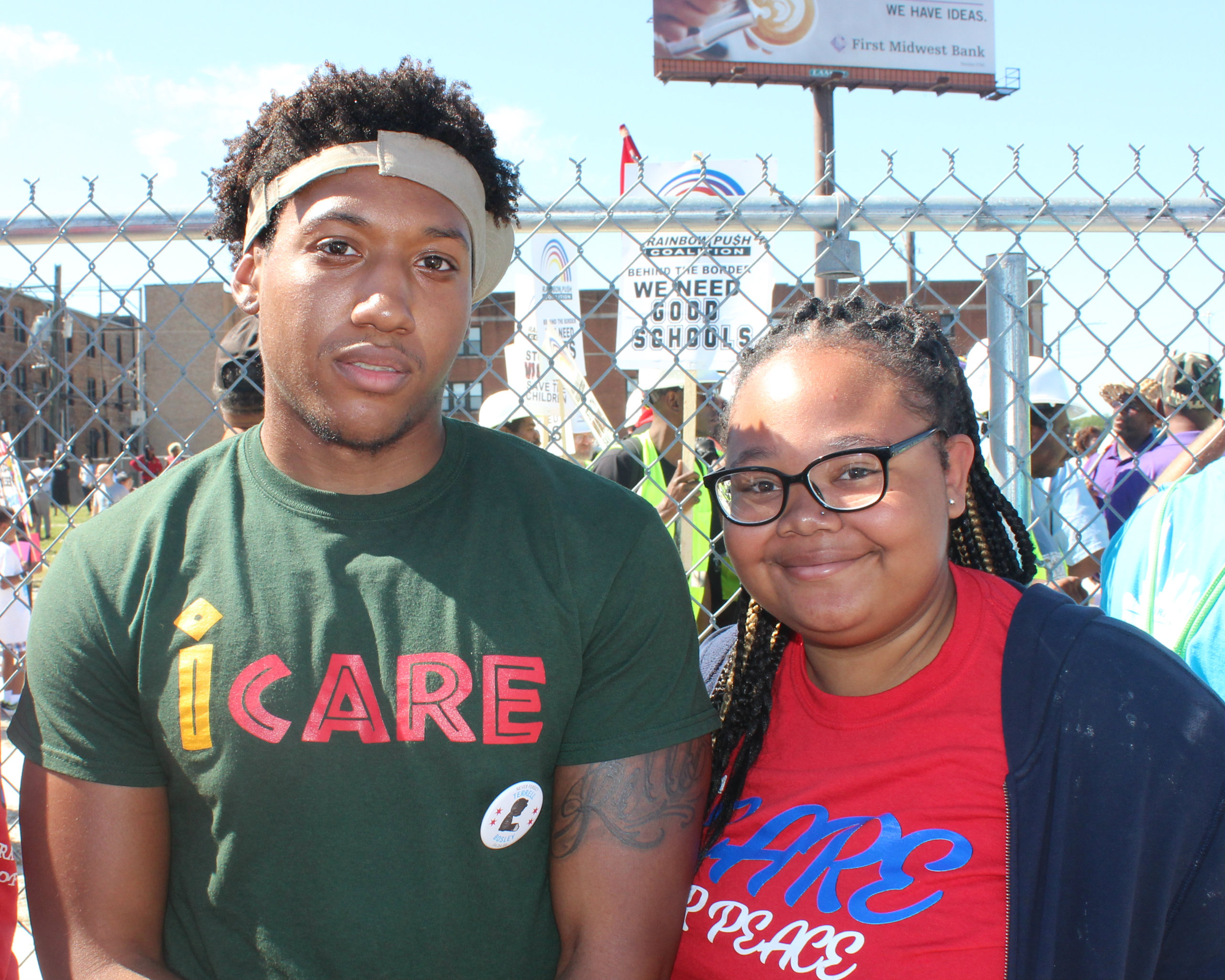 After the march, Pfleger said the people of Chicago "won today."
"What happened is the people of Chicago just won today; black, white and brown people all came together to shut down a major expressway," Pfleger said. "We refuse to sit down, freedom and justice is on the move and we are not going to stop."
The St. Sabina senior pastor promised there "will be another action" if officials don't work to "equalize the South and West and North sides," by deploying more resources to underserved area of the city. He is also pushing for an assault weapons ban in Illinois.
"Tell us how you are going to help us or there will be another action," he said.
Pfleger said he was "so proud" of the young people who led the march. 
"Adults better wake up, political leaders better wake up, young people are rising up, they are strong, they are loud, they are impatient, they are not politically correct, they want answers, they want it now, and understand if they don't get it they'll …kick you out, and vote you out the way," Pfleger said.
Emanuel on Friday said he supported the protest, but police urged Pfleger to take the march somewhere safer than the middle of the expressway.
Before the protest, law enforcement were divided in how they would respond to demonstrators. In a statement released by Chicago Police, officers have been instructed to "provide crowd safety and traffic control functions only, and CPD will not participate in any physical arrests of those peaceful protesting gun violence."
Chicago Police also noted: "As a reminder, law enforcement and policing functions on state highways are solely under the jurisdiction of the Illinois State Police."
The State Police Commander Major David Byrd issued a statement saying: "Marching on the expressway puts their lives at risk and will endanger neighborhoods along the expressway.

"Shutting down and marching on the expressway recklessly places lives in danger by cutting off emergency services to those around the city who need it most," Byrd said. "Furthermore, it endangers all communities by backing up traffic onto other arterial routes, creating extremely hazardous conditions for motorists, which are likely to cause crashes resulting in serious injury and fatalities."

State Police Director Leo Schmitz earlier this week said he "could not condone this reckless action," and urged Pfleger to reconsider the route.
After the march Saturday, Bosley, who lost his brother to gun violence, said it was "empowering" to see so many people march despite warnings they could be arrested.
"Showing that we are all unified with this cause is something extremely important, something extremely big," he said.
Check out more photos from the march below: