NORWOOD PARK — The athletic fields at Taft High School in Norwood Park are getting a big makeover this fall.

In a July 2 post to Twitter, the school's principal Mark Grishaber announced the planned renovations, which includes a new turf field for the football, soccer and lacrosse teams. The renovations are expected to cost $3.5 million, according to an email from CPS spokesperson Pat Mullane. 

Grishaber also said the renovations would include a new press box and lights. Construction is slated to begin sometime in August.

Previously the school was given $17 million from Chicago Public Schools five-year capital improvement plan so it could update its aging infrastructure. This included updating nine science labs, patch crumbling brick, repair water damage and replacing school lockers — many of which dated back to the school's opening in 1939.

Since taking over Taft's leadership in 2014, Grishaber has been able to maintain a Level 1 quality rating, the second highest possible from CPS, for the previous three years.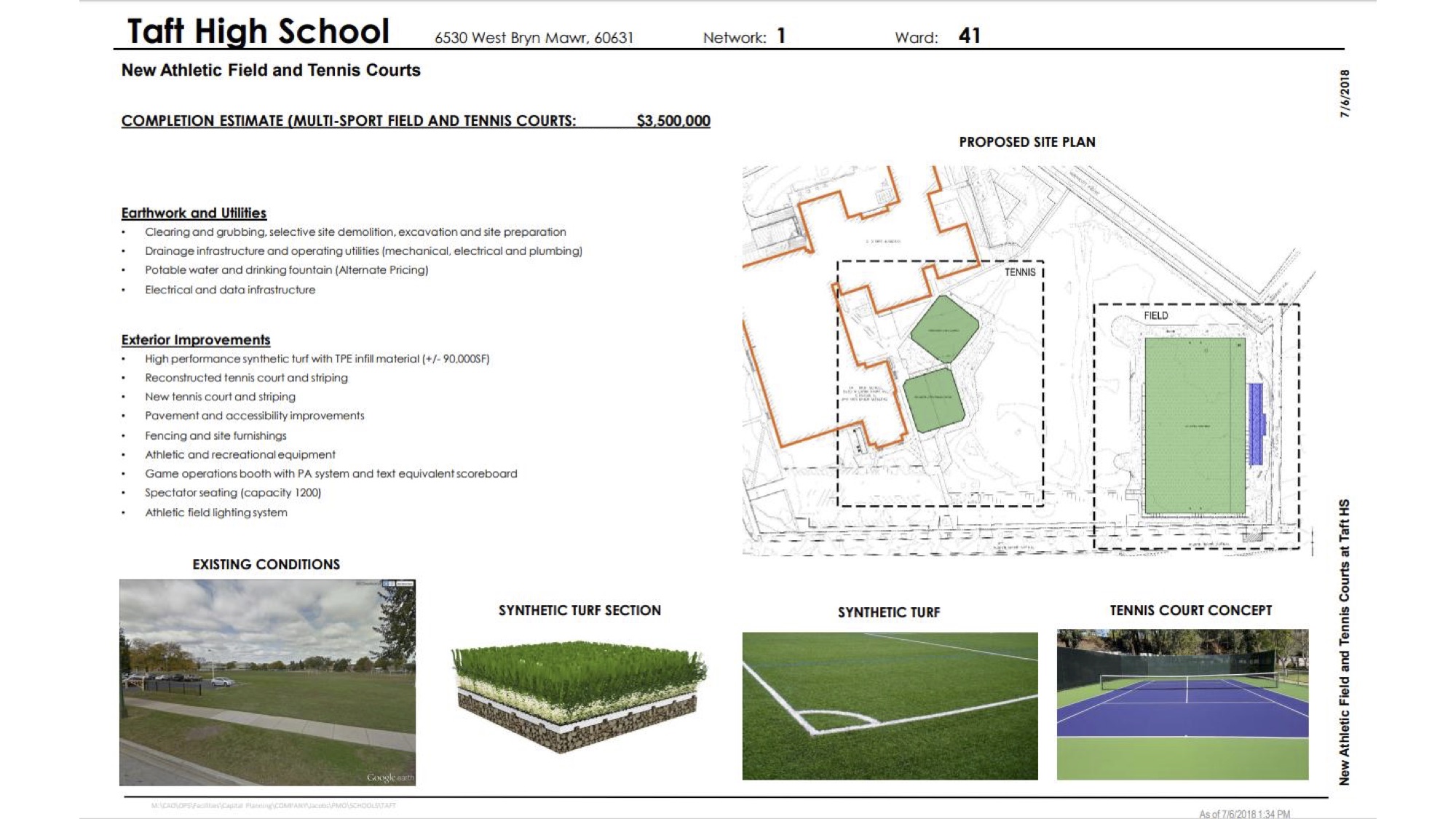 The plans for the new athletic fields were designed by SmithGroupJJR. The architecture, engineering and planning firm's other projects includes the Northerly Island Framework Plan and the Milwaukee Art Museum's shoreline and promenade.
Once the proposed improvements are completed, the new field will seat 1,200 and allow spectators to listen to a PA system and view a "text equivalent scoreboard" during events, Mullane said. 
Plans also include 90,000 square feet of "high performance" synthetic turf, reconstructed and new tennis courts and striping, new pavement and accessibility improvements. The field's equipment, fencing and other furnishing will also be getting an upgrade.
Infrastructure improvements, like new drainage, plumbing, electrical upgrades as well as access to potable water and a drinking fountain, are also planned, according to CPS officials.