NEAR WEST SIDE — The booming Near West Side would get a new open enrollment CPS high school under a plan revealed Friday.
The announcement came as Mayor Rahm Emanuel and Chicago Public Schools officials proposed the nearly $1 billion investment in CPS capital improvements at a press conference in Little Village. If approved, the investment would be the largest single-year capital improvement in more than two decades.
Under the plans, the Near West Side High School would be an open enrollment high school that would be open to Near West Side families. CPS officials have not yet announced attendance boundaries for the proposed school.
CPS budgeted $70 million for the project. 
The high school would be built to "support the growing student population" and establish a "high quality high school," CPS officials said. The Near West Side area includes the booming West Loop. 
CPS leaders declined to say where the Near West Side high school would be located, but said they will be working with the neighborhood to identify a location for the proposed school.
Neighbors advocating for the school have set their sights on the soon-to-be-vacated Chicago Police Academy building at 1300 W. Jackson Blvd.
The coalition of parents and leaders pushing for the high school is exploring other options to house the school, too. Those options include a potential expansion of Whitney Young or a repurposing of other existing buildings on the Near West Side, according to Armando Chacon, West Central Association president. That could potentially include repurposing the building that houses the current Urban Prep Academy building at 1326 W. 14th Place, if the charter school could be relocated, according to Little Italy leader Dennis O'Neill. 

RELATED: New West Loop High School Should Open In Police Academy, Neighbors Say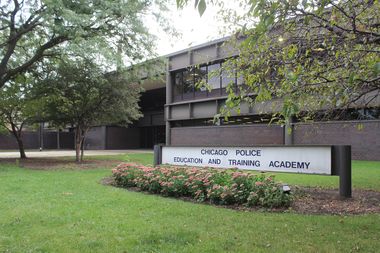 That coalition, led by Chacon, a West Loop Realtor and former Skinner West Local School Council member, and O'Neill, executive director of Connecting 4 Communities, has pushed for a high school that would serve the Near West Side's neighborhoods — which include the West Loop, Little Italy, University Village, Tri-Taylor and the United Center area — for some time.
"We're working with CPS on determining what's possible, what's the best option given limited resources," said Chacon, a CPS parent.
The neighbor-led coalition has proposed a high school that would serve students coming from eight neighborhood and magnet CPS schools: Skinner West, a selective-enrollment classical and neighborhood school in the West Loop; Andrew Jackson Language Academy, a magnet school in University Village; Washington/Irving Elementary, a neighborhood school in Tri-Taylor; Smyth Elementary, a neighborhood magnet school in University Village; Galileo Scholastic Academy, a magnet school in University Village; STEM Magnet Academy, a magnet school in University Village; Suder Montessori, a magnet school on the Near West Side; and Brown Elementary, a neighborhood school on the Near West Side.
Some of the feeder schools, most notably Skinner West and Andrew Jackson, serve kids from all over the city. 
Under their proposal, the school wouldn't just serve the wealthy West Loop, Chacon argued, it would serve neighborhoods as far west as Western Avenue.
"This wouldn't just be a high school for the West Loop, it would [serve] a wide range of families up and down the socio economic spectrum," he said.
But CPS officials will ultimately determine the high school's boundaries if its approved.
The high school push aims to keep more families in the area, Chacon said. The West Loop's current open enrollment CPS high school is Wells Community Academy High School, a Level 2+ school in West Town. The school is underutilized, with its student body occupying just one-third of the building. More than 90 percent of Wells students come from low-income households; About 51 percent of the school's students are Black, and 43 percent are Hispanic, according to CPS data.
The coalition did discuss working with Wells leaders to revamp the school, but the option was "not the most compelling one for us," Chacon said.
"It's not on the Near West Side and it's not perceived as a high performing school," Chacon said.
Instead of sending their kids to Wells, many West Loop families choose to send their kids to private schools, shoot for CPS selective-enrollment high schools, or opt to move out of the city to the suburbs, where some public school districts offer more quality options. 
Often, West Loop families "fall off the CPS radar," Chacon said, and the need in the area, booming with new residential development, is only growing.
"The Near West Side has experienced more population growth than just about any other area of the city and that trend is accelerating," he said. "The need is there now, but the need is only increasing with time."
O'Neill said he is glad CPS is taking the "community-driven" proposal seriously.
"We are going to continue to meet with them and continue to make the case, and use the data we have to get something accomplished," he said. 
Not everyone has supported the neighbor-led coalition's plan for a West Loop high school at the police academy site. In August 2017, Joyce Kenner, longtime principal of Whitney Young Magnet High School, a prestigious CPS selective enrollment high school, said she was "vehemently opposed" to the plan.
RELATED: West Loop High School Proposal Met With Opposition From Top CPS Principal
In 2017, Smyth Elementary Principal Ronald Whitmore asked the group advocating for a new high school to consider the racial implications of their push. Smyth, a neighborhood magnet school in University Village, serves 495 students, 93 percent of whom are Black, and 97 percent of whom are low income, according to CPS data. 
"For the last nine years, [Smyth] has really tried to change the perception of a community school that most of you would never send your children to because of the socioeconomics and the race that the kids I serve are from," Whitmore said. "There are some deep-seeded issues that we have to be honest enough to deal with."
Last month, National Teachers Academy parents sued CPS to stop the district from closing their elementary school in the South Loop and turning it into a neighborhood high school. In the suit, parent allege that district officials used a racially discriminatory metric to close NTA and argued that the decision would disproportionately burden the African-American kids who currently attend the grade school, The Chicago Reporter reported.
The Near West Side high school proposal comes five years after the Chicago Board of Education voted to close 50 Chicago schools, including many on the city's South and West Sides.
In 2016, CPS announced a $20 million dollar expansion at Skinner West, a prominent West Loop elementary school, to address overcrowding. At the time, WBEZ reporters argued that the expansion perpetuated CPS' racial and economic divide.