WICKER PARK — Come August, there will be one less coffee shop near Wicker Park's Milwaukee, Damen and North Avenues intersection – and one more spot to grab a bagel.
Red Beard Coffee Traders, which opened in November at 1948 W. North Ave., will close at the end of July. Corey's NYC Bagel Deli will open in its place, according to owner Corey Kaplan, who owns NYC Bagel Deli in Lincoln Park and River North. The bagel spot is slated to open in mid-August, Kaplan said.
"My customers have been begging me to go to Wicker Park for 15 years. We are the only real traditional NYC bagel place in Chicago that does it in front of your eyes. The whole entire baking facility will be in the window of the new location," Kaplan said. 
The fast turnover comes courtesy of Marcus Lemonis, an entrepreneur and investor who acts as a small business whisperer on his popular CNBC show "The Profit." Lemonis partnered with Kaplan to bring the new venture to the neighborhood and will have a stake in Corey's NYC Bagel Deli.
Signs at Red Beard Coffee Traders advertising 50 percent off all merchandise went up last week and the daily hours of operation were recently shortened. The cafe now closes at 4 p.m. instead of 9 p.m. daily.
Steve Sims, owner of Red Beard Coffee Traders, which is an offshoot of Sims' California-based chain of cafes named Bodhi Leaf Coffee Traders, did not return a request for comment.
Lemonis featured Sims on "The Profit" last summer and partnered with the red-bearded entrepreneur to bring Red Beard Coffee Traders to Wicker Park.
On Monday, Lemonis said Red Beard Coffee Traders was "doing well" but it was time to bring in something "more scalable" and "tied to Chicago."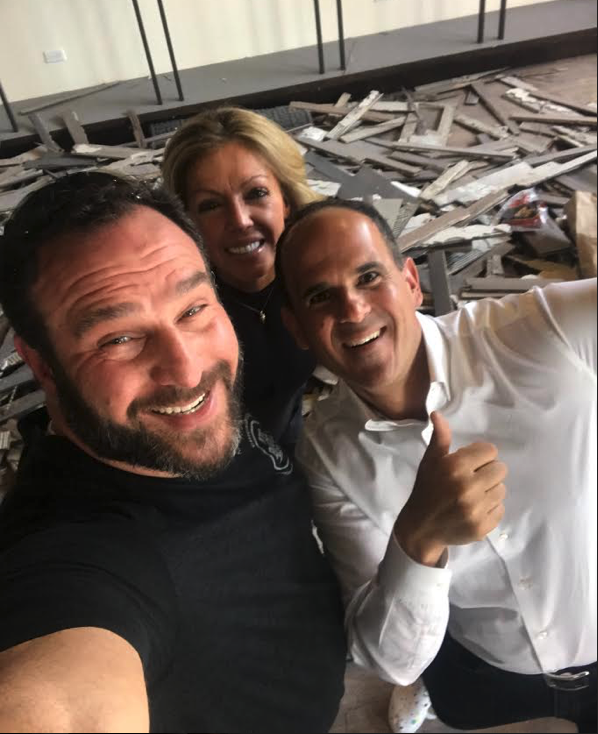 Now in its 5th season, Lemonis' show focuses on small business owners who want to expand. The Corey's NYC Bagel episode will be aired within the next month, according to the Tribune. 
Kaplan said the name change at his existing locations and the new Wicker Park shop is about honoring two of he and wife Laurie's five children, Corey and CorriAngel, who both died of polycystic kidney disease at a young age.
"It's named for the children and not me," Kaplan said. "Marcus has the biggest heart of anyone you'll ever meet. He wanted the name to be added to our existing reputation."
Corey and Laurie Kaplan also have three adult daughters, including eldest daughter Nikole, 28, who wrote into "The Profit" with her family's story and asked if Lemonis would be able to help her mom and dad's business get to the next level.
The NYC Bagel Deli at 1001 W. North Ave. opened in 2000 and another at 515 N. Dearborn St. in River North opened in 2008.
Thanks to help from Lemonis, the family also plans to build a 9,500 square-foot retail storefront and commissary kitchen in Highland Park to make bagel chips, Kaplan said. A portion of sales from each bag of bagel chips will go to the PKD Foundation, which raises money to fund clinical trials to help find a cure for polycystic kidney disease.
Like nearby Brobagel at 1931 W. North Ave., Corey's NYC Bagel makes several varieties of kettle-boiled bagels.
Kaplan said the forthcoming bagel deli at 1948 W. North will be primarily for takeout but it will have up to 20 seats for customers who want to hang out and eat inside. 
Kaplan plans to keep the Red Beard staff and bring over "some lifelong guys and girls who know everything about the business" to teach the existing workers at Red Beard, who're employed by Lemonis' company ML Foods.
"My plans are to keep everyone there employed," Kaplan said. 
Red Beard's general manager Jason Wilfong confirmed that employees will work for Corey's NYC Bagel Deli when it opens, but was disappointed about the closure.
"Some regulars are sad, they really love our coffee," Wilfong said. "People love working out of there all day long. I call it everybody's office."
Despite lots of competition within a block of Red Beard Coffee Traders, the cafe is often busy during the weekdays and weekend afternoons.
Jake Eisendrath, a Wicker Park resident and regular at Red Beard Coffee Traders, alerted Block Club to the closure. 
"I love how friendly the staff is and how they were not scared to open up in an area already full of coffee places. They will be missed," Eisendrath said.
Located in a former dentist office, the cafe initially replaced a planned Bow Truss coffee shop that never opened.