RAVENSWOOD – When the craft beer industry rushed to make as many IPAs as possible, Dovetail Brewing was busy sticking to what they're passionate about: beer history.
When Hagen Dost and Bill Wesselink officially launched Dovetail in the summer of 2016, they focused on paying homage to the extensive beer history of Continental Europe by brewing the traditional classics made famous in the region: Lagers, Hefeweizens, Maibocks. 
But months before Dovetail was even a name on Chicago's beer map, their passion project was underway: the duo was hard at work on an ultra-limited edition Lambic-style Kriek beer.
Making a beer that wouldn't see the bottom of a customer's glass for a few years was a big risk, but it was something that Dost and Wesselink were passionate about doing.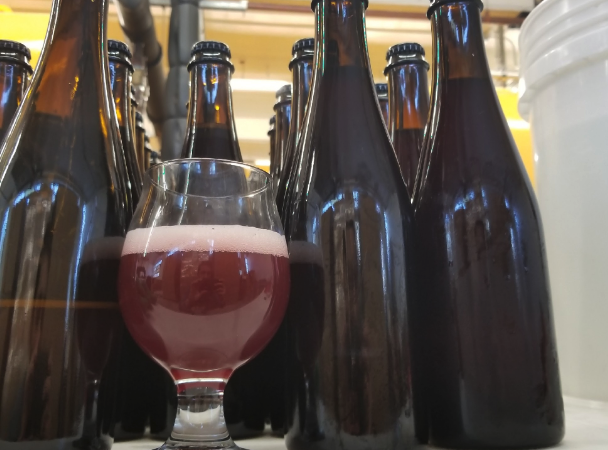 Their new creation is the first commercially-produced Kriek brewed in the Chicago market. Brewed in the Lambic-tradition first perfected in Brussels, the brewers were rigid in following the rules of creating the ancient beer style, which included two peculiar components. The first is that the Kriek has to be 100 percent spontaneously fermented. This means Dost and Wesselink let the concoction sit in their coolship overnight during the Spring of 2016 and "trusted nature to do its thing," Dost said.
Their coolship – a large, shallow tub of sorts where brewers allow wort to cool – allows the Lambic base to ferment with any and all of the wild yeast found in the air currents doing that time – making it uniquely Chicago.

Another Midwestern element of the beer is its fruit. Traditional Brussels-style Krieks use the rare Schaarbeek type of cherries found in the region. Unable to source this rare ingredient, Dovetail opted for the rich Balaton cherry strain, originally grown in Hungary, but now found in abundance throughout the Leelanau Peninsula in Northern Michigan.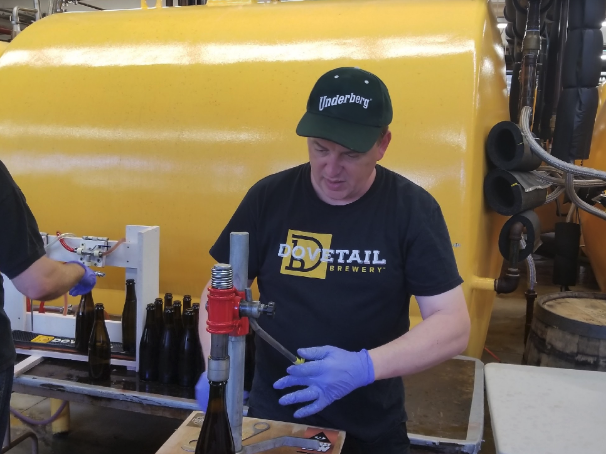 Dovetail used over 2,300 pounds of Balaton cherries during the brewing process. Each of the roughly 16 barrels used for this beer received the infusion of over 100 pounds of cherries a piece. The lambic base beer and cherries sat, aged and fermented for more than two years. During that time, Dovetail launched their taproom and became a staple of Ravenswood's Malt Row brewing district.
Now, the Kriek is ready to drink, but getting your hands on it might be as difficult as the brewing process. 
Dovetail only produced 5,000 of the precious bottles which means distribution will be scarce.
If you want a taste, Hopleaf, 5148 N. Clark St., will host an exclusive pre-release party on July 10 with the Dovetail Kriek on tap. If you can't make the release party, the official bottle release will happen in the Dovetail taproom, 1800 W. Belle Plaine Ave., on July 14. A 500ml bottle will cost $22.