EDGEWATER — After four years of trying to find the perfect tenant for the landmark former Broadway Bank building in Edgewater, the 1920's-era Gothic Venetian-style structure is once again bustling with life.
A cluster of new tenants — Spinning Wheel Brands, CP Concept Labs and Upgrade Partners — have moved in and began making the huge, stunning showroom their own, while also paying homage to the building's charm and historical significance.
"We certainly want to interact with, and be a big part of, the community," said Julia Stamberger, CEO of Spinning Wheel Brands. "Three of four of us live in Rogers Park so this location was perfect for us."
The 5960 North Broadway building was originally designed by Chicago architect Richard Bernard Kurzon to be an upscale Chrysler showroom as be part of North Broadway's "Auto Row" in 1925-26. On April 5, 2012, the property was designated a historic landmark by the Commission on Chicago Landmarks (including its adjoining room at 5948 North Broadway).
For 31 years until 2010, the building was the home of Broadway Bank, which was owned by former state treasurer Alexis Giannoulis and his family before later serving as a bank branch for MB Financial, which closed in July 2014. 
Today, it houses the three groups, which primarily deal in the food and snack business industries — developing, launching and growing innovative new brands that are distributed around the world, Stamberger said.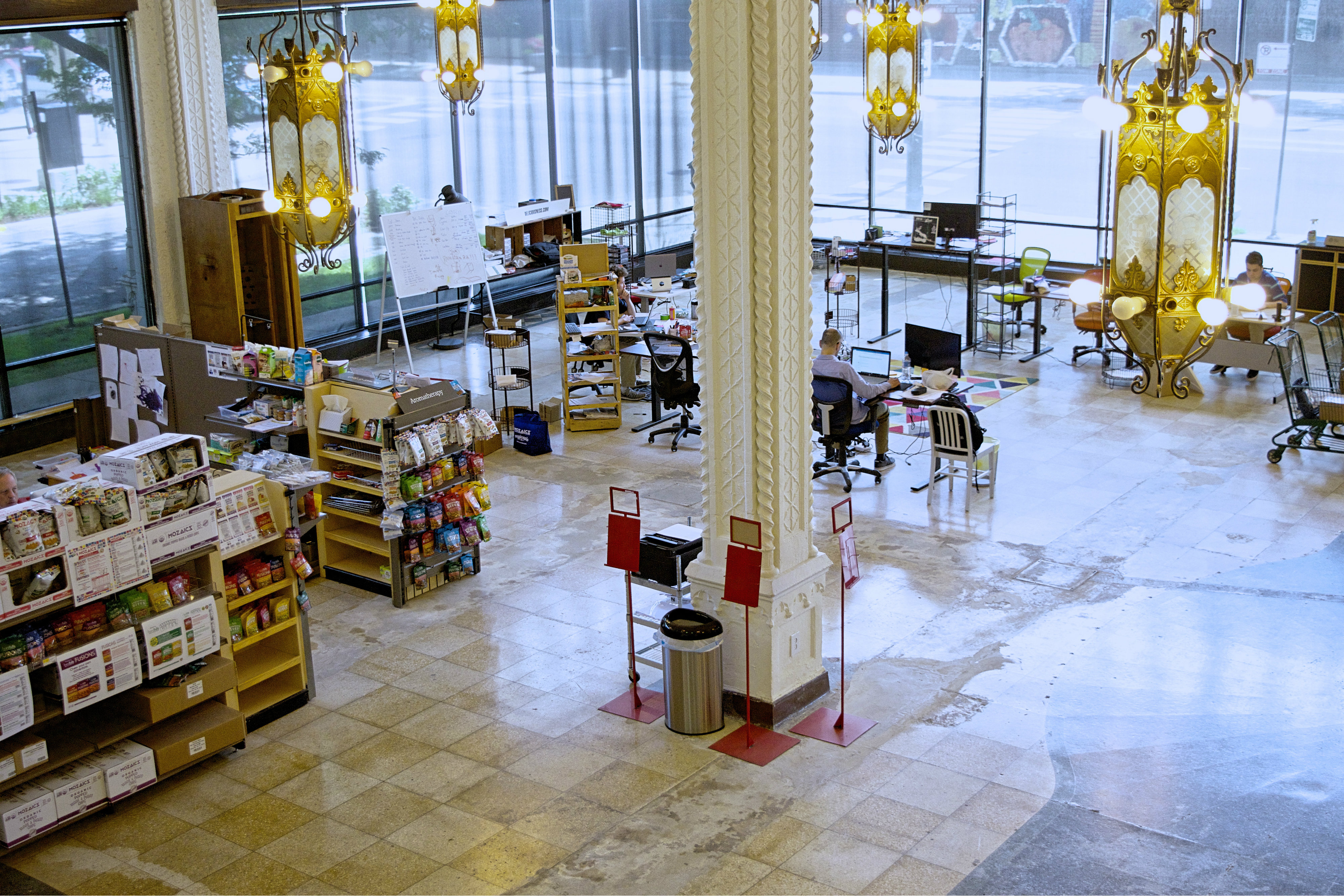 It has been a long road to finding the right tenants for the space, not only because of its tremendous size, but because its landmark status means that certain features of the building cannot be changed, such as its coffered gold-leaf ceiling, lead glass arched windows, antique metal chandeliers and facade. The building also does not come equipped with a sprinkler system, meaning potential businesses like restaurants or event companies would need to carefully sink costly upgrades into the building.
Two of the other buildings Stamberger toured were also originally built as 1920s auto showrooms, including the long-vacant building at Ridge and Glenwood and another on Clark Street, though ultimately neither measured up to their new digs today.
To Stamberger and her team, the unique Edgewater building was the perfect fit — and it meant that as Far North Side residents, they could still live and work in their own communities, a critical factor when deciding where to anchor their business, she said.
And, since first beginning to move in last fall, the groups have slowly began transforming the space.
What was once the bank's fire vault is now a one-of-a-kind conference room, using safety deposit boxes as shelving for the food and snack products developed and launched there.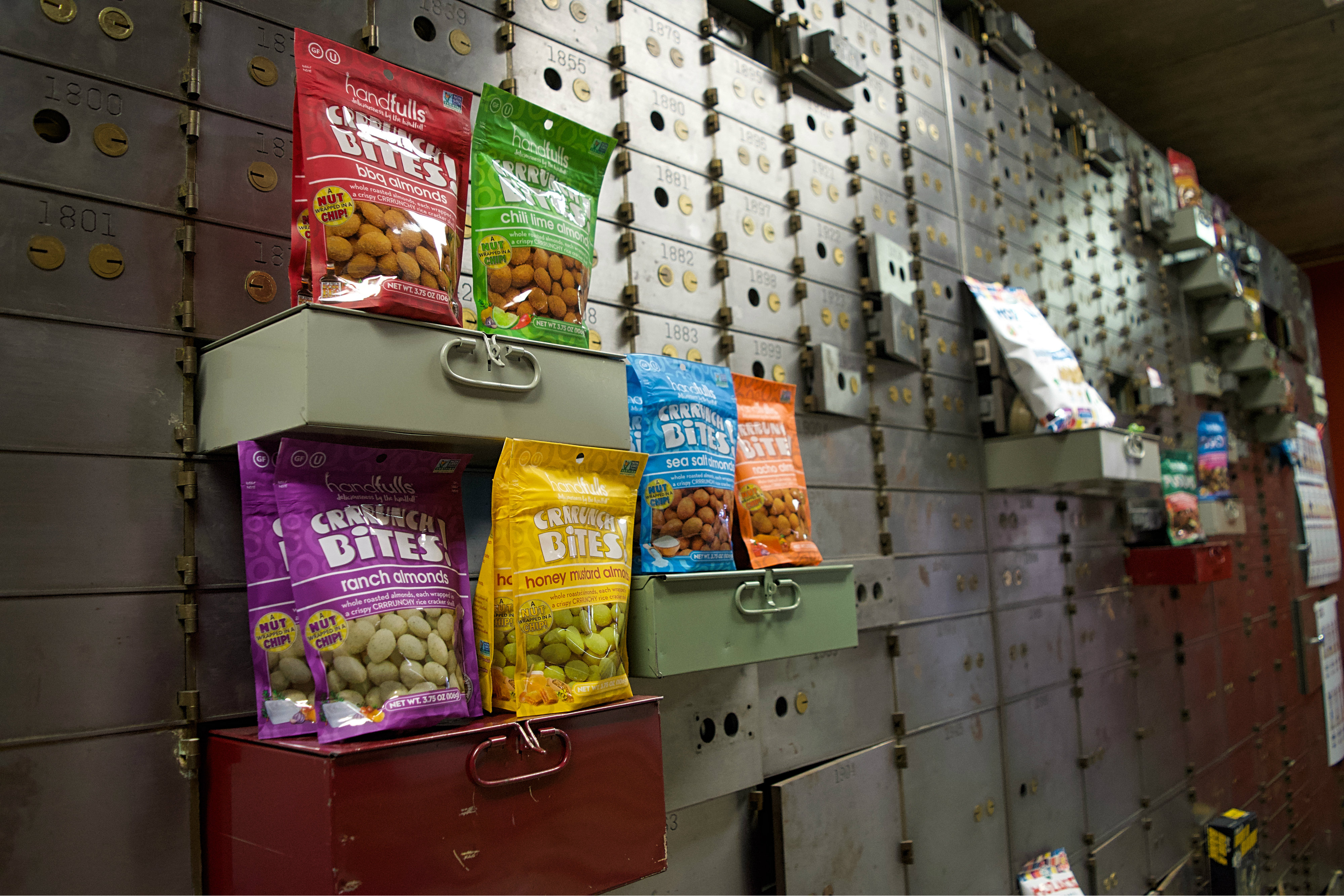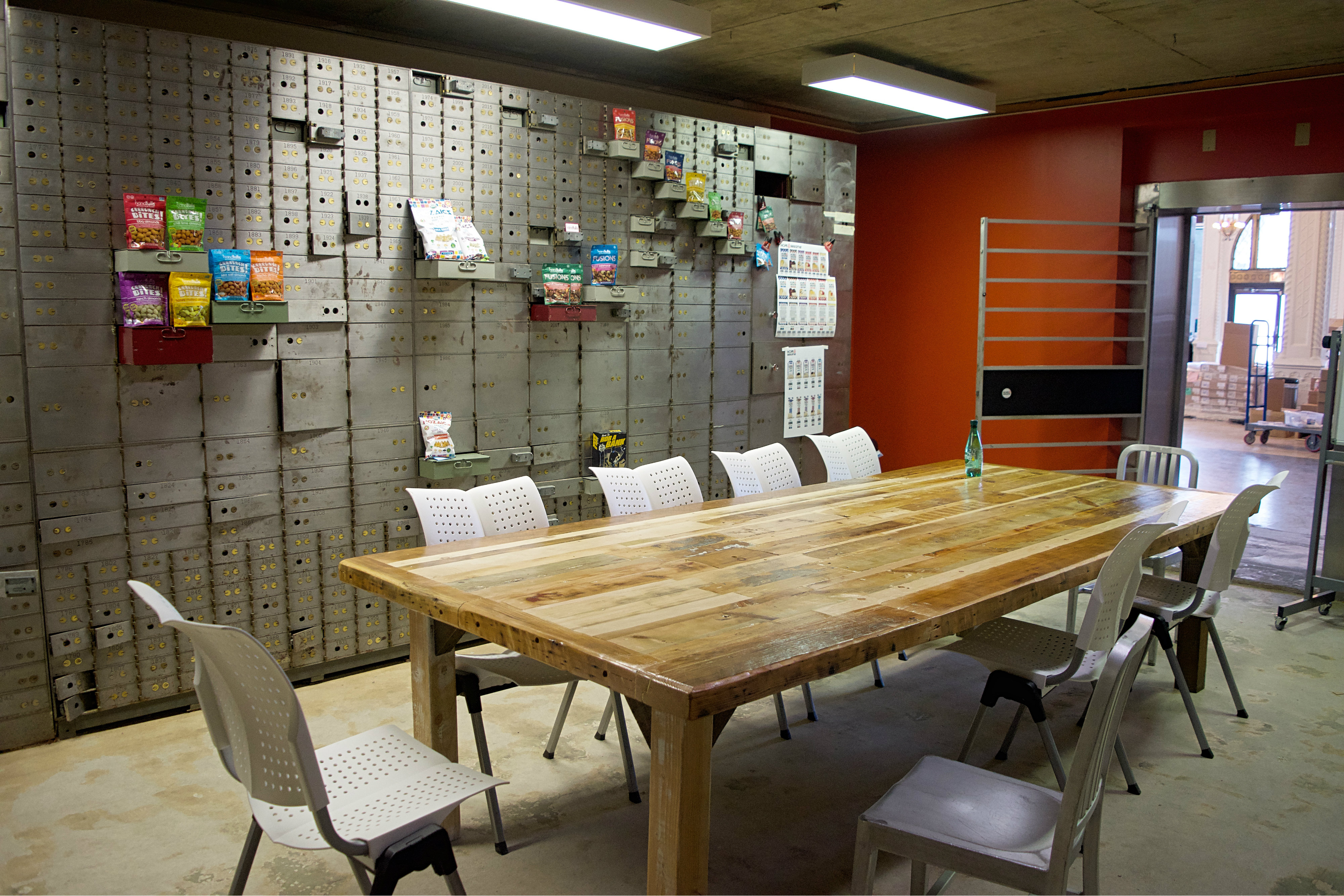 Just outside the vault sits a small kitchen made from equipment formerly owned by the shuttered Lakeview Whole Foods location. The Whole Foods furniture also comes in handy for pop-up work stations, offices and product displays, which speak to the businesses' food-centric focus and aesthetic. What was once the Lakeview Whole Foods' No. 3 check-out lane is now a desk and display.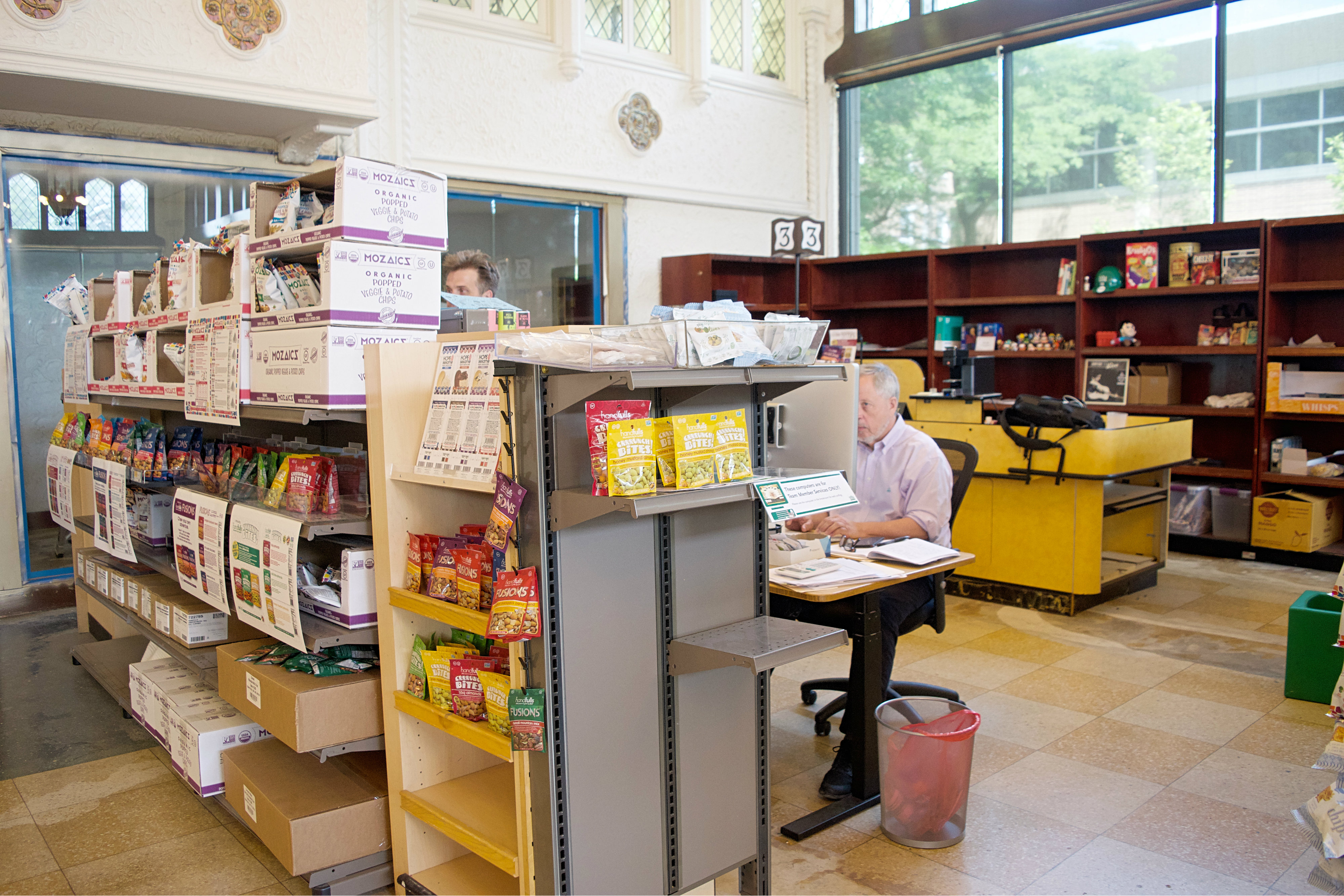 In another room used for product photography, a giant, hand-made prop fish hangs on the wall, courtesy of a Steppenwolf production, Communications Manager Shanna Gordon said. Atop the main room's grand double-staircase also hangs airport signage and two airplane food and beverage carts, a nod to one of the tenants, which works with major commercial airlines like United to create custom snacks and snack boxes.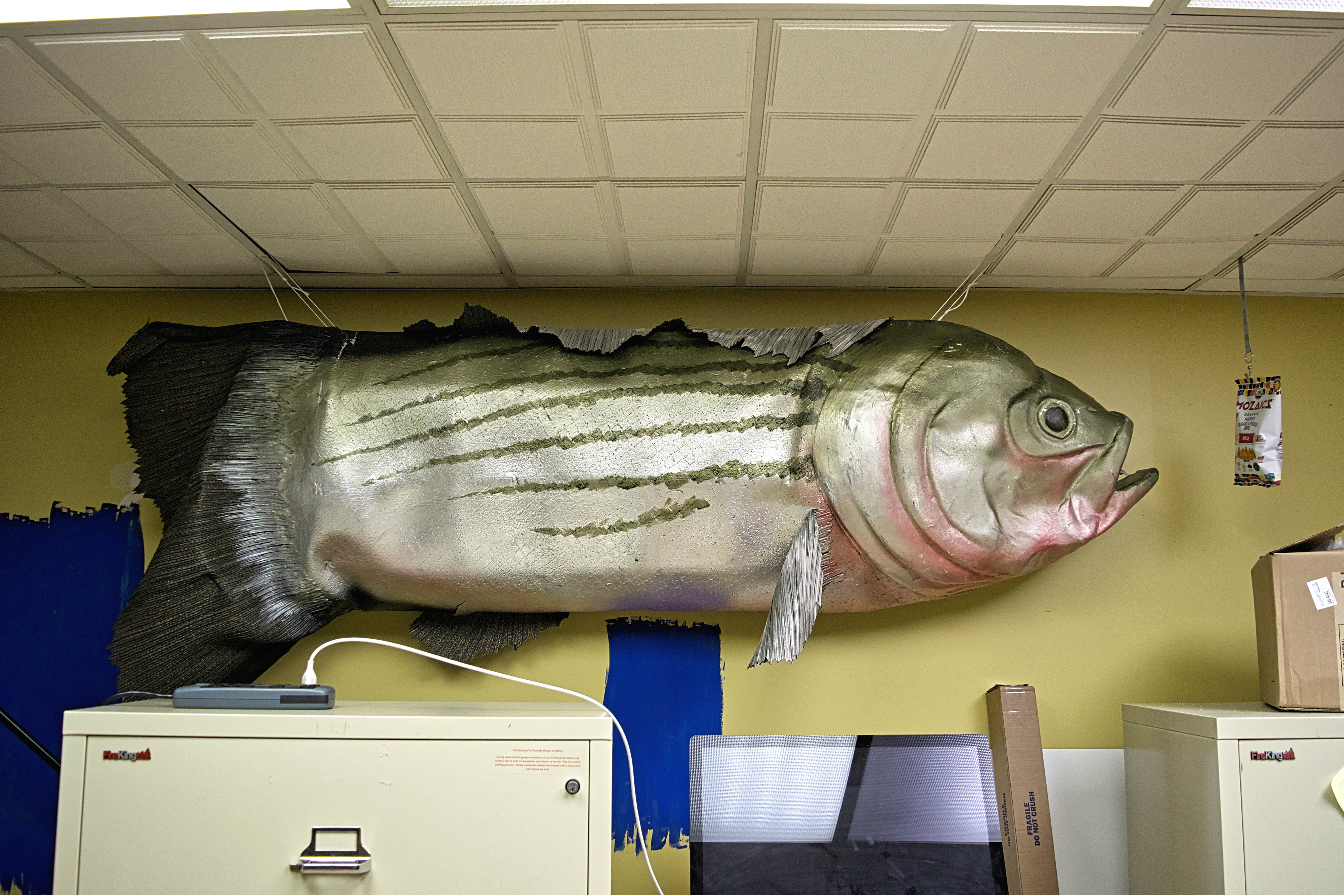 Though so far the space is an eclectic hodge-podge of decor, Stamberger said new rooms, like the conference room, are being updated one-by-one. As they continue to move into the giant showroom, the businesses will also make themselves more known to the community with window signage, and, eventually a small market where customers can buy products from brands developed right in Edgewater.
One product even pays subtle homage to a Rogers Park resident who died of cancer in recent years: Mozaics, an organic popped chip from Spinning Wheel Brands. A percentage of the proceeds from those sales support a scholarship fund for the Chicago Mosaic School, where the woman took art classes.
Stamberger said she also hopes to offer jobs and experiential opportunities to the next generation. A graduate of Northwestern University's Kellogg School of Management, she aims to partner with other local universities to provide business internships.
In the meantime, Stamberger said residents can get to know them at their booth at the EdgeFest street festival Aug. 4 and 5, and can catch them some Saturdays at the Edgewater Farmer's Market. Those hoping to keep tabs on the space can also sign up for updates at deliciousness.com, Stamberger said.
"This is our ideal home, and we plan to stay for a long time," she said.