BUCKTOWN — The French bistro that Chef Jean-Claude Poilevey and wife Susanne opened on June 11, 1993, near the corner of Damen and Armitage avenues in Bucktown, carries on two years after the death of the beloved chef. 
"We tell funny stories about him. We say, 'If Jean-Claude were here, he would do this or that,' The sadness is not here as much now," Susanne Poilevey said during Le Bouchon's 25th anniversary party on Sunday.
Dozens of regular customers and current and former employees helped to celebrate the milestone on the one day of the week when Le Bouchon, 1958 N. Damen, is usually closed. The restaurant — which has been offering a $38 three-course anniversary menu during the month of June — was cleared of all tables to create space for people to stand. The party spilled into the back alley.
"We want people to be aware that we are here, we are still relevant and there is a new generation starting to taking over, and that's my boys. They're all three working at both restaurants [the family also owns La Sardine in the West Loop]. It's a nice line of succession," Susanne Poilevey said.
Chef Jean-Claude Poilevey died on April 9, 2016. Driving home to Oak Park from a late night at Le Bouchon, the revered chef widely credited for bringing French home-style cooking to Chicago, was the only fatality in an icy multi-car pile-up that happened around 12:40 a.m. on the Eisenhower Expressway. He was 71.
Jean-Claude Poilevey's presence continues to permeate the cozy 52-seat red and dark green classic French bistro at 1958 N. Damen.
In ballpoint pen on a wall in a stairway, someone scribbled, "Hi, Jean-Claude!" His chef jacket, ironed and folded, hangs in a frame in the front of the dining room, while a portrait — painted from a favorite photograph — graces the back of the dining room.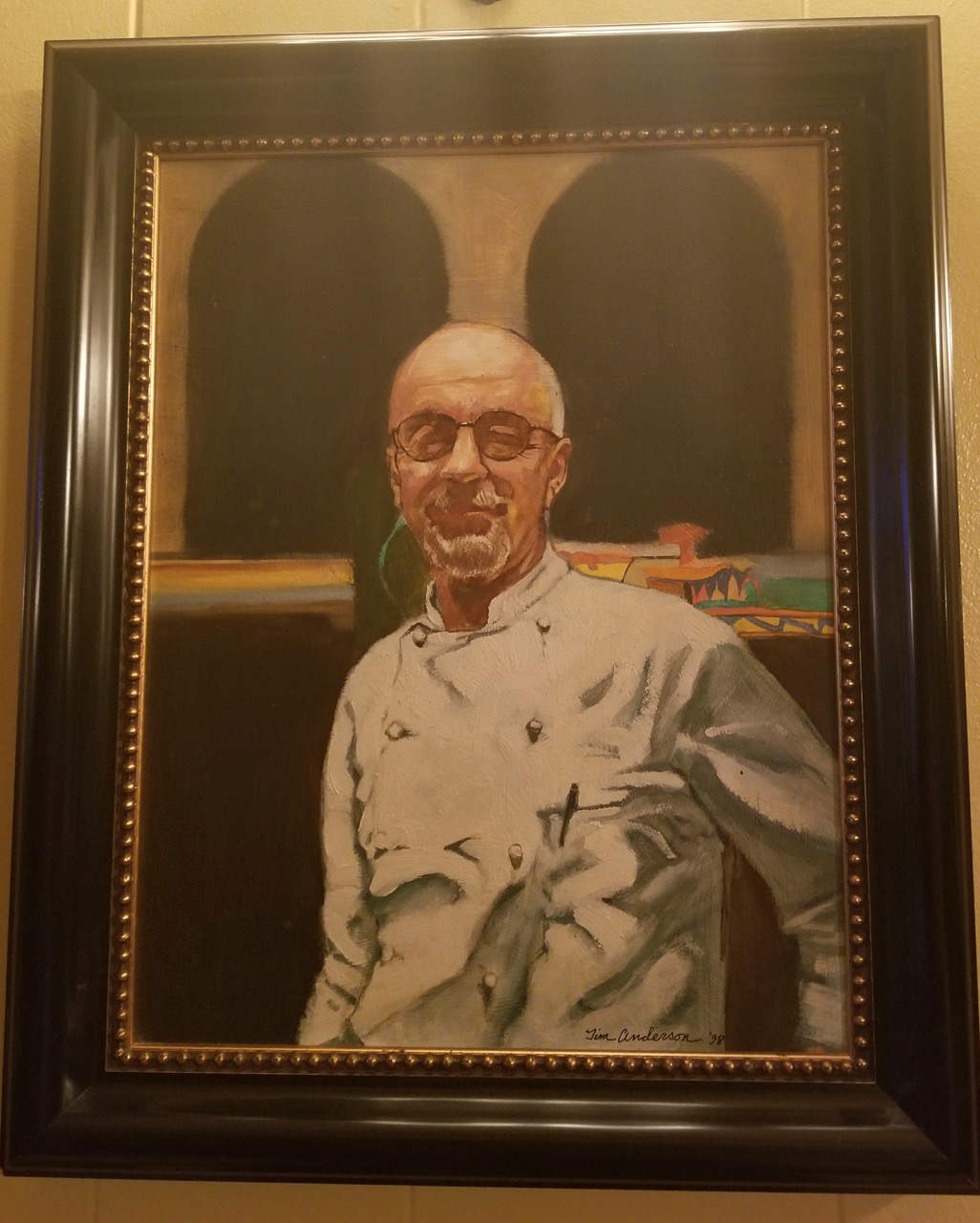 Jean-Claude and Susanne's oldest son, Oliver Poilevey, who was 4 when the bistro opened, now serves as Le Bouchon's head chef and prepares meals using his father's recipes, like duck for two, a favorite.
Middle son Nicolas, who was 1 when his parents opened the restaurant, serves as wine director for Le Bouchon and the family's West Loop restaurant La Sardine, where youngest son Henri also works.
All three sons have specific memories of growing up in a restaurant family.
Nicolas remembers being a baby and running his hands through flour. Henri played board games on Saturday afternoons at Le Bouchon while Susanne answered the constantly ringing phones – how people made reservations before the internet. Oliver simply recalls the restaurant "always being there."
"It's our family," Oliver Poilevey said of Le Bouchon.
Le Bouchon chef de cuisine Waldo Gallegos has worked at Le Bouchon since its opening day. 
Gallegos met Jean-Claude Poilevey in 1983 and before Le Bouchon worked at La Fontaine, a Lincoln Park restaurant Jean-Claude founded in 1973 and closed when Le Bouchon opened.
"Everything I do, he showed me, all the dishes. The recipes, they are in my head," Gallegos said.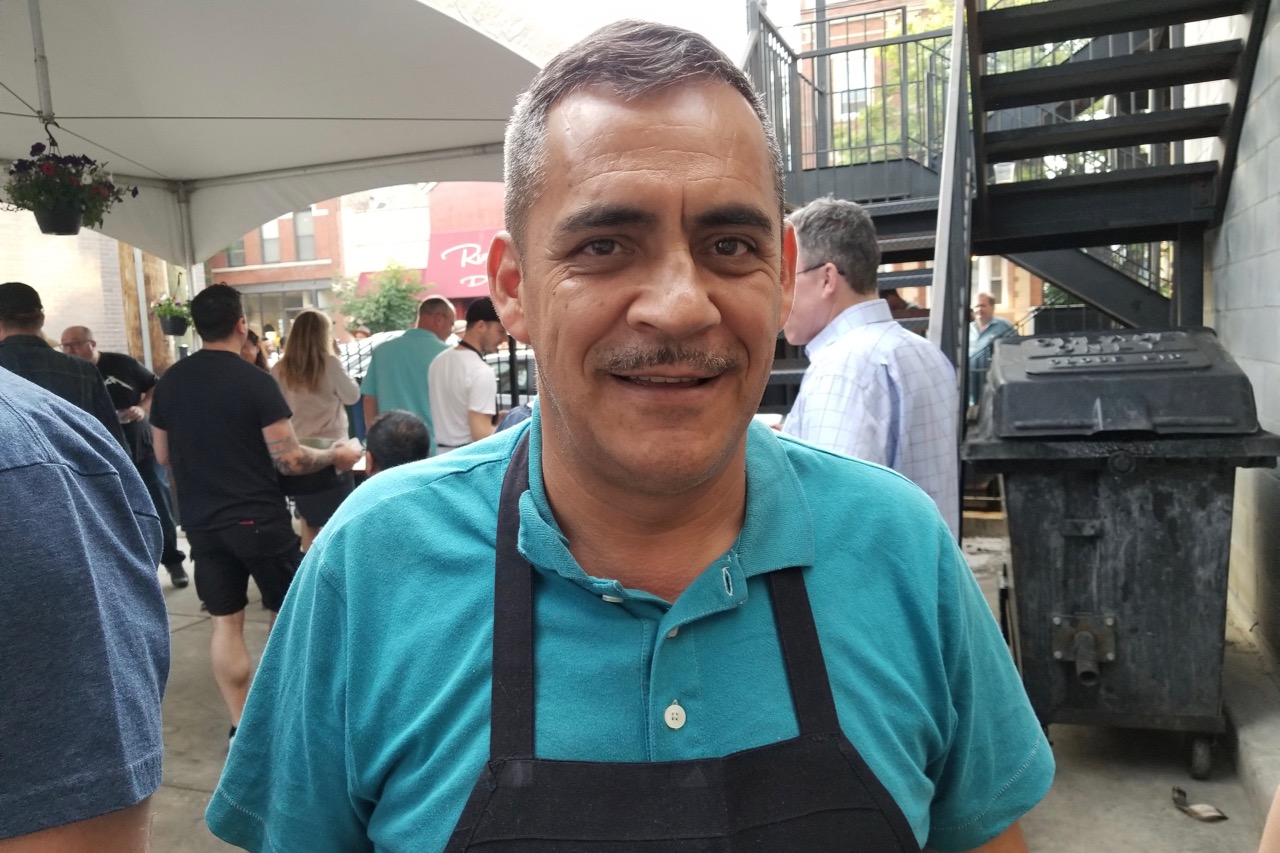 Liz Hobart, a Le Bouchon server for almost 12 years, recalled Jean-Claude Poilevey's humorous and direct nature.
"There was one night when a couple stayed very, very late. They stopped getting water refilled. Jean-Claude walked over and dropped his keys on the center of the table. He politely said, 'Would you like to lock up for me?'" Hobart recalled.
They got the message.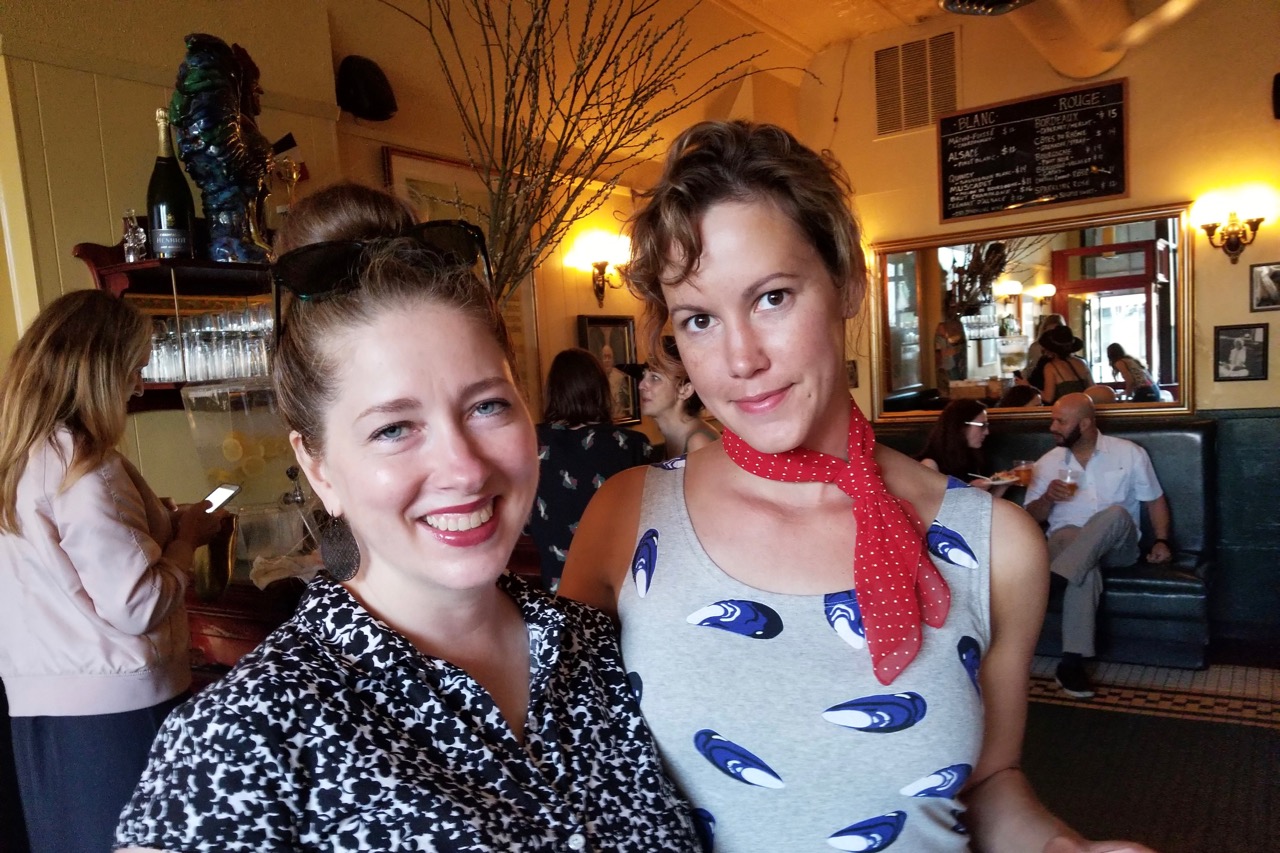 Server and bartender Catherine Stewart, who rotates between La Sardine and Le Bouchon, feels fortunate to have worked for Jean-Claude for the first eight months of her now almost three-year tenure. 
"It was very special to have a 70-year-old boss who would come to Le Bouchon [from La Sardine] always at around 7 p.m. and start working immediately. He would be putting glasses away and I would say, 'Thank you' and he would say, 'Don't say thank you, it's my job.' I felt very honored to have worked with him," Stewart said.
Sous chef Anthony Hidalgo, who's worked at Le Bouchon for just under 11 years, summed up his time at Le Bouchon as "a life-changing experience."
"The main lesson [Jean-Laude] taught me is family. Twenty-five years is not a coincidence. The love we all have for each other, and still have here, it's family," Hidalgo said.
Musician Frankie Donaldson, who performed at the party, has lived on Damen Avenue for 25 years and been dining at Le Bouchon since it opened.
"My wife and I come down here regularly. We love it. It's a wonderful atmosphere," Donaldson said.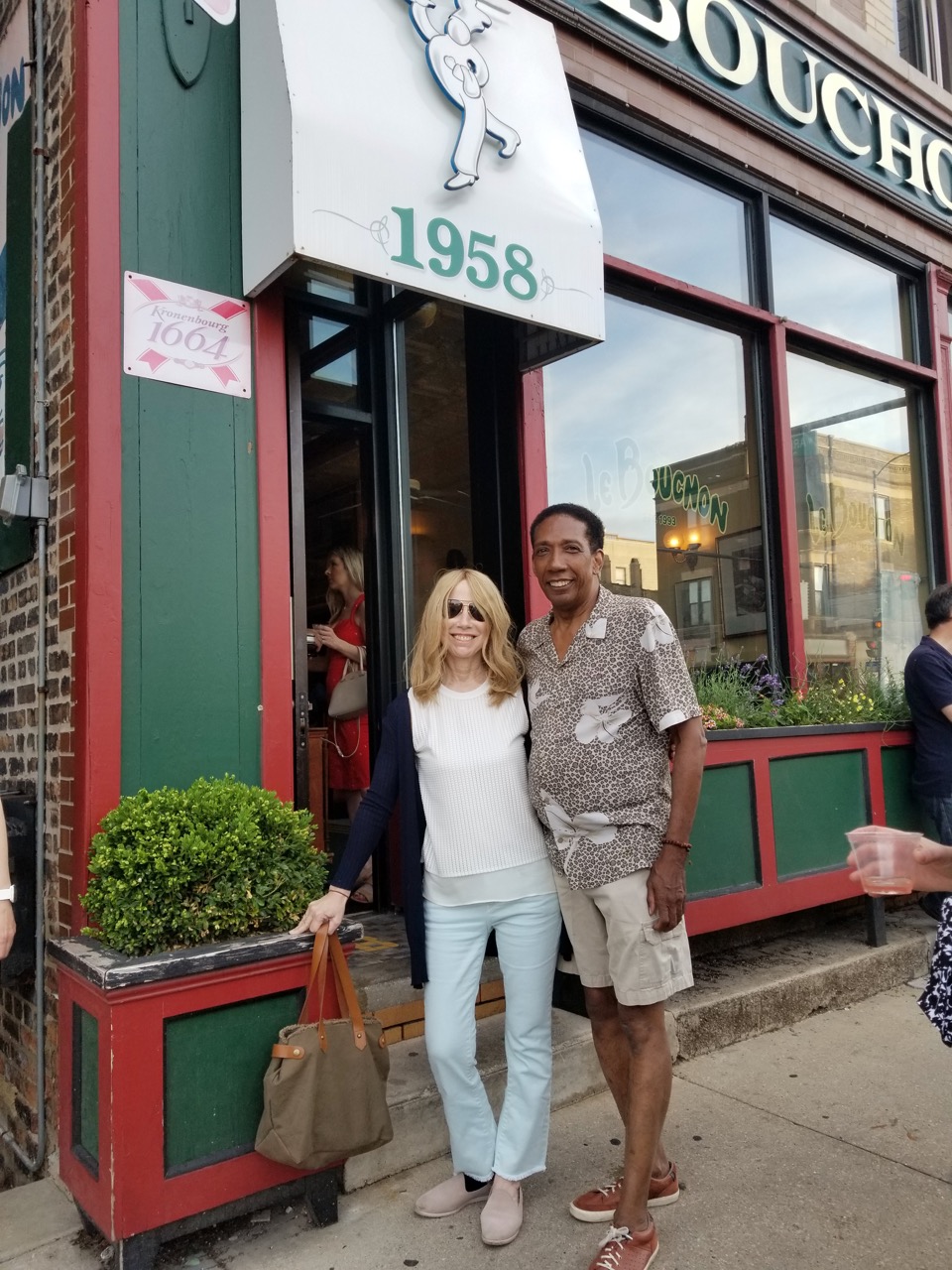 Bucktown residents Connie Hinkle and Jeff Levine have also been dining at Le Bouchon since its early days.
"Even though I can't see him, [Jean-Claude's] aura is 100 percent here every moment," Hinkle said.
Levine recalled a comment Jean-Claude's made after Barack Obama became president in 2009.
"He said me, 'I am a poor son of a cheesemaker, I come to this country and I can cook for the president of the United States. Only in this county.' He was so proud and so excited. He was one of the most beautiful people in the world," Levine said.
When Obama was a state senator, he spoke fondly of Le Bouchon when it was featured on a 2001 episode of WTTW-TV's "Check, Please!"  Obama, a guest on the show, called the French bistro a "wonderful place to eat" and said that it really felt like walking into a little Parisian cafe.
Earlier this month, Mayor Rahm Emanuel, whom in 2016 said Jean-Claude Poilevey's "artistry in the kitchen and entrepreneurial spirit left an indelible mark on Chicago's culinary landscape," congratulated Le Bouchon on its 25th anniversary and wished the family and workers much continued success.
"Over the past 25 years, Le Bouchon has served over 150,000 bottles of wine, 100,000 French Onion soups, 75,000 Creme Brulees, and 100,000 steaks to more than 700,000 diners. Your hard work and dedication to serve has helped to uphold the legacy and vision of Chef Jean-Claude Poilevey," Emanuel wrote in the letter, which was posted on Le Bouchon's Instagram.
When Le Bouchon, which translates to "the cork," opened in 1993, Bucktown was very different, according to Susanne Poilevey.
"It was a little bit dicey, but there were obvious signs that change was coming," Susanne Poilevey recalled. "The restaurants come first, and then the retail and the people follow."
The three Poilevey sons comprise a new generation to carry Le Bouchon and La Sardine into the future.
"Absolutely we plan to be here another 25 [years]. We own the building. We don't have to worry about a landlord making rent so high we have to leave," Susanne Poilevey said.