DOWNTOWN — A bird group is preparing to fight down a bid to legalize pigeon racing in Chicago.
Pigeon racing has been banned in the city for more than a decade, the ban lasting even through court challenges. Now a group of racers and aldermen have proposed an ordinance that would make pigeon racing legal, saying it's a historical sport for many, but a group of bird advocates say it would lead to more injured birds and fewer resources to devote to them.
Chicago Bird Collision Monitors, whose volunteers rescue injured birds throughout the city, is "definitely" opposed to the ordinance, said Director Annette Prince. The group already gets hundreds of calls every year to rescue injured, banded birds like those used in racing, and they're concerned they'd be stretched even thinner and birds would be abused if pigeon racing is legalized.
The birds can become lost during the races, might be abandoned by owners or might be killed by the racers if they are injured or don't win, Prince said. Those birds that are lost or abandoned don't know how to survive in the wild, and she said they are "rapidly" attacked by predators.
If Bird Collision Monitors can rescue abandoned or injured birds, they're often hard to catch because they're frightened, Prince said. It depletes the group's resources because it takes time away from responding to injured wild birds, and it can be a "huge drain" on time to find a new home and care for the pigeons.
"They are almost always in a state of starvation or injury" when found, Prince said. "They have been attacked. They're down on the ground; they're very vulnerable to predators.
"Once they're caught, they're in very bad condition. The people who own these birds are contacted, and the vast majority of them do not want the birds back. If that bird didn't finish the race or is injured, they are not going to put veterinary care into one when they can just buy another one."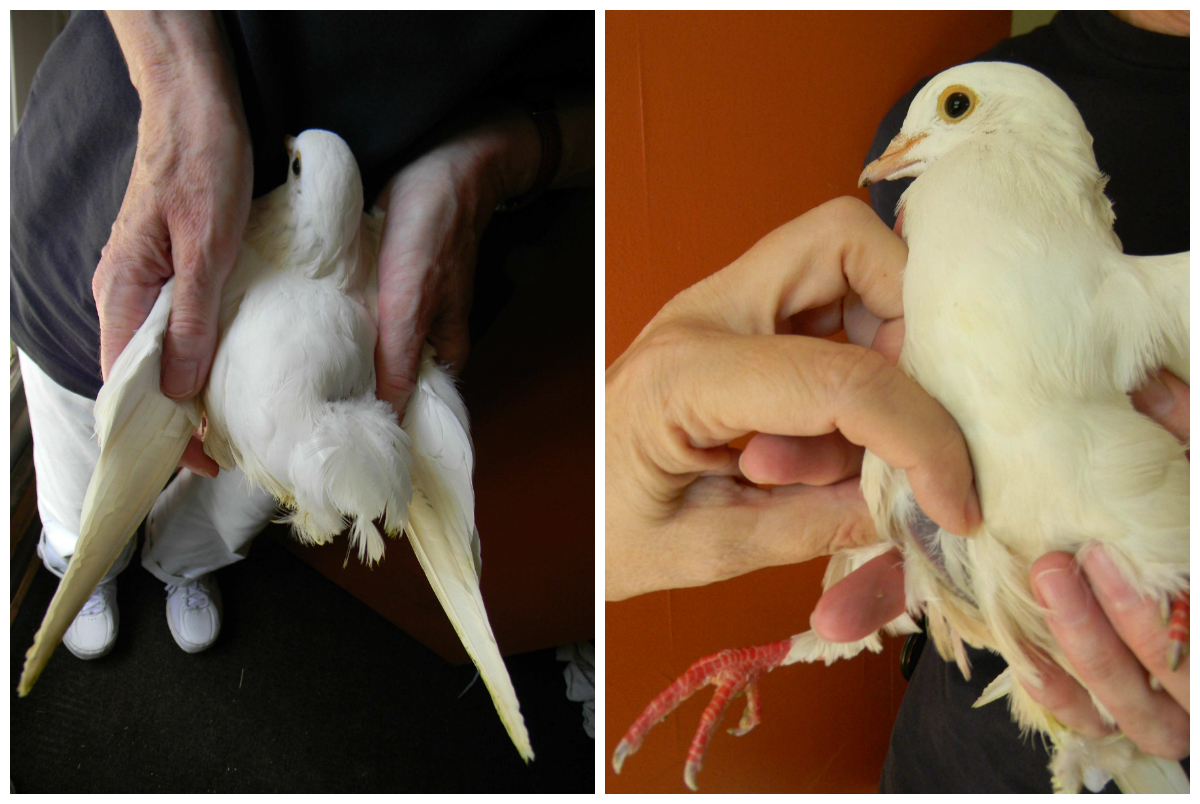 But proponents of pigeon racing said locals care for their birds and wouldn't abuse them because they're an investment or a pet.
Most starter birds cost $10 to $50, said Adam Hajduga, secretary of the American Racing Pigeon Union's group in Franklin Park, where pigeon racing is legal. The highest a racing bird has gone for is reportedly about $583,000.
"They don't starve; you're taking care of the birds a lot," Hajduga said. "You give them the medicine, you give them all the vitamins, all the supplements. Then you vaccinate them. You're taking care of them.
"Those [racing] birds have maybe 100 times better a life than those birds under the bridge."
Deone Roberts, from the national American Racing Pigeon Union, said the birds require "good home conditions" to be successful and reach peak performance. 
"Why would you bother if you didn't give the best advantage to the bird?" Roberts said. "Pigeon lovers are just in a group of their own. They are truly attached to the idea of caring for and competing with the birds."
There are people who abuse racing birds, Hajduga said, but "they are not in our club." The Franklin Park club has about 70 people, a third of whom live in Chicago. In all, there are about 200 pigeon racing club members across the Chicago area's four groups, Hajduga said.
"There used to be a lot of members here" before pigeon racing was banned, Hajduga said. "Now, we just want to make it all legal again."
Chicago appears to be the only major American city where pigeon racing is illegal, though birds can pass through the city during races. Roberts said it would be "significant" if pigeon racing was legalized in Chicago because it would give the races a favorable impression on other cities.
The Franklin Park group typically races pigeons once a week from April through June, with the birds able to go 500 miles in 10 hours, Hajduga said. The practice is historical and a hobby for many that's similar to horse or dog racing, Hajduga said.
Ald. Gilbert Villegas (36th) said he might not be a pigeon racer, but he introduced the ordinance that would legalize the practice because his constituents came to him asking for help doing so. Pigeon racing is popular in Europe, and many of the people in Villegas' ward are Polish or of Polish ancestry, he said.
But Villegas said he wants to ensure the ordinance wouldn't impact the community and the aesthetics of the ward. He said he would "definitely" like to speak to Chicago Bird Collision Monitors and any other groups with concerns about pigeon racing, though he hasn't yet heard from any opposition.
The racers "really take care of these pigeons because they're very valuable," Villegas said. "On the contrary, these guys and gals make sure [the pigeons are] healthy, make sure they're treated well because I guess it's a big investment.
"It's not your typical pigeon."
Bird Collision Monitors is currently looking for someone who can help them reach aldermen and oppose the legalization of pigeon racing. The group responds to thousands of calls to help birds — those used in racing and otherwise — and Prince "can't imagine" how many more calls there might be if racing is legalized and more people take up the practice in the city.
"It's putting living things in harm's way just for the sport [and] entertainment of it," Prince said. "It's an additional burden, and certainly an unnecessary suffering for these birds that have to go through this."