PORTAGE PARK — Fischman Public House, known for years as Fischman's Liquors, the bar and liquor store near the intersection of Lawrence and Milwaukee, will open at its new location near Six Corners July 5.
The owners, Gus and Shanna Karamaniolas, originally planned to open months ago but faced a couple challenges along the way.
The zoning change they needed to be able to sell bottles and cans in the same building as the pub flew through City Hall unanimously in January 2017 and the store, known as Fischman's Bottle Shop, opened in November of the same year.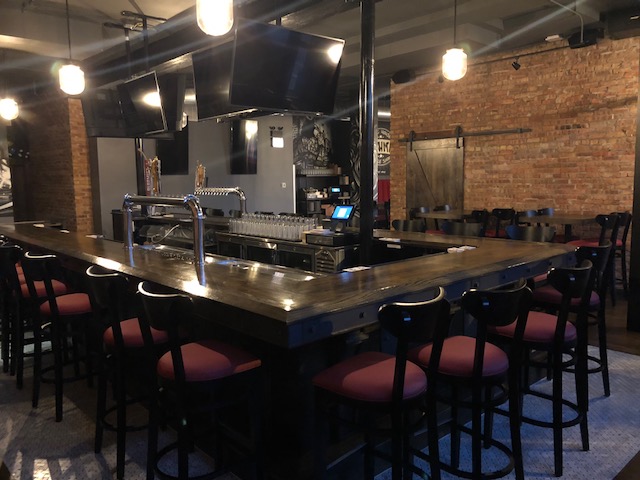 But the real challenge to getting to opening day of the restaurant and bar, called Fischman Public House, was dealing with the 98-year-old building that it sits in next to the Portage Theater at 4056-60 N. Milwaukee Avenue, according to according to Ald. John Arena (45th).
"They had problems cutting off water to squatters who were living in the building and had to make a lot of renovations to the [nearly] 100-year-old building," Arena said. "I give them credit for staying the course and getting through it. It's an arduous take being a small business owner."
Gus Karmaniolas added that dealing with ComEd and Nicor was also a challenge.
Fischman's Liquors, located at 4780 N. Milwaukee for nearly 80 years, was bought in 1996 by Karamaniolas' father. When he retired, Gus and Shanna took it over in 2009 and ran it until shutting down in 2016 because of a rent dispute with the building's owner, Karmaniolas' uncle.
In all, the tavern operated for nearly 80 years and was known as a place where old-timers went for a shot-and-a-beer before Karamaniolas brought in craft beers and turned it into a neighborhood institution that featured bands, held fundraisers and was home base for the Chicago Fringe Festival for years.
During the almost two years since Gus and Shanna closed their establishment,  Gus worked as a independent contractor while his wife Shanna worked at a restaurant in Lincoln Square to learn the food business.
The couple lives in Jefferson Park and has two boys, ages 15 and 12. As for the old location, it has remained empty and is now for sale. Gus Karmaniolas calls that corner "a ghost town since we left."
He is much more excited about the new location, even if Sears, longtime anchor of the Six Corners intersection that is Irving, Milwaukee and Cicero Avenues, recently closed.
"How many people did Sears really bring into the neighborhood? When was the last time you went shopping there?" Karmaniolas asked rhetorically. Comparing locations, Karmaniolas said, "There is a lot more action here, a lot more traffic and foot traffic. It just feels more alive." 
Additionally, Fischman Public House will serve food, something Fischman's Liquors did not. 
"We plan on having small dishes that we are calling American tapas, along with sandwiches and desserts," Karmaniolas said. He added that it was hard to bring back former employees because of the long layoff but that the door would be open to them.
Arena is hoping that Fischman's can be another spark of what he considers the revitalization of the Six Corners area.
"We are really proud to have some great independent restaurants that have opened in the last few years," Arena said.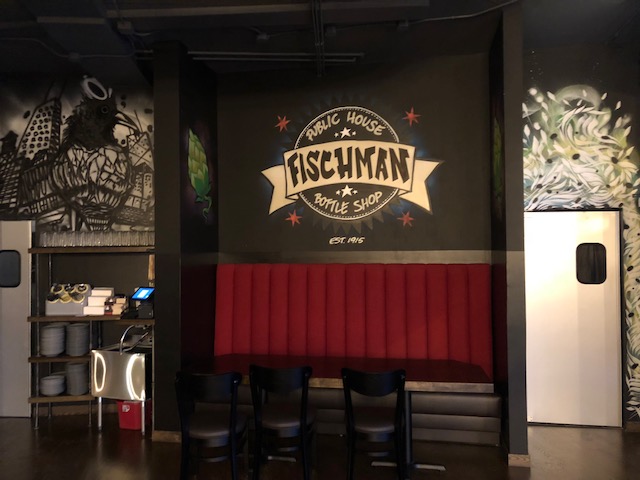 He cited the recent opening of Frunchroom at 4042 N. Milwaukee and Distinct Bath and Body shop at 4046 N. Milwaukee, both in the same building that houses the Portage Theater and the Fischman storefronts.
Additionally, the restaurant Community recently opened at 4038 N. Milwaukee. As for the theater, it was recent bought by a new owner who wants to turn the 1,500-seat theater into a 21-and-older venue, which Karmaniolas wants to capitalize on.
"If we can get 10 percent of that crowd it will be huge."
Arena believes that Fischman's ability to draw families will be a huge positive for the area.
"What's unique about Fischman's is that you saw a community develop around that bar that was really a reflection of Gus and Shanna's personality. What Fischman's was had nothing to do with the building. It was the people. You had generations of people come and it was never about just being seen," Arena said.
Fischman's Public House will officially open for business at 4 p.m. on July 5.