WEST TOWN — Since a Shell gas station at Damen and Division shuttered in October to make way for a new condo development, a Citgo three blocks south in West Town's East Village has seen a modest bump in business.
"There's been a few new faces, though the thing with Shell is that customers are loyal, they will go to another Shell," said Ira Sweiss, owner of the Citgo at 1949 W. Augusta Blvd.
If that's true, then Sweiss could soon see more new faces at his pumps.
On Tuesday, the Citgo run by Sweiss since 2008 (previously it was a Clark station) became a Shell station using gas from "jobber" or distributor True North Energy.
Sweiss signed a 10-year contract to operate a Shell station through True North Energy, according to Alan Barnickel, a representative for the Brecksville, Ohio-based company, which supplies Shell stations around the country.
The gas station will be closed for most of the morning and afternoon on Tuesday as the sign gets covered in Shell logoed-bags and the pumps are upgraded.
Sweiss said the transformation means that the eight existing pumps at his station will feature the "latest and greatest" pumping technology, including faster credit card swipes and the ability for drivers to pay for their gas via smartphone using ApplePay. 
Sweiss, who owns the corner lot where his gas station is located, said he's in it for the long haul, despite being approached by developers. 
"We've had a few developers reaching out [to buy the lot] but the thing is, they are building these monstrous buildings. They are nice buildings, but we have heard from the community that they are tired of these big buildings without any parking, and that's one of the reasons we did not sell," Sweiss said.
By early August, the makeover from a Citgo to a Shell is expected to be completed. In addition to permanent signage and new pumps, Sweiss said the inside of the station will add a second register window, plus more coolers with fresh fruit, sandwiches and yogurt.
At the site on Tuesday, Barnickel said the new Shell will be larger than the nearby one that closed, because it will have eight gas pumps instead of three.
"We were sad to see Gomez Shell close and had worked with the owner for many years," Barnickel said.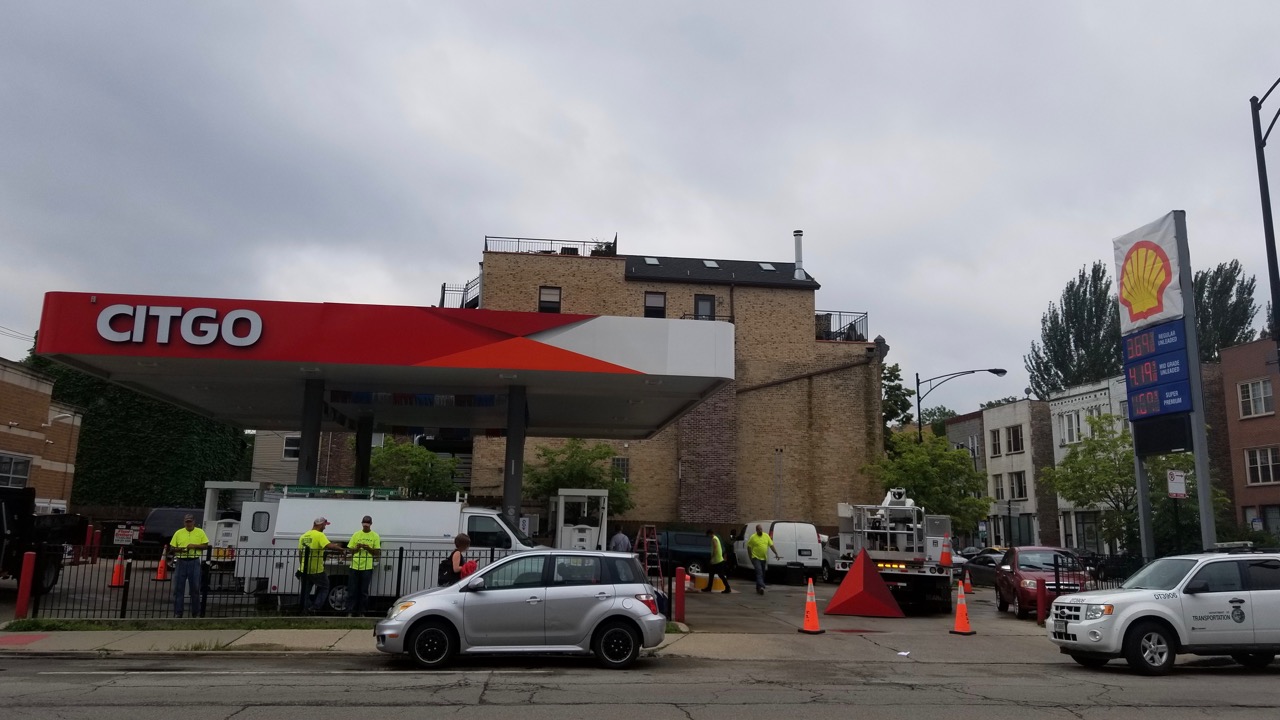 Sweiss is not the only local business seeing new faces from the shuttering of the Shell previously at 1950 W. Division St., which was pushed out after 40 years by a massive rent increase. 
Jennifer Arroyo, a cashier at D&D Food and Liquors, across from the now-demolished gas station, said people continue to come into D&D to ask for things they would normally want to buy at the Shell like cigarettes and condoms. Sometimes folks are stranded too, and carrying gas cans, she said. 
Earlier this year, another Shell station at the corner of North and Ashland avenues was also recently demolished. That station will become a 99-room Hyatt hotel.
Back in 2013, a Citgo in the 1700 block of West North Avenue that had been there for 60 years was demolished and replaced by luxury condos.