WICKER PARK — A sometimes-glowing, 13-foot-high sculpture paying homage to Chicago's old workers cottages will soon anchor the revamped Milwaukee and Wood intersection.
Scheduled to be installed at Milwaukee and Wood by July 18, artist Lynn Basa's "Workers Cottage Parklet" was the winner of the Special Service Area Taxpayer District No. 33's "One Big Thing" public art contest.
The $80,000 awarded to Basa— who has completed more than 50 public and private site-specific commissions across the country — was the largest public art commission in the neighborhood's business improvement district's history, the  group announced last week.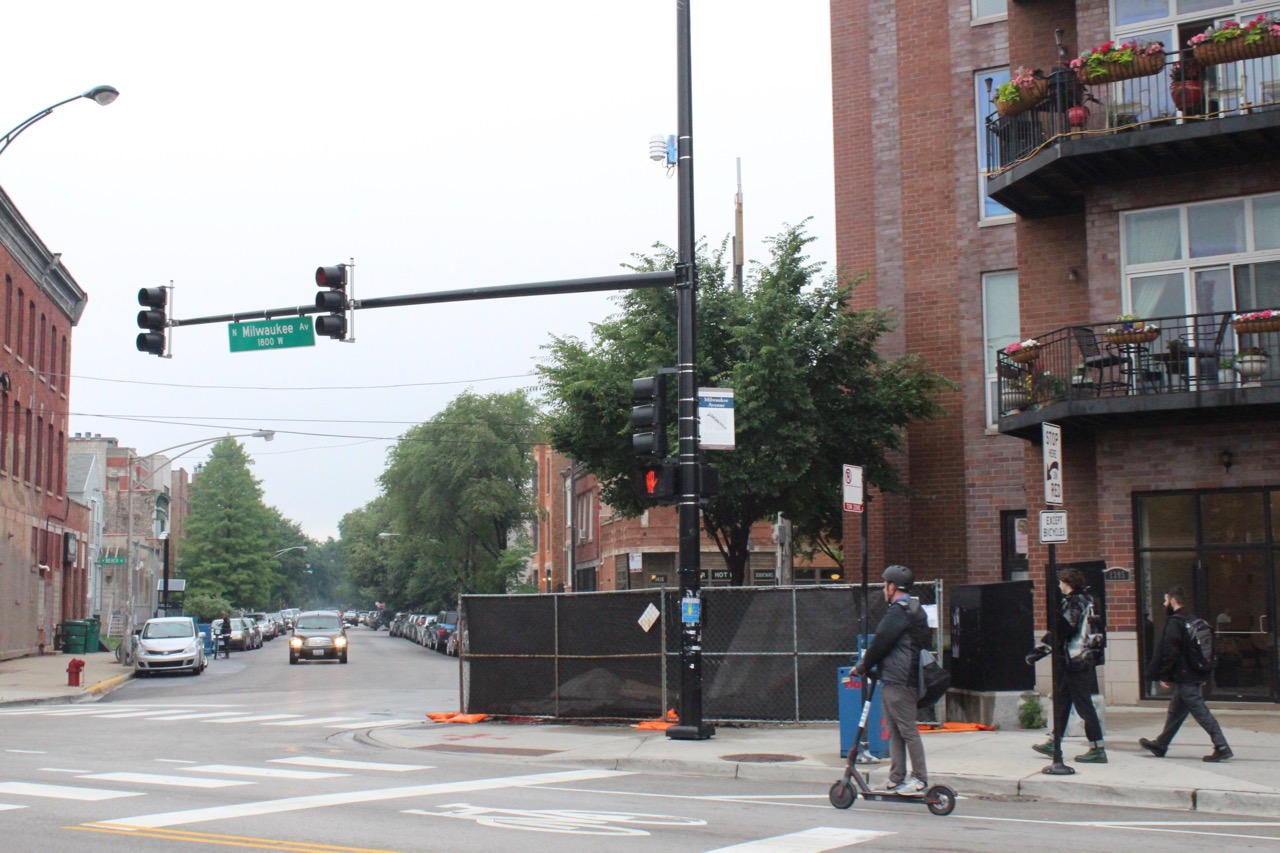 "Workers Cottage Parklet" will be a miniature version of a workers cottage using the exact proportions of a workers cottage.
"I imagine people tuned into the history of Wicker Park might recognize it right away, or young people might see a cute park that has a house in it that lights up and say 'here is a bench.' My goal for this is that it will bring enough attention to workers cottages that people will say, 'let's stop tearing these down,' " Basa said.
Made of steel and thick Italian glass block shaped like bricks, Basa said the cottage "will glow from the inside" from LED lights that will glow everything from bright white to a red reminiscent of the Chicago Fire.
Basa, who lives in a turn-of-century Victorian home in Logan Square, said she is "a fan of vintage homes and what they represent."
"The Workers Cottage was the first standardized home for working people. A neighborhood is an ecosystem, but unfortunately it's thought of as a bunch of buildings that just happen to be next to each other. We have so much building stock, it's aggravating that whatever makes the most money fastest is the prevailing system. Things like history and neighborliness don't factor in," Basa said.

Wicker Park Bucktown Taxpayer District No. 33 arts committee chairman David James Ginople said the group is "thrilled" to bring Basa's work to Wicker Park. 
"Her Worker Cottage Parklet honors the history of our neighborhood and provides a place for today's workers and artists to rest and reflect on the vibrant place we call home," Ginople said in a statement.
The piece will incorporate Joliet limestone lintels reclaimed from demolished workers cottages and cobblestones salvaged during a water main replacement along Milwaukee Avenue. 

"You hold one cobblestone in your hand, you see smoothness from years and years of trolleys and carriages," Basa said.
When Basa submitted her design two years ago as part of an open call for art for the "One Big Thing" contest, she said she wanted to produce a piece relevant to the neighborhood. 
"Milwaukee [Avenue] was the big working class street, a lot of the German and Scandinavian immigrants lived there. These cottages are the kinds of homes many of these laborers lived in," Basa said.
Ginople said on Friday that Basa's sculpture was the only one of the six finalists to incorporate neighborhood history into its design and concept.
The group first announced its plans to add public art to the Milwaukee and Wood intersection in 2014 when the intersection was redesigned by the Chicago Department of Transportation in collaboration with Special Service Area Taxpayer District No. 33 and Ald. Joe Moreno (1st).
"It's been a long process but it's finally come to fruition,'" Ginople said.
Fencing around the forthcoming "Workers Cottage Parklet" went up last week and the sculpture will be assembled at the site over the coming days.
It's too soon to say how the public will react to the forthcoming sculpture, which is considered to be a "parklet" because it's kind of  like a mini park in a public space. As she also told the Sun-Times, Basa imagines prom photos could be snapped in front of the cottage frame— and perhaps even the occasional selfie.
"I want people to take their prom pictures here. I just don't know if people are going to do that or not, take pictures. If nothing else, I hope it will be a landmark, where people say, 'Meet me at the little house,'" Basa said.
"Workers Cottage Parklet" has the city's OK to stay at the intersection for at least five years, "with potential for an extension contingent on public reception, visual success, and costs accrued through maintenance and sustained public use," the commission said.