CHCAGO —  Mayor Rahm Emanuel wants to expand the city's transit-oriented development polices to include buildings planned near "high-ridership, high-frequency CTA bus routes," officials announced on Friday.
Since its introduction in 2013, Chicago's transit-oriented development ordinance quickly spurred growth of big buildings within short walking distance of a CTA "L" train station. The developers of those buildings —  who get a "density bonus" allowing them to build taller towers with more units than would normally be allowed— are not required to provide any parking spaces for their residents. The lack of onsite parking encourages use of public transit over a dependency on cars, city officials said. 
Wicker Park was the first neighborhood to get a transit-oriented building, an 11-story, 99-unit tower at 1611 W. Division St. that opened in 2013 and offers no dedicated parking to any of its residents.
Since the 1611 W. Division building opened, there have been more than a dozen similar buildings proposed or already built along the CTA Blue Line in Wicker Park and Logan Square. 
Emanuel's proposed expanded policy — tweaked to now include proximity to bus routes as well as "L" trains— would make Chicago the first city to pursue a citywide transit-oriented development policy around buses, according to a news release.
"Chicago has been a national leader in transit-oriented development, and expanding the policy to bus lines will strengthen smart growth in the city," Emanuel said in a statement. "We look forward to continuing to work closely with communities to enhance the way we live, work and get around Chicago."
Cara Bader, the mayor's deputy policy director, told Block Club Chicago Friday that the ridership on certain bus routes, such as the CTA's No. 9 Ashland and No. 49 Western buses "rival" the numbers of folks using the "L" train lines.
"We see expanding the policy as a way to implement and connect development to occur in neighborhoods who have yet to see the benefits of TOD," Bader said, using the acronym for transit-oriented developments. 
In the original 2013 transit-oriented development ordinance, buildings qualifying for the "density bonus" needed to be less than 600 feet from a CTA or Metra station, or up to 1200 feet away if the building is on a pedestrian-friendly street, such as Division or Milwaukee, which are packed with retail and very walkable. 
In 2015, the policy was expanded to allow buildings located as much as a quarter-mile (or 1,320 feet) away from an 'L' stop to receive the "density bonus" and a half-mile (2,640 feet) for pedestrian-friendly streets.
Since expanding the original ordinance in 2015, new developments near the city's existing CTA and Metra train lines have generated more than $2 billion in new development and supported more than 11,000 construction jobs, city officials said. To date, 8,000 new units of housing have been created since expanding the ordinance in 2015.
Over the next six months, the city and CTA plan to study potential approaches to encourage transit-oriented development along high ridership, high frequency CTA bus routes, initially focusing on Western, Ashland, Chicago Avenue and 79th Street. Officials say these four routes experience ridership that meets or exceeds areas of the Blue, Orange, Green and Pink lines and intersect with many of the city's "Retail Thrive Zones," a targeted initiative to support small businesses and develop commercial activity on neighborhood business corridors.
"Over the next six months, we will work on the specific incentives offered [to developers who are building] along the bus corridors, and the parking reductions allowed," Bader said.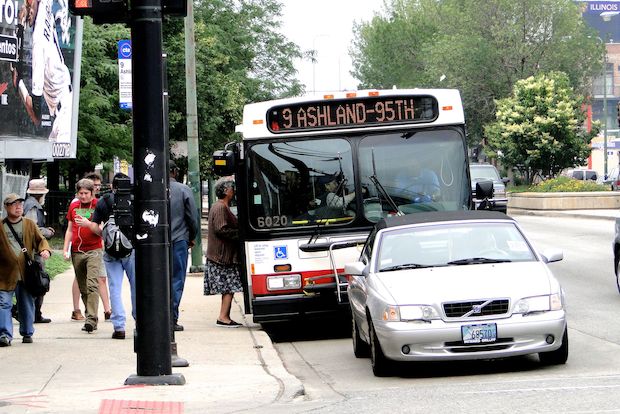 All developments over 10 units that benefit from the ordinance's "density bonus" are required to offer some affordable housing onsite, or pay into the city's Affordable Housing Opportunity Fund.
If the proposed expansion to the ordinance passes in City Council when introduced next year, it could pave the way for more affordable housing along bus routes, city officials said. 
"We're especially pleased at the city's willingness to reward development of affordable housing near high-frequency bus service locations," Scott Bernstein, founder of the Center for Neighborhood Technology, said in a prepared statement.
Ald. Ameya Pawar (47th), also supports the proposed expansion. Pawar believes expanding the policy to bus lines would "ensure equitable development in my ward and throughout Chicago."
"Transit-oriented development has already shown the potential to improve the affordability of our neighborhoods, reduce congestion, and leverage our significant infrastructure investments,"  Pawar said in a statement. 
The Mayor will present an ordinance to enact the recommended approach for expanding transit-oriented development to bus lines in 2019.