LOGAN SQUARE — Carrying "Moreno, champion of the developers" and "Moreno! Escucha!" signs, a group of Logan Square residents joined newly-announced aldermanic candidate Daniel La Spata to air their grievances Tuesday about the ward's current alderman.
The La Spata-organized press conference outside of the Congress Theater, at 2135 N. Milwaukee Ave., aimed to "call attention to the wrongful prioritization of luxury developments over capital improvements in neighborhood public schools," according to a news release.
At the press conference, La Spata lambasted Moreno for agreeing to give the developer behind the $69 million Congress Theater redevelopment project nearly $10 million in Tax Increment Financing (TIF) funds.
The aldermanic hopeful also noted that Michael Moyer, the developer of the Congress Theater project, has donated $4,500 to Moreno's campaign. Records show Moyer donated $1,500 in 2016, $1,000 in 2015 and $2,000 in 2014.
"Not only is he using taxpayer money without a community process, but he's already given the go-ahead for an 100-unit building on the lot adjacent to us," La Spata said.
"All of this without a community process, in the face of what we know is $63 million in deferred maintenance at Logan Square schools," the aldermanic challenger said.
La Spata said the donations and contributions his campaign will accept will "reflect the values of the campaign and the leadership we're trying to create."
"Moving forward we would want to create legislation that would bar folks who are pursuing zoning changes from contributing to the alderman that they're trying to do this business with," La Spata said. "We absolutely will not be accepting contributions from developers."
Moreno's chief of staff, Raymond Valadez, said the alderman declined to comment "on the statements of an ill-informed individual who is trying to make a name for himself."
Valadez added that the Congress Theater redevelopment project, including the allocation of TIF funds, will be presented to the community at a meeting soon. He said the alderman only supports the allocation of TIF funds for schools and affordable housing, and the Congress redevelopment project falls into the latter category.
Originally from Plainfield, New Jersey, La Spata's background is in community organizing with the Logan Square Neighborhood Association, a local neighborhood group. He recently earned his master's degree at University of Illinois at Chicago in urban planning and public policy.
La Spata was joined by Charlie Billups, a local school council member at Yates Elementary School (and La Spata's campaign fund treasurer), Christine Dussault, a teacher at Chase Elementary School, Joe Padilla, an organizer with Chicago Student Action, and other parents, teachers, and community members at Tuesday's press conference.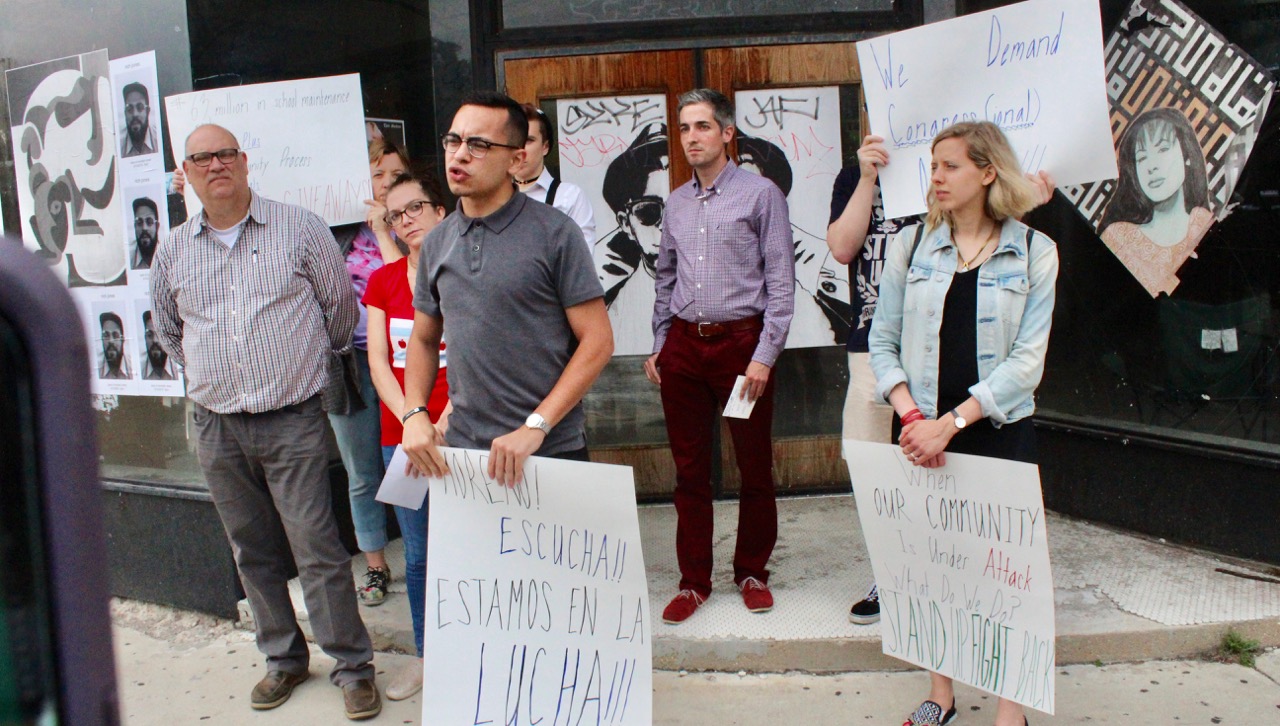 So far, La Spata is the only candidate running against Moreno in the February 2019 election. Appointed in 2010 by then-Mayor Richard M. Daley to replace Manny Flores and elected by a landslide in 2011, Moreno retained his seat for a second term in 2015, after fending off three challengers with just under 51 percent of the vote.
In order to get on the ballot for the 2019 election, La Spata will need to get more than 470 signatures from registered 1st Ward voters. La Spata said he aims to collect "four times that" amount.  Signatures cannot begin to be collected until August 28.
Before the Congress Theater press conference, Jeff Salvadore, La Spata's campaign spokesman, said La Spata is planning "a major fundraiser" for sometime in mid-July.  And while the Neighbors for Daniel La Spata committee coffers are empty as of now, Salvadore said the campaign will file an amendment soon to reflect the amount raised so far.
"It will be in the 5 digits," Salvadore said.
Moreno reported $456,550 in his Friends for Proco Joe Moreno campaign coffers at the most recent quarter ending on March 31, according to Illinois Sunshine, a nonprofit that tracks campaigns. By June 19, Moreno had $489,700 in his campaign coffers, aided by eight recent donations totaling $35,150.
Salvadore, a Wicker Park and 1st Ward resident, formerly worked on the Daniel Biss for governor campaign, and it was during that time when he met La Spata.
"I met Daniel and was impressed by his vision for the ward," Salvadore said. "[La Spata] was fed up with the lack of leadership and integrity he saw from our current alderman, and decided to throw his hat in the ring."