WEST LOOP — The city's Plan Commission Thursday gave the greenlight to Cedar Street's proposed $30 million redevelopment of the old Salvation Army Freedom Center on the city's Near West Side.
The project includes 260 residential units — including 101 studio apartments — and commercial space on the ground floor.
Commissioners Sarah Lyons and Fran Grossman both voted against the project, saying they were concerned about the lack of parking.
The development also needs the approval of the City Council, which could consider the development at its next meeting Wednesday. 
The project is within the new affordable requirements ordinance pilot area, which has stricter requirements for affordable units on site and nearby. Forty-six units on site will be reserved for low- and moderate-income residents and Cedar Street will "make a good faith effort to locate at least six of the required units off-site as rentals," city officials said.
The project could be completed as soon as spring 2020.
The project drew objections from West Loop residents for not having enough parking spaces. Because certain buildings that were part of the former West Side YMCA complex at Monroe and Ashland avenues are slated to be landmarked, the developer is not required to provide any additional parking.
Cedar Street plans to provide nine spots on site, two loading berths and 98 bike parking spaces. Developer Mark Heffron said earlier this week that Cedar Street plans to lease another 30 parking spots adjacent to the site. 
"I don't own a car but residents that already live there have had to purchase 'one-to-one' parking," said Brian Ferber of Neighbors of West Loop, adding that when colleagues visit him they often have to circle before finding a spot.
Feber said he is concerned the added density might lead to more road congestion, leading to bike and pedestrian injuries or fatalities.
Heffron said most residents of the new development, which will feature a mix of studios and one-bedroom units, will not want or need a car because they will be able to walk to the CTA's Illinois Medical District Blue Line 'L' stop, the Pink and Green Line stops at Ashland or hop on several bus lines. In addition, there are dedicated bicycle lanes nearby, he said.
"For the unit mix, the proximity to Downtown, CTA, and bus lines, the train is not that far. And our bike program, we feel like it's an appropriate parking mix," Heffron said.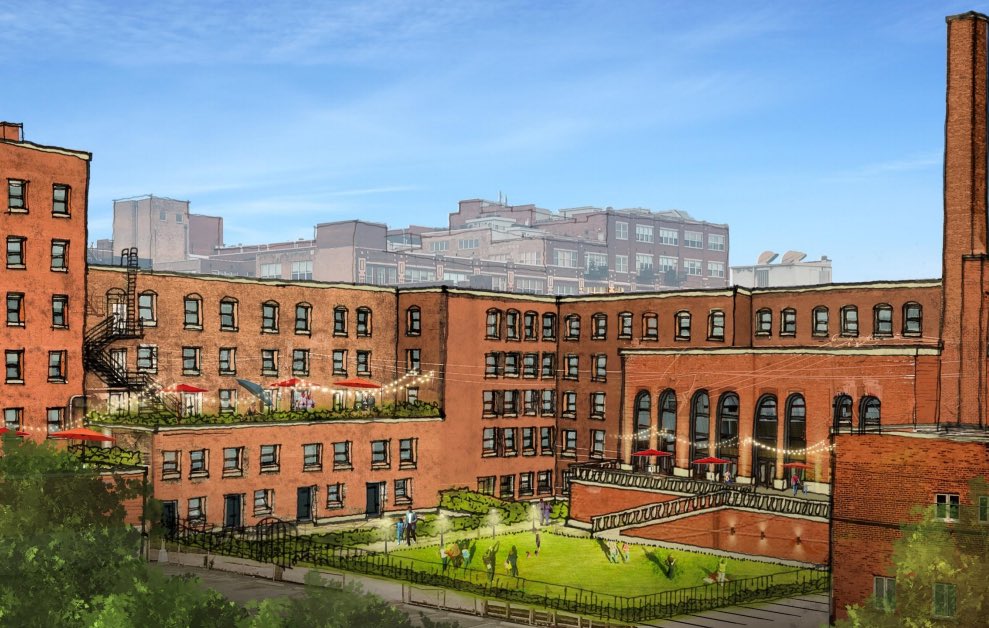 Ald. Jason Ervin (28th) said Cedar Street should be given credit for the number of affordable units included in the building, and for listening to community concerns.
Paul Price, of the laborers union, said Chicago workers should be hired on the project and paid union wages.
"Laborers Union has 119 construction workers in Ald. Ervin's ward, 48 in Ald. [Walter] Burnett's ward, and 38 in Ald. [Danny] Solis' ward. … I know my union and other unions could fill those jobs," Price said.
Heffron said Cedar Street was proud of its record of hiring residents of the neighborhood and working with aldermen.
"Cedar Street has currently $150 million worth of union work in the field right now for every 10 union jobs there might be a non-union project that's smaller in nature that might be happening," Heffron said.
Before the vote Thursday, nearby residents previously expressed concerns with the project's lack of parking.
Jeannine Norlander, a West Loop resident who moved to the 1500 block of Monroe from the suburbs three years ago, said the rapid redevelopment and growing traffic congestion in the area may cause her to move. 
"We figured we'd get out now before the next mess started," Norlander said. "We are really unhappy with this development going up across the street."
This story is part of a collaboration between Block Club Chicago and The Daily Line.