LOGAN SQUARE — A time capsule uncovered in one of Logan Square's oldest churches gives a glimpse into what the neighborhood was like in the early 1900s.
The 1906 time capsule was found in the cornerstone of the Episcopal Church of the Advent, 2900 W. Logan Boulevard, a church that is currently being converted into a condo or apartment building by developer JAB Real Estate.
Andrew Schneider, president of the neighborhood group Logan Square Preservation, arranged to have the capsule removed back in April.
What Schneider found was a metal box filled with historic church documents in near-perfect condition, including a pages-long scroll from the cornerstone laying ceremony.
"The Cornerstone is laid today, January 15th, 1906 – Mid-Winter Day – which is exceeding dark and rainy. The temperature is about 52 degrees F. With a continuation of open weather the building should be completed by June 1st 1906," the scroll reads.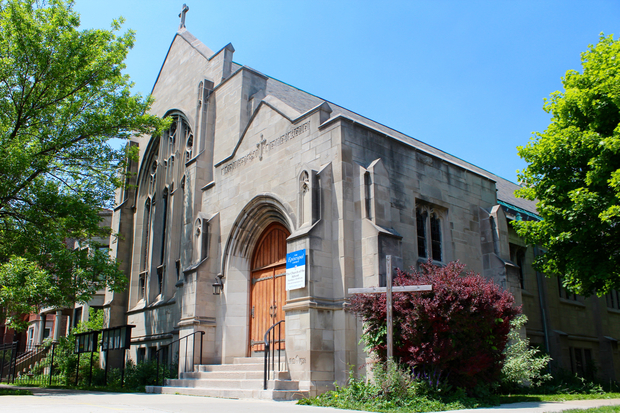 At the very end of the scroll, the priest-in-charge, Daniel LeBaron Goodwin, wrote: "Addenda: We have had a genuine thunder storm today. The lightning was sharp and the thunder startling."
Other interesting findings: There used to be a barn at Schubert Avenue and Rockwell Street where the expressway is today, and a concert venue, called Kimbell Hall, at Drummond Place and Kimball Avenue.
The church was founded in 1901 at Temple Hall, 430 W. Fullerton Ave. In 1906, church leaders bought the Logan Boulevard lot, and the choirmaster at the time, architect Elmer C. Jensen, designed the building that stands today.
Jensen worked for the architectural firm Jensen and Halsted, which was founded by William Le Baron Jenney, who is known for designing and engineering the first skyscraper in 1884.
JAB Real Estate is planning to preserve the building and renovate the inside. The plan, which has received city approval, calls for nine residential units.
Converting empty churches into homes and arts venues is becoming increasingly popular in Logan Square and across the city. In recent years, the former Evangelical church at Kimball and Wrightwood avenues was converted into an elite circus school and an 1880s-era church at 2445 W. Washtenaw Ave. was converted into a home.
Check out some of the historic documents below: